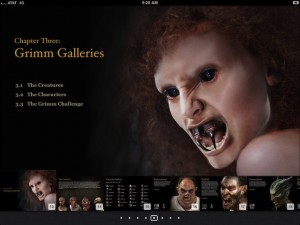 NBC announced today that it is releasing Grimm: The Essential Guide, which will be available on Apple's iPad, Barnes and Nobles' Nook and Amazon's Kindle Fire, is what the network calls a Second Screen interaction companion ebook for its hit TV show, Grimm. The guide, which will give fans access to exclusive behind-the-scenes content, as well as a recap of season 1 and a 5 minute sneak preview of season 2, is intended not just as a way to keep loyal fans engaged – according to mashable.com's announcement of the launch, "procedural fantasy drama drew an average of 6.35 million viewers during the first season" – but to attract new ones.
It is acknowledgement by the media behemoth that the advent of the Second Screen, which is defined by Wikipedia as "an additional electronic device (e.g. tablet, smartphone) that allows a television audience to interact with the content they are consuming, whether it be TV Shows, movies, music, or video games" is a reality that if embraced properly will cement, and possibly increase, viewer loyalty in this increasingly media-channel promiscuous world.
According to John Paul Titlow, a commentator on the future of music and TV writing in a April 19, 2012 post entitled "Who's Actually Using Second Screen Media Apps?"on ReadWriteWeb, "research has shown a correlation between social buzz for a TV show and high ratings. That gives the TV studios and other industry players a real incentive to get involved in this space and help cultivate its growth."
He goes on to say:
"In an interesting shift for content providers, the social TV trend may bolster the number of viewers who tune in for the original broadcast, rather than catch their favorite show online the next day."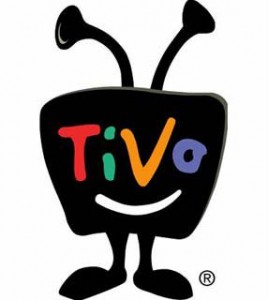 This is an interesting change in viewer habits since a prevailing trend to this point has been the increasing number of time poor denizens of the 21st Century using their PVRs like TIVO to record their favourite shows and then watching them days, sometimes weeks, after their original air date. Large numbers of people, such as yours truly, have also embraced purchasing the box sets of a show at the end of the season and catching up on them then. TV ratings now take into account the significant numbers of viewers engaging in "time shifting" viewing and it was assumed that this was a trend that would accelerate markedly in coming years.
And while it is likely that the number of people engaging in time-shifting will continue to increase, the expected meteoric increase in this activity may well be blunted somewhat by the uptake of Second Screen technologies, which depend for maximum interactivity on people watching the show at the exact same time, which really only happens on its original broadcast date.
This interactivity can take a number of forms.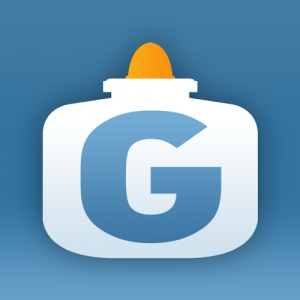 For many people, simply logging into a site like GetGlue (or its competitors like Miso and PHILO), and being among a community of fans is sufficient. They can discuss their love of the show, and talk about it with other fans while watching the show. Say what you will about the advantages of watching a show when it suits your schedule; for those who value a sense of community and the sense of being a part of something, especially if the show is a major hit, it is a powerful enough inducement to find the time to watch the show live.
And finding the time they are. In April 2011, GetGlue recorded 4 million check-ins, which was a record for the platform. The growth has continued into 2012 with a 130% growth in checkins between June and August from 5m to 11.5m in August so far. That's amazing growth by anyone's standards and indicates why NBC and other media companies like TNT (who launched a free interactive book in July through Apple's iBookstore for the fourth series of their successful series, Leverage) are rushing to be a part of the growth in Second Screen experiences.
It was growth spread a wide range of programs as this graph from blog.getglue.com shows: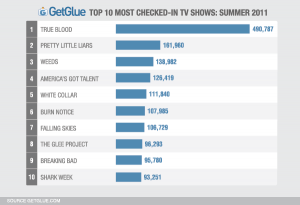 Spectacular though this growth is, it seems that many people still prefer to do their real-time social networking via Twitter. The immediacy of this social media platform is potent in any number of situations such as breaking news, and the effect is no different when it comes to television shows. It appears that Twitter users relish interacting with fellow fans and getting an almost instantaneous response, and the sense that they are a part of the show itself.
This has been most dramatically in Australia on shows like Q&A, which runs a continuous Twitter feed underneath the program which encourages viewers to indirectly participate in the discussion between that week's panelists. It gives a sense of proprietary interest to anyone watching and you sense that even though no one is actually responding to you directly, that your views are being heard, if only by other watchers of the show and those following the #qanda hashtag on Twitter.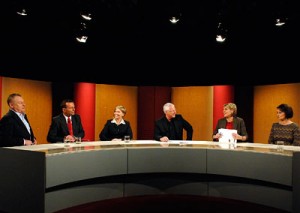 It was also used effectively by Australian broadcaster, SBS, when they telecast this year's Eurovision Song Contest from Baku, Azerbaijan. They actively encouraged people to tweet in their comments about the contestants, photos of their parties and their costumes and the responses was nothing short of phenomenal. It took an event that engenders a great sense of community anyway, with many people holding parties across the nation, and ramped it up into a national celebration of Eurovision by posting tweets in real time during the telecast and uploading any and all tweets and photos onto the SBS web site.
It has also worked effectively in the USA with CEO of Twitter Dick Costello commenting in January 2011 about the way hit show Glee has harnessed the medium to interact with fans (source: "Top Trends of 2011: Second Screen Apps", readwriteweb.com, July 27th 2011):
"The characters on Glee actually tweet and they tweet during the show. When Glee starts, the moment it airs for the first time on the East Coast, the tweets per second for Glee shoot up. They stay up there at a super high level at hundreds of [times] what they are before the show comes on until the moment the show ends and then they drop. [...] People feel like they have to watch the show while it's going on because the community is tweeting about the show and the characters are tweeting as the show's happening so [they have to] watch it in real time."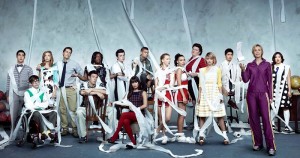 But for many ardent fans, or even casual viewers who want to know more, it's not enough to watch the show and interact with fellow fans, they want to own something inspired by the show, or find out what else a particular actor has starred in, or simply find out where you can buy the shirt that one of the characters was wearing in the most recent episode.
Of course they can just Google away until they find what they'r eloping for. But a number of apps are being released that deliver this information nicely wrapped to the viewer, aware that many people simply don't have the time that even Googling the things they want to know would require.
One of these new apps is i.TV (not to be confused with Apple's rumoured HDTV offering of the same name) which as expected allows viewers to do the now standard things like check in with GetGlue and even watch them Netflix, Hulu and YouTube.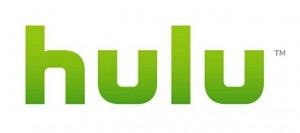 But as John Paul Titlow points in his article, "RWW Recommends: The Best Channel-Surfing Companion App for TV Trivia" on ReadWriteWeb, April 5th 2012, its real genius is in bringing all the disparate information a fan may want to know together, easily and with minimum fuss.
"One thing i.TV does better than just about any other app of its kind is bring relevant information to the viewer's finger tips. It pulls in information from IMBb and Wikipedia, which is probably where you'd go to search anyway. It also aggregates recent headlines about the show's stars. For instance, when I'm viewing the profile for Breaking Bad, it shows an article from Huffington Post explaining that the actor who played Gus on the show is going to make an appearance on Community. Good to know."
But i.Tv is not the only new kid on the Second Screen block.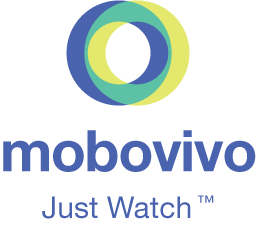 Joining it are apps like Previiw (from Canadian company Mobovivo), which is "audio-synched", meaning it listens to what you're watching, works out exactly which episode it is and tailors all the information is supplies appropriately.
"[It] pulls together material from various websites as well as Facebook and Twitter so a user can quickly look up the history of any character appearing onscreen as well as biographical details of the actor playing him and recent tweets or other internet postings he's made."

(source: "TV starts to see second screen as ally, not rival", Glenn Garvin, The Miami Herald via smh.com.au)
Other apps like Get This and YapTV.com perform similar functions allowing fans to not only watch the show but find out more about the people they're watching. It's a win for the show which builds viewer identification and loyalty and the networks that broadcast the show.
It helps to explains the emergence of Second Screen apps like NBC's Grimm: The Essential Guide and underscores that far from being a threat, Second Screen may just be the best thing to come out of the media-muddying waters of the digital revolution for the beleaguered proprietors in traditional media.