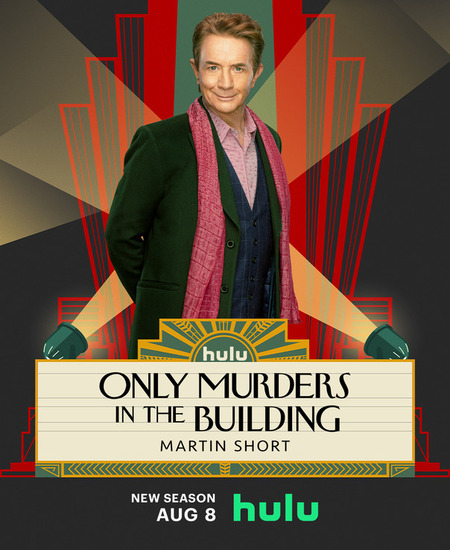 (courtesy IMP Awards)
One thing that has demarcated this season of Only Murders in the Building from the two that preceded it is how much time our beloved three investigating podcasters have spent apart.
In the first three episodes this seemed like a minor but irritating misjudgement, as if the writers had forgotten the magic sauce of threesomeness that sits at the heart of the show and that one of the reasons we tune into the cosy murder mystery delight is to see how Mabel (Selena Gomez), Oliver Putnam (Martin Short) and Charles Haden-Savage (Steve Martin) find comfort and inspiration in each other's company.
Sure, they are divergent in their lives and outlook, and until the fateful events at the start of season 1 which threw them together in a shared need to get to the bottom of a murderous mystery but also for a companionship they all didn't know they desperately needed, they were separate souls inhabiting the carefully curated glamour of the Arconia apartment building.
But when they did get together, they were magic, giving warmth of connection and purpose to each other but also letting viewers live vicariously through friendships that showed it is possible for people who might never connect on paper, to find meaning and a sense of life rekindled in being with each oter.
So, having that not be quite so front and centre did feel a little sad, like one of the main reasons viewers watch the show had been taken away, gutting it somewhat and leaving us with the sleuthing side of the equation qhich, to be fair, also didn't seem quite so full on this season.
But as you watch episodes four through seven, you begin to realise that the separation actually serves a purpose.
We're at that point in the friendships where a lot has happened, a great deal of benefit has been realised and it's quite easy for things to be taken for granted; by pulling everyone apart, even just a little, they come to realise how much they actually need each other, and it's the kind of refreshing every friendship needs and Only Murders in the Building can definitely find some positives in.
It also allows for some rather fun, and not so fun, character development.
One of the most amusing is watching poor Charles enter the white room, a place that seems all kinds of happy and goofily blissful until it's revealed it's actually a dark place that theatre actors go to when they lose their way on stage.
Charles is freaked out by having to perform a song in Oliver's blighted musical – you may recall it started out as a dramatic play until star Ben Glenroy (Paul Rudd) died and Oliver was forced to pivot it to an hilariously unconventional musical – but thinks he has it under control until he enter the white room and finishes up sitting in his boxes in one of the bassinets of the three babies he's meant to be interrogating about a murder. (Quirkiness abounds here and potentially guilty-of-murder babies are just the start of it.)
It's a sign that infamously nervy Charles, who is also not coping too well with his overly intense make-up girlfriend Joy (Andrea Martin) and her fish obsession (and yes, her possible murder of Ben but then she's one of many possibilities), is not on top of things and the occurrence of the white room in a production already plagued by all kinds of other issues puts a schism between Charles and Oliver which it takes a while to fix (with the help of Matthew Broderick as a heightened version of himself which is a lot of fun).
While Charles is coping with failures professional and personal, Oliver isn't having the best time of things romantically either.
Breaking one of the great rules of theatre, which is not to fall for one of the members of your cast, Oliver goes to Loretta's (Meryl Streep) place for dinner – the studio apartment has some gloriously good nods to Streeps' career which may require some pausing to fully appreciate – and while dinner itself is a bust thanks to Loretta's eccentrically bad cooking skills, the date that follows out in New York City is a gem and Oliver thinks he may have found love at last.
But complications ensue of the murder suspect variety and once again he is alone, as is Charles, and as is Mabel who accidentally finds some sort of connection with Tobert (Jesse Williams), whose first name does have a silent "t" to Charles' surprise, although she's resistant to anything happening of the dating kind.
Mabel has some issues too, what with having to move out and not being sure what she wants to do with her life, and while she's not short on men who like her a lot such as Tobert and Theo (James Caverly), who first made an appearance on season two), she seems resistant to making connections with anyone, and estranged from Charles and Oliver, she sets out to do the podcast all by herself.
Episode 7 actually ends with everyone listening to the podcast's first episode and you could be forgiven for wondering if our plucky threesome will ever find each other again?
They will, of course, because this is a cosy murder series, and while dark things like murder, emotional upheaval and broken dreams are commonplace, Only Murders in the Building is at heart the sort of show which salves the wound, rather than reopening or worsening them.
The fact that the writers allow each of the characters to breathe in these four episodes and to exist apart from each other, actually points to one of the show's great strengths – that for all its cute investigative fluffiness and fun, it's actually got some real emotional depth and heart, allowing its narrative and characters to wallow in slowly unfolding nuance and narrative punctuative points, which makes what could have been all artfully realised twee storytelling get some real grunt and impact.
You don't finish these four episodes thinking all is lost and that the soul of the show has been diminished; rather, you get the sense that things are being renewed and strengthened and that while it's too late for Ben, and possibly some of the characters, everything is going to end up okay, something we'll discover as the final three episodes of the season go to air in coming weeks.
Only Murders in the Building is streaming on Disney+