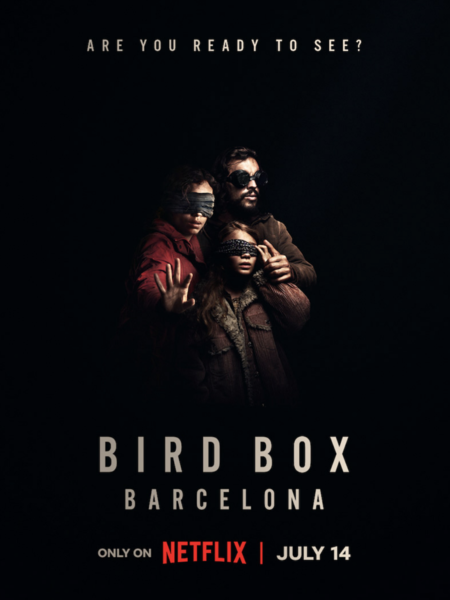 (courtesy First Showing)
SNAPSHOT
From the producers of the global phenomenon, Bird Box, comes Bird Box Barcelona, an expansion of the film that riveted audiences in 2018. After a mysterious force decimates the world's population, Sebastian must navigate his own survival journey through the desolate streets of Barcelona. As he forms uneasy alliances with other survivors and they try to escape the city, an unexpected and even more sinister threat grows. Bird Box Barcelona, also known as A ciegas (Blindly) in Spanish, is a new film written and directed by filmmakers Álex Pastor and David Pastor (both directors of the films Carriers, The Last Days, The Occupant, and the series Incorporated). It's produced by Dylan Clark, Chris Morgan, Núria Valls, Adrián Guerra, Josh Malerman & Ryan Lewis. Executive produced by Ainsley Davies and Brian Williams. Based on the novel of the same name written by Josh Malerman. Music by Zeltia Montes. (courtesy First Showing)
When it was released in 2018, the movie Bird Box, based on the 2014 book of the same name by Josh Malerman joined an unnerving chorus of stories that asked whether the world might end, not in obvious apocalyptic sound and fury of an alien invasion and zombie which though scary in their own right are full frontal and clearly marked, but in a far more insidious, horror-laden way where the threat isn't obvious at first and claims far more people as a result?
If that sounds like an eerie allegory of climate change, you would be right; both Bird Box, and Quiet Place, which released the same year, explored the anatomy of an apocalypse that wrought wholesale destruction and which showed indescribable terror but in a creeping, snowballing way and what the world would look like in its ever-horrific aftermath?
It was, as you'd expect, an unsettling journey and it appears that another film set in the same universe, is going to be as bad for any semblance of hope in an untroubled future; in Bird Box Barcelona aka A ciegas (Blindly), yet more survivors are trying to survive a force that shows them fears so primal and all consuming that the only solution is self-inflicted annihilation.
It sounds awful to sit through but just as the original Bird Box painted a picture too of hope, resilience and the connective call to tenaciously survive, so does its successor which doesn't pretend the end of the world won't be the cataclysm of the ages but which asks whether we might not survive this too just as we have outlived so many other threats to our existence.
Bird Box Barcelona releases on Netflix on 14 July.