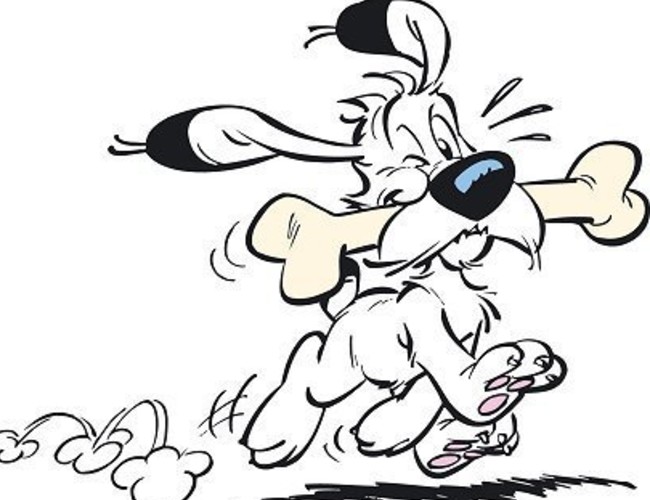 One of the great delights of the Astérix comics (and they are multitudinous), which began in 1959 under the stewardship of writer René Goscinny and illustrator Albert Uderzo – these duties are now handled by Jean-Yves Ferri and Didier Conrad respectively – is a very small, feisty and mischievously lovable dog by the name of Dogmatix (known as Idéfix, a pun on the French expression idée fixe, which translates as fixed idea or obsession).
First introduced in Astérix and the Banquet (1965), the fifth instalment of the now 38-volume series of which 2019's The Chieftain's Daughter is the latest book – Dogmatix, who very much belongs to Astérix's friend, the menhir builder Obelix, is an hilarious addition to the one small village in all of ancient Gaul, which thanks to the druid Getafix's super strength imbuing magic potion, is successfully resisting Roman occupation.
He may be a small dog but as Wikipedia points out, he makes a memorable impact:
"Dogmatix is the only animal among the main characters of the series. His role is minor and funny in most of the stories, significant mainly as a 'bone' of contention between Asterix and Obelix as to whether he should be allowed to accompany them on their adventures. However, he is often seen doing something interesting in the background and occasionally fulfills an important part of the plot. In the words of the authors, Dogmatix is the only known "canine ecologist": he loves trees and howls in distress whenever one is damaged. Despite his small size, he is quite fearless. He has drunk the magic potion on a number of occasions, but his favourite treat is to 'chew a bone'."

Now after 33 adventues, Domatix is getting his very own comic book, written by animation writer Matthieu Choquet and drawn by Jean Bastide, that will act as an accompaniment to his all-new TV series known by his French name of Idéfix.
In keeping with the prevailing theme of 2020, Dogmatix heads out on his own grand adventures when "an epidemic hits Gaul – and its chickens – leaving the dogs of the village to roam free, while Romans impose a quarantine." (Bleeding Cool).
While Domatix has his own line of illustrated kids books, this is his first foray with master Obelix or Astérix and it sounds like it's going to be an absolute delight.
Release dates for both the TV series and the book are TBA.