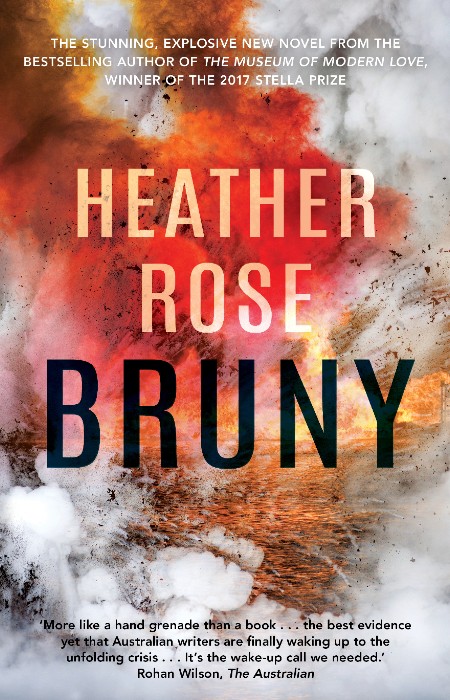 It is a rare thing indeed to come across a book which is simultaneously page-turningly riveting, emotionally resonant and immeasurably clever without being insufferable.
Bruny by the incomparable Heather Rose (The Museum of Modern Love) is just such a book, one which explores the murky political and personal aftermath of an explosion which temporarily cripples a massive new $2 billion bridge going from the Tasmanian mainland to the rurally idyllic island of the title.
The bridge itself is an overbuild by any estimation, a six lane elegantly-designed monstrosity – the use of conflicting descriptors is deliberate, mirroring the divisions within Tasmanian society – that replaces a ferry service and which, if the ambitious development plans attached to it are any guide, will usher in wholesale change not just on the island but in the state itself.
With political rhetoric swirling around like disorienting fog and divisions rampant, it is up to UN troubleshooter Astrid Coleman, summoned back to Hobart from New York by her twin brother JC, who's the Premier, to smooth over the fractious state in which Tasmania finds itself.
Leaving aside the messy rancour of groups within groups who oppose each other even as they are ostensibly on the same side, Astrid, has to deal with family politics too, literally as it turns out with her older sister in the role of the State's opposition leader, and her father an ex-member of the state's parliament.
"Outside the airport, as we walked to Max's car, the air was still the same over-oxygenated blast, the sky aqua with high cumulus clouds and a chilly breeze blowing in from the west. It was November, late spring, with a Tasmanian summer on the horizon. I hadn't spent a summer in Hobart in ten years. I'd been home less than a handful of times since I left for university in 1981." (P. 16)
The Colemans are Tasmanian politics effectively, and while they get on well and clearly love each other, despite two of the siblings occupying opposing sides of the political spectrum, it doesn't mean that Astrid has an easy time of it, especially given her mother is dying of cancer and her post-stroke father only speaks in Shakespearian quotes.
But Astrid is a consummate professional, a wholly compelling character whom you will be eminently glad you get to spend 400 pages or so with, and in no time, she has the measure of a good many of the key players in the state and beyond, and is well advanced on fulfilling her mandate to calm the troubled political and societal waters of the state.
Something though is niggling her.
It's not simply that the bridge seems far too big for conveying tourists to the largely agrarian island of Bruny which is devoted to producing the produce for which Tasmania is justifiably famous, but that no one including her brother to whom she is close and yet not at the same time, seem willing to go on the record and say what's really going on.
Then there are the Chinese who, it is whispered, stand to gain handsomely from the bridge's construction which is back on track to thanks to labour imported from the country and a willingness by state and federal politicians to do whatever it takes to make this oversized dream (or nightmare?) happen.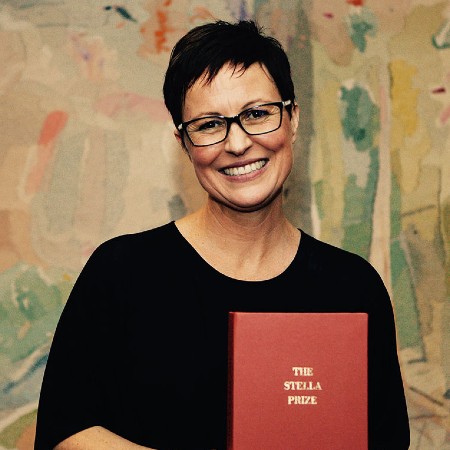 There is a lot going on in Bruny, which for all its propulsive narrative twists and turns, takes its time exploring both the machinations within Astrid's lovingly dysfunctional family and the wider issues percolating through a Tasmania which Astrid, for all her geographical distance, loves desperately and passionately.
As she begins to uncover what's really on, a mission that is not official and puts the cats well and truly among the pigeons with the mother of all jaw-dropping twists, Bruny takes on all kinds of ruminative depth as it examines everything from the ascendancy of the economy over community good, authoritarianism over democracy and the right of people to have some say in how their lives play out.
There are times when page after page is devoted to incisive thoughts on the seemingly neverending tsunami of geopolitical and economic changes ricocheting around the world, but Bruny is never swamped by these profoundly well articulated ideas which slide seamlessly into the storyline courtesy of Astrid who is a thinking woman's thinker, and who for all her grounded humanity, is, above all else (for now at least) a political animal who has a great deal to sort out.
For all the overwhelming magnitude of the task at hand which she is more than able to execute on after a lifetime spent in the world's trouble spots and war zones, Astrid is at heart someone who wants love, who wants a place to call home and who wants more than anything to protect the same she belatedly realises has always been and will always be, home.
"JC was exhibiting all the bonhomie of a man who had married off his daughters in spectacular matches. During a course of delicate dumplings, the director of the China-Australia Relations Institute, Andrew Wong, thanked me for all I had done to smooth the way for the workers. Senator Viper said, 'It's very good of you to come, Astrid, and serve Tasmania in this way. We need our good people here at a time like this.' There was something about his delivery that came across as a vague threat." (P. 215)
Which is why this exquisitely well told story, in which action and heartfelt humanity sit perfectly cheek-by-jowl, shifts throughout from a simply political fix-em-up situation to one in which shifting alliances, murky goals, family, love, life's pain and disappointments and the cruelty of neoliberally-fuelled modern geopolitics with a deftness of execution and purpose which is a pleasure to behold.
Central to everything is the figure of Astrid Coleman who for all her talent and dexterity in navigating the often byzantine world of realpolitik and her thoughtfulness as she undertakes on the kinds of tasks that most people would not even be aware need tending to, is the kind of grounded, thoughtful person all of us would want to know.
A compelling and beautifully-realised figure that Rose brings to life with nuanced vivacity, Astrid is the intellectual and heating heart of Bruny, a book which benefits enormously from the author's clear decision to invest her tale of political twists-and-turns with the kind of raw, meaningful characters most books of the genre simply don't possess.
The result is a book that carries you giddily and compulsively along with a narrative momentum that is always gathering speed and beguiling intrigue but never at the expense of the place and the people at its heart, people who are far from cardboard cutouts and who give this superlative novel a dazzlingly evocative soul to go along with its brilliantly arresting tale of a world cloaked in dark and shadows.