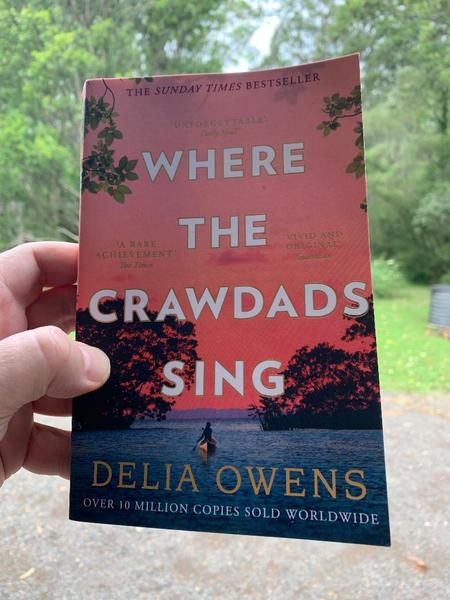 We live in a world capable of great beauty and enormous cruelty.
Where the Crawdads Sing by Delia Owens, her first fictional book after non-fiction works detailing her time as a wildlife scientist in Africa, captures these two opposing and yet often cheek-by-jowl parts of life in heartrendingly moving writing that is as much poetry as the fictional poems that dot the novel.
Set in the 1950s and the 1960s into the start of the '70s, Where the Crawdads Sing is one of those magnificently hyped books that deserve all the praise it is given and then some.
A murder mystery, love song to the natural world and touching coming-of-age story all in one, the novel takes in an expansive range of human emotion and experience while remaining intimately focused on Kya Clark, a young woman in the late 1960s who has spent much of her life either neglected or alone, abandoned by family and friends and left to fend for herself in the shadowy but magical marshes of the North Carolina coast where she finds solace in finding the gulls on the beach, collecting feathers of the birds she adores and learning all she can about the world around her.
Fiercely intelligent and emotionally rich in a way the bigoted townsfolk of nearby Barkley Cove can never be, Kya is a study in human resilience, forced to find a way to support herself with little to no warning, and succeeding thanks to her own resourcefulness and tenacity, and the kindness of a few kindred souls include Jumpin' and his wife Mabel. who live a similarly excluded existence in Colored Town, and Tate, a young man whose dad is the skipper of a fishing boat in town and who is not like all the other vapid young people around him such as Chase Andrews, local quarterback hero who comes to also play a significant though far less beneficial role in Kya's life.
"One morning, a few weeks after her day at school, the sun glared white-hot as Kya climbed into her brothers' tree fort at the beach and searched for sailing ships hung with skull-and-crossbones flags. Proving that imagination grows in the loneliest of soils, she shouted, 'Ho! Pirates ho!' Brandishing her sword, she jumped from the tree to attack. Suddenly pain shot through her right foot, racing like fire up her leg. Knees caving in, she fell on her side … she cried out, but there was no answer." (P. 32)
Cruelly dubbed the Marsh Girl by the people of Barkley Cove, who claim to be good Christians one and all but who go to no effort to look after her, either materially or emotionally, effectively eschewing the teachings of the very man whose teachings they claim to hold sacred, Kya suffers for her aloneness, happy in her own company in one sense since she has little choice but to be, but desperate for the familial or friendship closeness of everyone around her, something which always feels agonisingly just out of reach.
She is the kind of protagonist who grabs your heart in the first few pages and who subsequently never lets go, her rawness of emotion and yet subjugation of those same emotions feeling more real than many characters you come across in novels, with Owens going to considerable effort to take us into Kya's emotionally insular and yet naturally expansive world.
For all of the strictures of her childhood, which includes an abusive father, a runaway mother and negligent siblings and a small, rundown cabin which you can barely call a home, Kya finds true freedom and comfort in the natural world around her.
It is in every way that matters her home, far more than shack that barely holds to the name, and Kya spends her days subsuming herself in a world that always gives in excess of what she asks of it, consuming her with its variety and vivacity and its unsparing commitment to life in its simplest and yet most powerful form.
Watching her in the beloved marshes she calls home is to see someone utterly at ease and happy in their world, with Owens using Kya's many boat-driven trips down the waterways and to the beaches and sandpits to celebrate the natural world with language so exuberantly evocative and spirit-soothingly lovely that you can practically see it coming alive off the page.
As character studies go, Where the Crawdads Sing is in a class all its own, celebrating the human spirit and the natural world that gives it succour and hope in ways that enrich but which are also grounded and real, acknowledging that for all the glorious beauty of life that there is much to hurt the soul and wound the heart.
As Kya comes to the point where she can no longer discount her need for love and acceptance – she still waits for her mother to come walking back down the nameless lane by which she left, and wills her brother Jodie to come back – two young men from Barkely Cove offer her the chance for the closeness she has always desired but never found as person after person abandoned her.
Tate and Chase are two wholly different individuals, both professing undying love for her but only one capable of delivering it.
While both will come to disappoint her in ways small and gut-wrenchingly large, only one will prove to be the person she needs and as the narrative moves along in ways achingly small and momentously big, always nuanced and reassuringly and distressingly cognisant, in equal measure, of the human condition, Where the Crawdads Sing reveals itself as an all-consumingly telling exploration of what happens to a person both denied and given the love they need.
It is an extraordinarily beautiful book in that regard, even when it is documenting the very worst of humanity, because no what Owens is detailing in the rich and emotional resonant narrative, she writes with an eye for unsparing truth and honesty, the kind that both stings and reassures, tears down and builds up.
"She listened for sounds of him coming after her, not sure whether she wanted him to break through the brush and hold her, begging for forgiveness, or not. Raging again at that. Then, spent, she stood and walked the rest of the way to her boat." (P. 162)"
Kya is always at the centre of everything and it is through her astonishingly perceptive and affectingly articulate heart, which leaves streets ahead of the emotionally and morally impoverished townspeople who damn her with every word of formless gossip and poisonous bigotry, that we see how terrible and yet how wonderful the world around us can be.
While Owens could well have come in with a lyrical sledgehammer to make her point, she eschews that at every point, choosing subtlety and nuance over melodrama and empty drama, leaving the simple but devastatingly stark difference between Kiya and those small number in her orbit, and those who treat her like trash when she is anything but, to make an arresting point.
A hymn to the outlier and a love letter to the outcast, which will strike a chord with anyone who has ever found themselves confined to the thankless margins and who has had to fight to any kind of meaningful life, Where the Crawdads Sing is a book that cannot simply be read.
While you savour every word you read and luxuriate in every word that you privileged to enjoy, Where the Crawdads Sing does far than engage your mind, holding your close for the entirety of its beautifully told tale, filling your soul with horror and wonder and consuming you with a glorious sense of how gloriously good can be even in the face of so much bigotry, terror, grief, pain and loss.
Nothing and no one should be able to come back from the kinds of things Kya has to endure but thanks to a staunchly resilient spirit, a fearless intelligence that perseveres even in the face of overwhelming challenges without solution, and people who stand by her she so many don't, Kya emerges out the other side somehow intact, alive in a way that few others can match, in a world stricken with great evil but also hope, love and wonder, all of which finds profoundly moving evocation in the wondrous storytelling gem that is Where the Crawdads Sing.