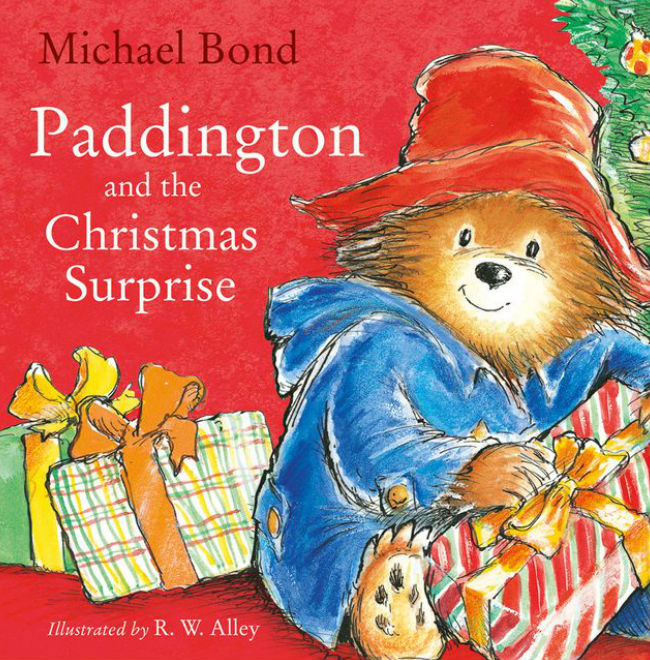 Paddington Bear, who first appeared on 13 October 1958, courtesy of creator Michael Bond, in the children's book A Bear Called Paddington, is precisely the sort of person (and he is in every way that matters) I would want to do anything and everything Christmas-y with.
Innocent, free-spirited, determined despite the consequences (largely because he doesn't stop, god bless him, to think them through more than he's aware of them and doesn't care) and possessed of any endless spirit of marmalade sandwich-accented fun, Paddington knows what matters and sets out to experience them to the full.
With his adoptive family, the Browns, along for the ride of course.
In Paddington and the Christmas Surprise, he and the Browns, and dear Mrs Bird of course, who usually sees Paddington's mishaps coming well before he does, head to Barkridges department store which, let's be honest, has seen better days.
While their combined package of meeting Santa, a sleigh ride through Wonderland and visiting of Santa's North Pole workshop is, in Paddington's words, "very good value", it's very much a case of much is promised, nowhere near enough is delivered.
You may be shocked by this but you don't even get to see where Santa makes his marmalade (true, it's not part of his canon but in Paddington's wonderfully-narrow view of the world, everyone loves marmalade which naturally must included Santa).
Making matters worse, Paddington comes into contact with a very officious member of store management who decides, that everyone's favourite Peruvian bear is a "large creepy crawly" and not a bear, and that he should come next year when he's certain, throwing Paddington who wonders how he'll buy everything on his Christmas list.
It's all very discombobulating, which means, as it always does in a Paddington story, that everything is about to go suitably, amusingly and ultimately, rewardingly awry.
First the sleigh, like the store in which it sits, is well past its glory days, with broken display items and a fallen-over reindeer to note just two of the deficiencies.
That'd be bad enough in and of itself but Paddington saved up his bun money for this, a great sacrifice which should be rewarded by a stellar experience, which Paddington, the Browns and Mrs Bird alas do not get.
In the middle of this, Paddington goes A.W.O.L., things happen (spoilers!) and it looks the bear's big Christmas outing is going to be a bust.
Not so fast my Paddington-loving friends, for this is a Michael Bond tale, and it's Christmas after all, and what looks like looming disaster turns out to be, quite happily, anything but.
Quite how disappointment becomes happiness is something you should discover for yourself, but suffice to say, Paddington inadvertently saves the day he has indirectly messed up – not his fault entirely; Barkridges needed a good kick-a-long – and it all ends up feeling quite delightfully Christmas-y.
The joy of this tale, quite apart from its gorgeous Christmas imagery which is nostalgic and warm-and-fuzzy all at once, is that once again, dear, sweet Paddington, who always sets off with the very best of intentions, gets his happily ever after.
He even gets some Santa-y marmalade which, you must agree, is essential for any Christmas worth its sleigh-ride festiveness.
Yes, Christmas doesn't always meet our high expectations which is fair enough since there is only so much tinsel, decorated trees and seasonal elves can do, but in Paddington's world, things actually end up far better than even our friendly little bear could have imagined, and we, hearts aglow and marmalade sandwich in hand, are all the richer for it, even long past the end of the festive season.