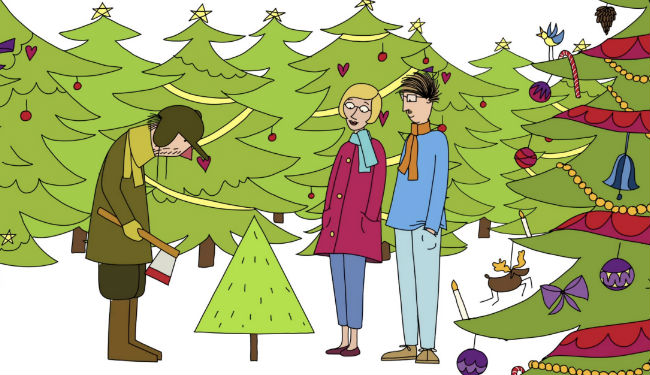 SNAPSHOT
In this short vignette, the anxious young protagonist from Me and My Moulton looks on as her architect parents re-design Christmas. The tree, presents, and cake are all re-made in simple, clean lines using the principles of good design. But will Santa be able to get through the contemporary chimney on the family's flat-roofed home? (synopsis via Vimeo)
Christmas is many things to many people.
To the Christians who started it all, it is a time to celebrate the birth of Jesus. To people with a less religious stance, it's the most wonderful time of the year where carols are song, chestnuts are roasted on an open fire, decorations are placed upon a tree, and presents are exchanged.
And, if you're the daughter of the modernist architects from Me and My Moulton, it's the time of the year when clean lines mandate a wholesale redesign of every last element of Christmas.
There's nothing wrong with that in principle of course since everyone tends to put their own unique stamp on Christmas , even when they use many of the tropes and cliches that make the season so lovely, festive and bright.
The architecturally-obsessed parents in this delightful short have gone ALL out, selecting and minimally decorating the Christmas tree, which doesn't fare too well under the new design regime, arranging the presents below it to an impressively geometric degree and creating a gingerbread house that has some lofty but quite unusual inspiration behind it.
It is not by any means your typical Christmas and you have to ask yourself how in the midst of all of this seamless, clean-lines modernity, is Santa going to fare?
Rather interestingly as it turns out with his trip down the extremely angular chimney an altogether interesting experience that seems him land smack bang in the centre of everything, origami ornaments included.
It's a fine piece of visually-amusing storytelling that comes with a delightful infusion of whimsy and fun and an almost affectionate nod to the beauty of unusual Christmases, told in a short, crisp and absolutely enthrallingly comedic style.
Not all of might want a Christmas of such clean lines and zealous intent but there's a wonderful sense of family and togetherness, not to mention a mystified Santa, which is, in the end, what Christmas is all about.
Just have the fire extinguisher handy will you?
And here is the short that inspired its more festive cousin …