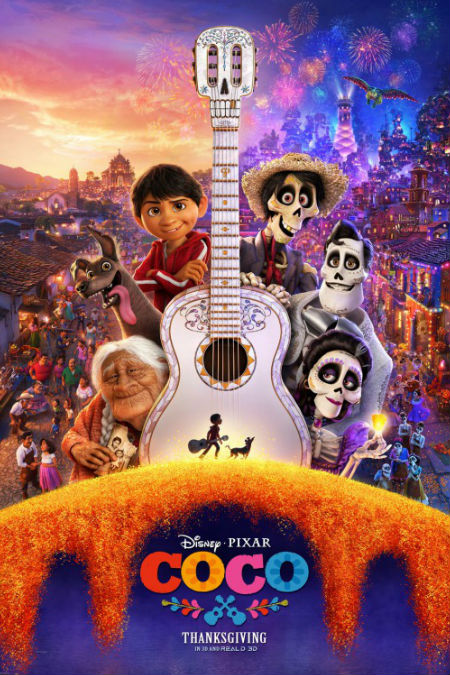 SNAPSHOT
Despite his family's baffling generations-old ban on music, Miguel (voice of newcomer Anthony Gonzalez) dreams of becoming an accomplished musician like his idol, Ernesto de la Cruz (voice of Benjamin Bratt). Desperate to prove his talent, Miguel finds himself in the stunning and colorful Land of the Dead following a mysterious chain of events. Along the way, he meets charming trickster Hector (voice of Gael García Bernal), and together, they set off on an extraordinary journey to unlock the real story behind Miguel's family history. (synopsis via Coming Soon)
Coco has given every impression up to this point of being a grand and epic colourful exploration of love, belonging and family set in both our world and that of the dead.
Now the new trailer for Coco has confirmed just how lavish and expansive the storytelling of Pixar's latest original animated film is, with an extended look at Miguel's time in the Land of the Dead and how high the stakes are for our music-loving protagonist.
In fact, the stakes are so high that there is a real sense of a ticking clock to the film, with deadlines looming in a world which, if you think about it, doesn't usually have to worry about such things.
This immersively tense storyline is set against some of the most vivid and gorgeously colourful landscapes that Pixar has ever delivered, which is saying something when you consider the imaginative power of their work to date.
The characters look absolutely delightful, with real humour and emotional resonance at play; this is lush, visually eye-popping animation combined with a substantial affecting narrative, and frankly, while I love Christmas and want it to last forever, I can't wait to get to Boxing Day and join's Miguel's brilliantly bright and meaningful adventure.
Coco opens 22 November in USA and 26 December in Australia.