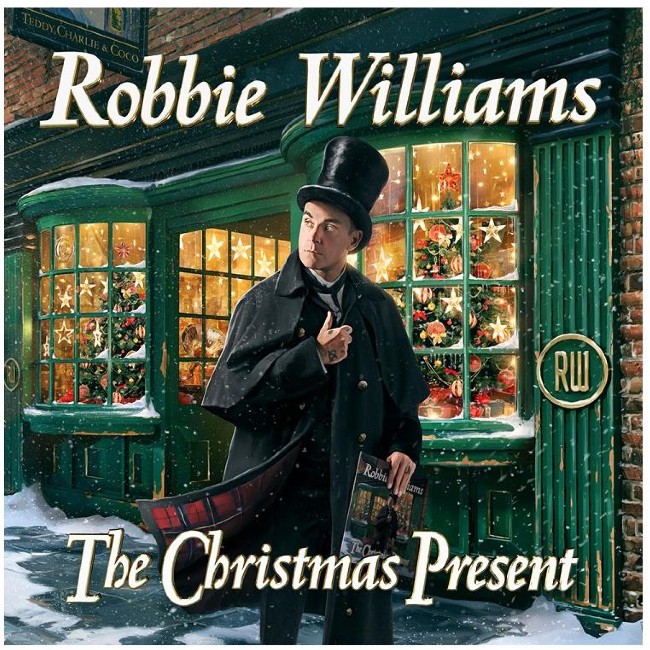 Such have been the virus-riven rigours of 2020 that many people have joked we should simply fast-forward to December and the attendant delights of the festive season and forget the horrors of COVID-19 amidst a delightful cloud of caroling, eggnog and gathering with those we love around a brightly-decorated tree.
While there are no guarantees the pandemic will have abated by then, and all signs point to it no going away anytime soon, there's a lot to be said for a little or a lot Santa-tinged escapism, and if you're looking for a soundtrack for this tinsel-bedecked in reality aversion, then look no further than the joyous big band sound of Robbie Williams' The Christmas Present.
Released on 22 November 2019, the album, which sports a deliciously clever title which alludes to both the more material side of the season while also providing a knowing nod to Charles Dickens redemptive tale A Christmas Carol, is a sheer delight.
It is on first listen very much in keeping with the traditional Christmas album default sound which sits, quite happily with no complaint from this reviewer or most listeners, somewhere in the 1940s/1950s when Sinatra, Crosby and other big band luminaries were bringing Christmas alive with cosy crooning that evoked the kind of festive season of which most people dream.
It's true that this version of Christmas is more wish fulfilment and fantasy than the way in which many people experience the season but the truth of the matter is that Christmas, from its 19th century Victorian revival onward, has been all about the possibilities of what could be than what might actually be.
In difficult times such as the current pandemic, which is witnessing sickness, death and near-cataclysmic economic dislocation on an overwhelmingly global scale, this appealing vision of Christmas has never been more necessary and while Williams clearly didn't record the album with an eye to the world going to hell, it is clearly the album we need right now.
Drawing on Williams' knack for perfect pop delivery, The Christmas Present channels all the joyful vivacity and evocative emotional warmth and bonhomie you could ask for, kicking off with "Winter Wonderland" and "Merry Xmas Everybody" (duet with Jamie Cullum) before jauntily sashaying into classics "Let It Snow! Let It Snow! Let It Snow" and "The Christmas Song (Chestnuts Roasting on an Open Fire)".
So far, so winningly traditional, buoyed by Williams's big band perfect voice, which invests not simply a great deal of vocal prowess but the kind of festive warmth and joyfulness than an album like this demands.
It's not enough just to hit the notes on a Christmas album; you need to pour every last gram of longing and hope and joy and contentment into every song for the classic songs to have their full effect.
That applies of course to any new standards you add to the mix which Williams does with much of the rest of The Christmas Present which delivers song after original song which are clearly not the songs you know and love from your childhood but which dovetail into so neatly to the classic sound that you'll have a hard time not believing you haven't been singing these songs for years.
Take "Rudolph" which folds "Carol of the Bells" into a modern homage to the reindeer who rescued Christmas while getting some deep personal fulfillment along the way or "Yeah! It's Christmas" which takes a humourous though knowing deep dive into the dysfunctionalities of the seasons while having some fun with it all.
Granted some songs like "Bad Sharon" (duet with boxer Tyson Fury), with its Beatles-esque ode to weird Christmas office shenanigans, and "Snowflakes" are gleefully odd but they are infused with so much cheery, cheeky cheerfulness and lyrical creativity that you'll find yourself sing along to them in no time flat.
They are probably bonkers additions to the Christmas canon, and may not rush into the "Joy to the World" and "Winter Wonderland" pantheon of warm-and-fuzzy Christmas songs anytime soon but that's okay because what songs like "Happy Birthday Jesus Christ" do accomplish is having some with the season, out a smile on your face and get you dancing and giggling at a time when things can, for all their loveliness, get pretty stressful.
The Christmas Present accomplishes the almost impossible – it marries the traditional big band warmth and fireplace-roasting joyfulness of Christmases past with the modern cheekiness of Williams' typical approach to his pop output, which has always involved a sense of camp fun and playfulness, and created a timeless album which, even in July in the middle of the worst pandemic in a century, is precisely what the spirit-lifting doctor ordered.