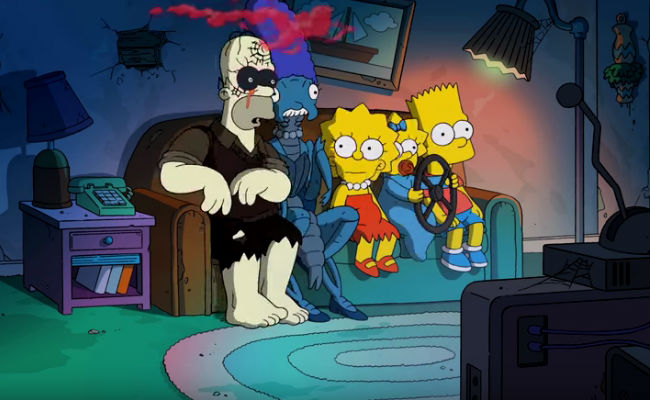 Now this is how you mark Halloween everyone!
Particularly if you're Matt Groening and you want your then-latest Treehouse of Horror intro – this was for the 2013 special – to include everything from zombies to mummies to mutants and apocalyptic visions of a hellish future.
Hire master storyteller Guillermo del Toro (Pan's Labyrinth, Crimson Peak), ask him to throw in pretty much everything horror-oriented he can conceive of – and remember this man not only has a prodigious imagination and vast storehouse of horror knowledge, he knows how to use it elegantly and well – and then some such as:
Zombies, most likely from George A. Romero's Night of the Living Dead (brains!)
Giant robots and monsters duking it out (Pacific Rim)
The Birds with Mrs Crabapple playing the part of a soon-to-be ornithophobic Tippi Hedren
Mr Burns and Smithers as the Pale Man and fairy from Pan's Labyrinth
Maggie being scanned as 666 at the supermarket checkout
Boris Karloff's Frankenstein's Monster and Mummy, Bela Lugosi's Dracula, Lon Chaney Jr's The Wolfman, Gillman from the Creature from the Black Lagoon, and Claude Rains' Invisible Man.
Even the robot from Lost in Space!
There's a ton of brilliantly-clever references crammed into this short opening sequence, making it a joy to watch again and again – see Simpsons Wiki for the first list of references – while you thank your lucky stars you don't live in an horrific Springfield.
Or do you? Shhhh – DON'T … LOOK … BACK …