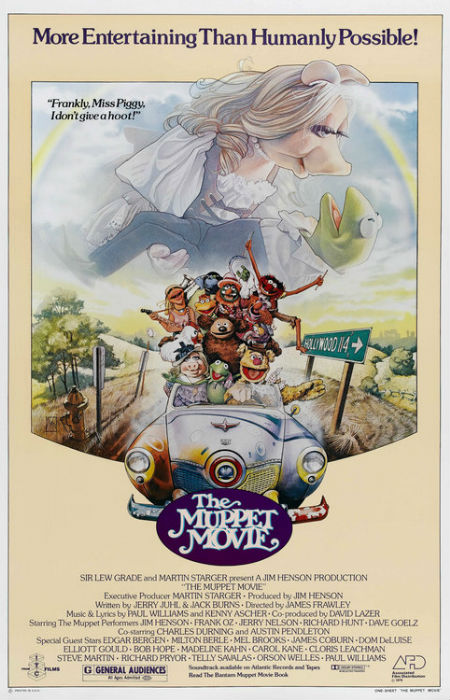 Who doesn't want to become rich and famous?
Especially if it's Orson Welles, in a cameo as World Wide Pictures studio boss Lew Lord (a tribute to Sir Lew Grade who co-produced the original Muppet Show), offering it to you?
Certainly not one Kermit the Frog who finds himself strumming his banjo, singing Paul Williams' heartfelt classic "Rainbow Connection", one day and the next on his way to Hollywood to seek fame and fortune as a special audition for frogs only, brought to his attention by passing agent (aren't they always rowing through bayous looking for talent?) Bernie, played by Dom DeLuise in a very-afraid-of-alligators performance.
The magic of this opening scene, and indeed the entire length of the sublime delight that is 1979's The Muppet Movie, is that it manages to combine two very important things – a sense of the silly and innocently absurd and an emotional resonance that captures your heart and refuses to let it go.
It's these two seemingly disparate elements that Jim Henson and his close collaborators like Franz Oz and Jerry Nelson, and Muppet Show writers like Jerry Juhl and Jack Burns, who penned the script for The Muppet Movie, brought brilliantly to bear (Wocka! Wocka!) in this deserved piece of classic cinema.
They had been the hallmarks of the Muppets from the start but had found their perfect expression in the Muppet Show, which ran from 1976 to 1981 and showed us all that it was possible to hold both a sense of the absolute ridiculous and rich, affecting humanity in tension and have it sit there to deeply resonant effect.
At the heart of this sensibility were the characters themselves and the fact that, some tensions aside – it was glorious watching them be as flawed as the rest of us, proof that even Muppets didn't have it all together – they genuinely cared for each other.
In fact, the bonds between them, which somehow survived making the pressure cooker that was the Vaudevillian pleasures of the Muppet Show were the very basis of their appeal, a reassurance to the rest of us that come what may, friendships could stand the test of time.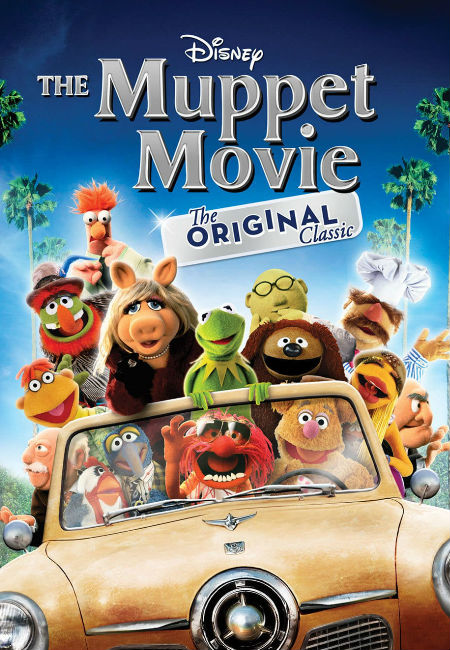 But where, you wonder, did all this mutually supportive love and caring begin?
The more prosaic among us might think in the heart and mind of one Jim Henson, and while that may well be true in one very sense, The Muppet Movie asks you to consider if the origins of this wholly unusual but life and silliness affirming family might have had altogether different origins.
Could, perhaps, one dream-hungry, banjo-strumming frog have taken the agent's advice seriously, and hit the road where along the way he collected all manner of weird and gloriously wonderful friends such as a bear comedian named Fozzie, a plumber named Gonzo (what is he exactly? Kermit says "And a thing, whatever Gonzo is. He's a little like a turkey") and his great love Camilla the Chicken, Sweetums and, of course, the diva-esque glory that is Miss Piggy.
Plenty more join in as well such the rock band Dr. Teeth and The Electric Mayhem and their manager Scooter, Rowlf the Dog and inventor Bunsen Honeydew and his assistant Beaker, bringing together in a gorgeously musical road trip of an epically car-swapping nature that culminates in Hollywood where it is possible to become rich and famous.
They even have a standard contract for it!
Apart from the endless visual and verbal gags – turn left at the fork in the road; cue a giant fork literally sticking out of the country road) and the running gag of "myth! myth!"to which Carol Kane always responds with a hopeful "Yes?" – The Muppet Movie benefited beyond measure from the brilliantly exercised cameos which saw he likes of Bob Hope (an ice cream vendor at the Bogen County Fair), and Elliott as the compère of the fair's beauty pageant which Miss Piggy naturally wins and a slew of others such as Madeline Kahn, Steve Martin, Richard Pryor and a fur allergic Cloris Leachman.
They might only be mere seconds or minutes in the ninety-minute joy that is this movie but they were used so effectively and with the kind of breathtakingly good comic timing that had made the Muppet Show such a hit, that they came very close to being the making of the movie.
Integral too were the songs by Paul Williams and Kenneth Ascher, the former of whom remarked in an interview that writing the songs for the film was an unheard joy, a sense of freedom that no doubt contributed to the effervescent happiness that is pretty much every song in the film.
"Jim Henson gave you more [creative] freedom than anybody I've ever worked with in my life. I said, 'You want to hear the songs as we're writing them?' He said, 'No. I'll hear them in the studio. I know I'm gonna love them.' You just don't get that kind of freedom on a project these days." (Songfacts)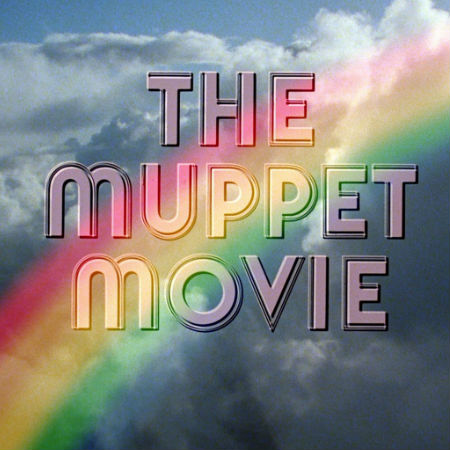 It is all but impossible to listen to songs like "Rainbow Connection", "Movin' Right Along", "Never Before, Never Again", and "I Hope That Somethin' Better Comes Along" without feeling like you were in the presence of something truly unique and soul-enriching.
In creating these songs, Paul Williams captured the essence of the Muppets who were refreshingly free of all the dark and terrible things that mar humanity – even their quest for fame and fortune isn't foul and rancorous although Miss Piggy doesn't come close to be a little nastily self-centred, something easily cured by a hug from her beloved "Kermie" – and who, minor but welcome flaws aside, proved that you could reach for the big, brass ring and take those who matter most to you along with you.
Reflecting the off-the-wall madness of much of '70s cinema, which seemed to exist in a whole other universe where you could get away with almost anything, The Muppet Movie also had a bad guy in the form of Doc Hopper (Charles Durning) and his oft-reluctant, goodhearted assistant Max (Austin Pendleton) who was determined to recruit Kermit as the public face of his chain of frog legs restaurants.
The very idea of promoting such a chain of frog-bashing infamy horrifies Kermit, quite rightly of course – he imagines a legion of frogs with no legs and crutches – and he refuses Doc Hopper's persistent entreaties, with the great showdown culminating in a ghost town, wild west gear and a giant version of the manic fury of drummer Animal.
As showdowns go, it's go the lot – hilarity, high stakes, a strong moral compass and a sense that everyone is sticking together come what may, the very things that infused the entire film but which also defined the Muppets as a whole, who managed in a sometimes bleak and disillusioned decade to be the voice of love, community and friendship, and outright, heartwarming lunacy, infinitely enriching our lives in the process, and proving once and for all that frogs, against all expectations (silly us!) can indeed ride bikes, and yes, find fame and fortune in Hollywood.