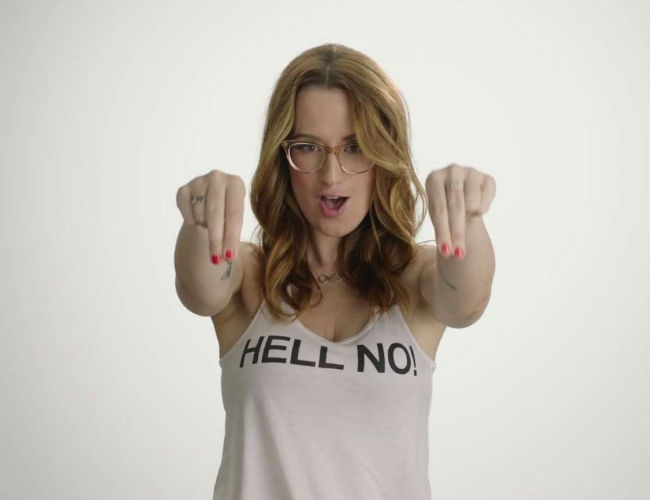 Love in its many forms is the staple of modern pop music.
The meet-cutes, the getting-to-know-yous, the glories of true intimacy and of course the acrimonious break-up songs – they all form a solid basis for pop's articulation of the highs and lows of getting to know someone really intimately.
But perhaps it's the break-up songs that really ignite the creative fire within; it's not that we don't like falling in love, it's glorious, but there's something about the transcendentally hot fury of spurned love that really sets a songwriter on a path to creative glory.
Look at Adele and her album 21, and Icona Pop's "I Love It", and now Ingrid Michaelson's "Hell No!", it's abundantly clear that love gone wrong equals a song (or album) gone right and for music lovers, if not the lovers themselves, that's a very good thing.
What makes Michaelson's song, which is one of the lead songs from her new album It Doesn't Have To Make Sense, so special is that to promote it she partnered with Deaf West Theatre Company to create a wholly unique clip that bridges the gap between the hearing and deaf worlds.
It fits with the company's ethos to be pioneer and develop "inclusive theatre experiences" and came about after Michaelson saw a particularly impressive performance by the group:
"I was so moved by Deaf West's performance on the Tonys this year that I reached out to Deaf West artistic director DJ Kurs and Tony-nominated director Michael Arden with an idea to incorporate their incredible work with ASL into a music video. It was a total collaboration … the incredible actors performed with me, interpreting the song into ASL, while I sang – and tried my best to sign!" (quote from People magazine via Secret Road)
The result is moving, fun and downright defiant and fits the feel and sound of the song to a tee.
None of us want to see love sour but if it does, this is the song you want as its soundtrack and you most definitely want Ingrid Michaelson and Deaf West Theatre Company to bring it to life for you.