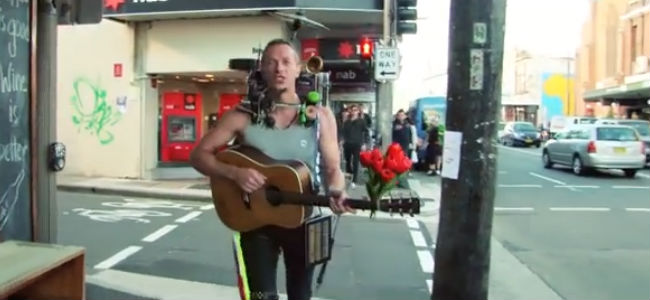 This was not a good week to be Andrew the ardent Coldplay fan.
Not only did I fail to get tickets to their one-and-only Ghost Stories concert in Australia, at the Enmore Theatre, a mere 15 minutes walk from where I live, but I also ended up having to work on the day, the VERY DAY, they filmed their new clip for "A Sky Full of Stars" right in the heart of Newtown, Sydney, again, just 15 minutes away from my home.
Yes all very #firstworldproblems I grant you, and hardly like to derail my life to the point where, driven by un-assuagable regret, I am found lying in filthy rags in a gutter somewhere clutching my copy of A Rush of Blood to the Head, my favourite Coldplay album ever, but still of all the weeks for the universe to conspire against me, why did it have to be this one?
But all fan angst aside, pretty much all that regret disappeared when I sae the clip yesterday.
There was Chris Martin walking down stretches of King Street I have traipsed up and down a thousand times over to join Will Champion, Guy Berryman and Jonny Buckland, all decked out as colourful, cartoonish wandering minstrels, flowers on their guitars struts, umbrellas and balloons aloft above them.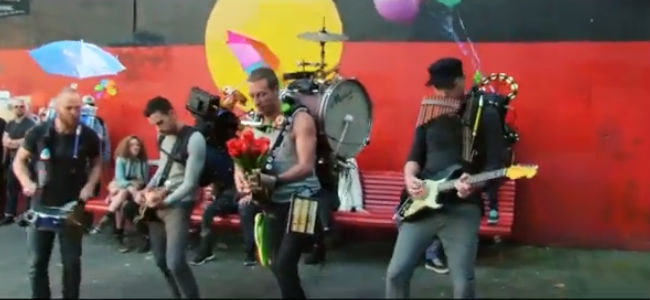 And suddenly I was instantly a 12 year old kid again, giggling with the recognition of seeing one of my favourite musical acts of all time in a host of familiar locations, singing and dancing their hearts out.
Do I wish I could have been there, like I was when they filmed their 2003 concert video at the Hordern Pavilion in Sydney (I am one of 5000 screaming fans; seriously go look for me and if you find me, please let me know), close enough to touch them, screaming and yelling along with 249 fellow fans as they entered Australia Street?
Yes, yes of course I do but somehow seeing the video, knowing they filmed it somewhere that is very near and dear to me, a place I call home, makes it all the more special irregardless of whether my name is in the credits at the end.
It's a great video – you should check it out.