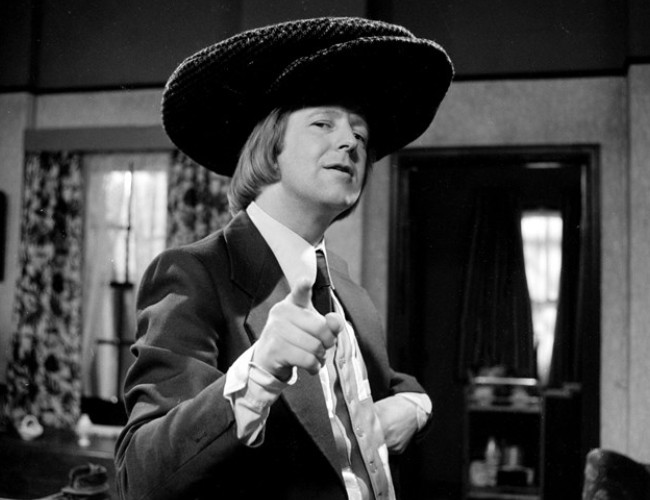 It is always desperately sad to learn of the death of a performer who formed such an essential part of your childhood.
The death of Tim Brooke-Taylor, one third of the legendary 1970s British comedy act The Goodies, from COVID-19 is a body blow, coming far too close to that of my mother last November.
It feels in far too many ways like my childhood is dying around me, a ridiculously irrational thought but then when has grief ever been the least bit rational?
It isn't, and it will never will be, which is the loss of a man who was by all accounts sweet and adorable, and of course very, very funny, is being deeply felt, not simply by me but by legions of fans around the world and by the men who knew him best and worked with him for so long to keep the rest of us so happy, Bill Oddie and Dr Graeme Garden aka The Goodies.
After meeting at Cambridge University in the 1960s (their contemporaries included John Cleese, Graham Chapman, and Eric Idle with whom Brooke-Taylor worked) , the three men worked together from 1970 to 1982 creating comedy that was delightfully off-the-wall, goofy and very, very clever, dealing with all kinds of issues such as racism and corporate greed in the most hilarious of ways as The Guardian notes:
"The Goodies featured the conceit of a trio of eccentric friends who operated as trouble-shooters, racing on their signature 'trandem', a three-seater bike, to deal with emergencies – most famously, Kitten Kong, a massive baby cat that terrorised London. The monstrous moggy scaled the Post Office Tower in homage to massive gorilla King Kong's treatment of New York's Empire State Building as a plaything in a famous movie. Cinematic parody was a frequent Goodies device, other send-ups including '2001 and a Bit' and 'a Cornish western called Bunfight at the OK Tea Rooms'.
However, while legions of fans including me adored and were devoted to their inspired lunacy, and they attracted prestigious awards such as the Silver Rose of Montreux for "Kitten Kong", not everyone felt the same.
"But, although The Goodies achieved high ratings and won awards (including the Silver Rose of Montreux, a high European TV honour, for 'Kitten Kong'), it was less popular with BBC bosses, who kept the trio loosely contracted, and did not seem heart-broken to lose them to ITV's London Weekend Television in 1980." (The Guardian)
Fair enough, I guess, not everyone loved The Goodies anarchically silly humour, their exquisitely well-delivered parodies, and their ability to run with an idea to such a ridiculously funny degree that rolling around the floor laughing was the only reasonable response.
Sure they were hard to categorise – were they a kids show or a program for grown-ups? – but all that mattered to me as a lonely, bullied kid in the '70s was that they were funny.
I loved all three men but Tim Brooke-Taylor was always my favourite, as comfortable in a dress belting out "Don't Cry For Me, Marge and Tina" as he was losing it after being cemented for decades into The Goodies HQ ("I'm a teapot! I'm a teapot!") and always treading a fine line between silliness and meaningfully hilarious.
He was a gifted performer who also found a longtime home on British radio show I'm Sorry I Haven't a Clue (he first appeared in 1972 on a show about to record its 73rd season) who was by all accounts a sweet and loyal friend.
But most of all, he was a man who made a laugh at a time when there wasn't a lot to laugh about, a comedian who captured my offbeat sense of humour to a captivating degree and who, with Oddie and Garden, reassure me that being different, odd and way out of the mainstream was no bad things at all.
Vale Tim Brooke-Taylor – you will be deeply and profoundly missed.
For more on this remarkable man's life, go to the BBC and The Guardian.