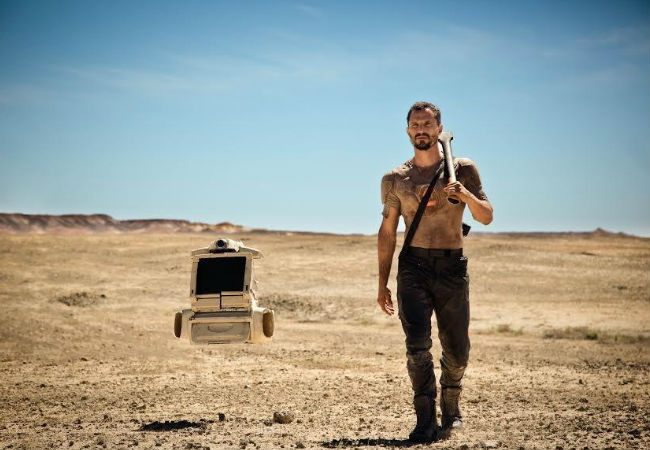 SNAPSHOT
An interstellar Jekyll and Hyde, Arrowhead tells the tale of survival set amongst the distant stars. Kye is a prisoner of war caught between two armies that he doesn't believe in. When offered an opportunity for freedom, Kye sets out on one last mission only to become stranded when his ship crash lands. Kye soon realises that the deadliest creature on the desert moon is himself. (official synopsis via c|net)
At one time or another, it's highly likely that we have all remarked "I am my own worst enemy!"
Sometimes it's said with an air of light amusement, other times with intense exasperation but it's usually nothing more than an observation, a sense that we don't always work towards our own best interests.
In the case of Kye, a man marooned out on an unnamed cruelly inhospitable moon in Jesse O'Brien's film Arrowhead – in this instance, the outback of South Australia is quite effectively standing in for windswept alien landscapes – it's far more than a sensation.
There is the very real possibility, one that builds as a deeply unsettling realisation that what is happening to him is not the result of malevolent outside forces at all, that he is literally his own worst enemy, the flesh-and-bone architect of his own possibly looming downfall.
Quite how this dual personality manifests itself isn't made completely clear in the trailer for Arrowhead, based on a short film the talented filmmaker released 3 years ago, and whose title is drawn, according to C|net from from "an episode of The Twilight Zone titled 'I Shot an Arrow into the Air' about astronauts crash-landing on an uninhabited planet."
But it is hinted enough that you get a strong feeling, especially in the trailer's dramatic closing moment, that there is frighteningly more to Kye than meets the eye.
The slow building intensity and utter other worldliness of the location all promises what Jesse O'Brien assures us what will be a good old fashioned, edge-of-your-seat sci-fi tale:
"The world of Arrowhead is one that allows for us to experience a singular story with our hero, Kye, but that also opens up the imagination for many more stories. First and foremost we wanted to create an old-fashioned science fiction adventure tale, as if the ideas and imagery had leapt off the pages of a 1950s pulp novel and landed in front of an independent film lens. In a climate saturated with over the top visuals, we felt like it's time to get back to basics and see more practical effects, a more subtle approach to the higher concepts, and a grittier reality. And Australia was the place to do it." (c|net)
Meet the enemy within … and pray you, and others around you, survive to tell the tale.
In this case, what looks like an utterly engrossing tale indeed.
Arrowhead is due for release in December via DVD and video-on-demand through Odin's Eye.