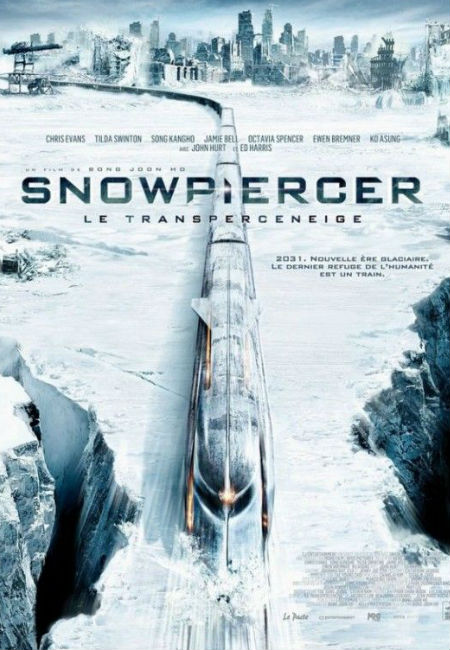 SNAPSHOT
Snowpiercer based on the French graphic novel "Le Transperceneige," is set in a future where, after a failed experiment to stop global warming, an Ice Age kills off all life on the planet except for the inhabitants of the Snow Piercer, a train that travels around the globe and is powered by a sacred perpetual-motion engine. A class system evolves on the train but a revolution brews. (synopsis via Coming Soon)
One of my favourite things in the world is when someone thinks outside of the box.
It doesn't matter what the context is, if you've chosen to ignore whatever pre-conceived notion might have held back your imagination, sense of innovative thought or creativity and chosen to go careening down the road less travelled with bounteous, one-of-a-kind results, then I will embrace you with open arms, shout you to a drink and blog my heart out about it.
Which is why coming across a post by Daniel Walber about the Canadian Oscar-nominated animated short film Madame Tutli-Putli (directed by Chris Lavis and Maciek Szczerbowski) on Film School Rejects filled with me with such joy because it ticked the out-of-the-box boxes on two fronts:
1. The film itself is all things idiosyncratic and quirky while still managing to tell a totally original, engaging story that will genuinely affect you in the sort of ways a truly inspired piece of filmmaking should do.
It centres, of course, on the titular cloche hat-adorned Madame Tutli-Putli who has an uncommon love of luggage so vast that you wonder how it is she manages to travel anywhere at all, let along make it onto the train on which strangely eerie things begin to take place.
It's these oddly conflicting goings-on, as well the engaging eccentric assortment of passengers around her such as the ill-natured boy reading a book or the two elderly chess players, that egg Madame Tutli-Putli on until she has morphed from a taciturn, almost passive figure into a far more animated woman determined to get to the bottom of the unusual events around her.
As Walber rightly points out, it doesn't take place in an apocalyptic frozen wasteland, but it has an elegant, intriguing and by the end almost frantic feel to it that lends itself well to the overall feel of Korean writer-director Bong Joon-ho's Snowpiercer, and thus functions as an unusual fitting companion piece to it.
2. Dissatisfied with the official prequel of sorts by South Korean studio C J Entertainment, which features some stunning 3D animated images but very little in the way of gripping action or even a compelling narrative beyond everything goes to sh*t when humanity's efforts to stop global warming instead make things much, MUCH worse, Walber proposed, rather inventively and pleasingly I think, that Madame Tutli-Pulti would function far better as a lead-in to Snowpiercer.
Granted it doesn't address the origins of the icy apocalypse in which Snowpiercer is set but as noted, it beautifully captures the sense of mystery and certainty that suffuses Bong Joon-ho's film as well providing a template of sorts for Tilda Swinton's aristocratic Minister of the Train.
I understand some people may dismiss the idea out of hand since the two films were clearly never intended to be linked but I love the fact that Walber not only made the connection but gave thoroughly creative reasons for doing so.
It makes me to watch Snowpiercer all the more, if it ever arrives in Australia for an extended cinema release (it premiered here at the recent Sydney Film Festival but alas I wasn't able to make either of the sessions).