At first glance there may not seem to be much of a connection between Divergent, the first film in a planned cinematic trilogy based on the much loved young adult series by Veronica Roth, and one of the most famous quotes about the Vietnam War.
But as the story of the unraveling of a supposedly perfectly-ordered post-apocalyptic society based in a walled-off, rather down at heel Chicago progressed, and I witnessed the mounting of an argument that in order to keep the hard won peace and stability of the highly stratified society that sections of it must be violently expunged, it reminded me of the infamous bombing of the city of Bến Tre in southern Vietnam in 1968.
One of many urban areas levelled to the ground as part of the US campaign to deny the Viet Cong an urban foothold from which to wage their guerilla war, it became famous because of a quote attributed to a United States major that "It became necessary to destroy the town to save it."
Leaving aside the illogicality of such a strategy, its relevancy to Divergent lies in the assumption by the leader of one of the five factions that make up this brave new post war world, Jeanine Matthews (Kate Winslet) the head of the knowledge-based grouping Erudite, that the only way forward is an obliteration of the very thing she supposedly seeks to preserve.
It is, of course, not a philosophy embraced by the hero of the story, Tris (Shailene Woodley, who seems to be the Go To Girl for YA movies these days, thanks to her ability to channel both strength and vulnerability in the one role), a member of the servant-hearted ruling class faction Abnegation, who practise an almost Amish aesthetic and a selfless devotion to the less fortunate in society.
Classified via a ritualistic coming of age test as "Divergent", a member of an aberrant group of free spirited, fearless thinkers in a society where such attributes are seen as threats to the conformist social order (only Abegnation views them as benign), it ironically falls to Tris to defend a regime of which she can never truly be a part thanks to her outsider status.
She is, therefore, a reluctant revolutionary, motivated less by revolutionary ideals than the threat posed by Matthews' devious plan to her nearest and dearest, preferring, initially at least, to forge a new life in the Dauntless faction, who are charged with the policing and defense of post-apocalptic Chicago, a far cry from the almost hippy idyll of the Abegnation grouping.
Dauntless, by contrast, sit somewhere between rowdy, partying fratboys, and drug-addled  and leaping raving club goers, always running everywhere, Klingons on steroids who treat every encounter as a test of bravery, machismo or both, regardless of sex.
Much of Divergent's running time is taken up with Tris's militaristic training and desperate struggle to make the cut-off mark for passing into the much-vaunted, if juvenile, ranks of Dauntless, along with friends Christina (Zoë Kravitz) and Will (Ben Lloyd-Hughes), during which she butts heads with, and then naturally falls for the hard-edged but soft-hearted "Four" aka Tobias (Theo James) all the time trying to outwit the cruel and capricious training instructor Eric (Jai Courtney).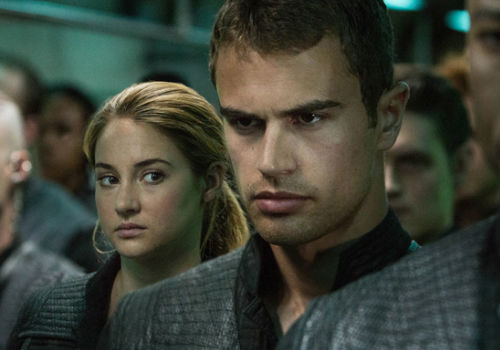 With so much at stake, both personally and societally – Tris is grappling with the normal growing up issues of any teenager such as who am I, where do I belong and how I do adjust to a whole new set of circumstances while the only world I have ever known changes dramatically around me? – you would think that Divergent, directed by Neil Burger, should be a hotbed of tense, political intrigue and knife edge tension.
But it is largely sapped of anything approaching a gripping narrative by a script that overwhelmingly favours the expositional lead up to the struggle for the heart and soul of society rather the fight itself which is shoehorned, rather uncomfortably, into the rushed final third of the movie.
What should be a "will she or won't she?" edge of the seat storyline instead drags for significant portions of the first two thirds of the movie, surprising given that failure to make the cut for Dauntless, in a society where faction is more important than blood and there is no running home to mum and dad, means joining the poor and disadvantaged ranks of the Faction-less.
And while there is a great deal riding on the success of Tris and her compatriots ironic defense of what is left of the largely-subverted established order, the plot fails to gain any real traction, despite the tectonic power shifts at play in a society that can ill-afford them.
Many of the dramatic failings of the film are papered over to a highly enjoyable degree by a talented cast who invest pretty much every character with the needed three-dimensional form to make the unevenly paced and under-directed film as on track and as engaging as it somehow manages to be.
Shailene Woodley is a standout, investing Tris with both the necessary vulnerability and fearlessness to make her a heroine you can genuinely care about, while Kate Winslett likely has a fine future playing iron villains with a velvet sheen.
While the male characters aren't as finely delineated as their female counterparts, Theo James is impressive as the conflicted "Four" and Miles Teller, though he is not done any favours by a cardboard cutout bully of a character, manages to find a way to make Peter reasonably watchable by the end of the film.
At the end though, while the casting is first rate and the visuals of a ruined dystopian Chicago suitably epic, Divergent is never more than moderately enjoyable, an apocalyptic tale without the necessary dystopian dramatic grunt to make it truly memorable.