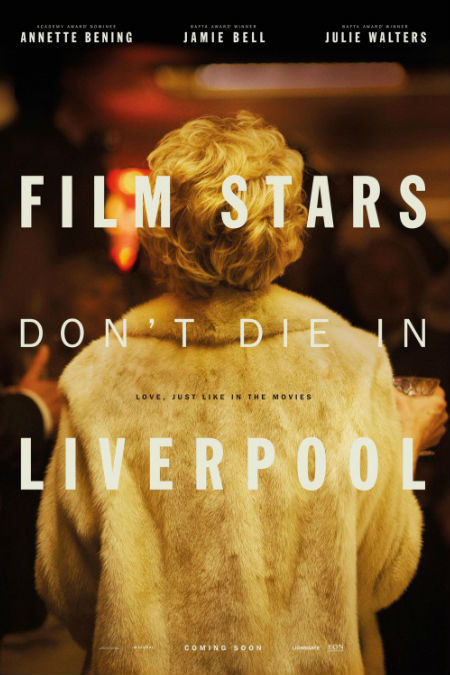 Society has some weirdly orthodox ideas about love.
It should occur between people of roughly the same age, an older man with a younger woman (or man) is fine but the reverse, oddly and misogynistically, is not, and marriage is lauded while living together, though commonly practised, is not.
It's all very neat and tidy, and you could argue highly unrealistic, and not, as Peter Turner (Jamie Bell), a self-described jobbing actor from Liverpool, even remotely amenable to the unpredictable delightful vagaries of love.
In 1978, Turner, the youngest of nine children who had grown up on a council estate before falling in love with acting thanks to his mother's cleaning job at the local variety theatre, the Pivvy, found himself meeting, becoming friends and falling in love, all in quick succession, with Gloria Grahame (Annette Bening in superlative form), a veteran Hollywood actress who won an Academy Award for Best Supporting Actress in MGM's The Bad and the Beautiful (1952).
Married four times, in the waning twilight of her career, and 29 years older than him (he was 26), Gloria was not the sort of person Turner might have expected he would fall in love with, and yet love blossomed and developed into a serious affair that lasted until 1981 when the actress, diagnosed with end-stage stomach cancer and unwilling to share the news with him or her family, pushed him out of her life.
By Turner's account, the years inbetween their meeting at a theatrical boarding house in London – Grahame was often in the UK for theatre work – and the end of their relationship were happy ones, a down-to-earth existence made up of dinners in pubs, kebabs on the streets and for a time life in the Big Apple where Grahame had an apartment.
While Turner's mother Bella (Julie Walters) and Joe (Kenneth Cranham) were supportive of the relationship, not everyone was, not simply because it breached societal norms but because the idea of a glamorous Hollywood actress, who called Bogart and Bacall friends and neighbours, falling in love with an actor from the Liverpool stage was simply inconceivable.
As the Pivvy's stage manager once said to Turner as he rushed in to perform in a plat one night, distracted by Grahame's impending death – she was holed up in the spare bedroom at the family home, calling on her one time paramour one last, critically-important time – "Film stars don't die in Liverpool."
So much for what should happen then.
Turner, to his credit, never cared for what people thought, and Grahame, a classic free spirit with some highly idiosyncratic ideas about love, beauty and societal expectations, was very much of the same mind, which accounts for how their relationship happened at all, and how it sustained itself at all.
What is also obvious from Matt Greenhalgh's marvellously understated screenplay, which moves between the past and present with a sinuous theatrical ease, taking right into the marrow of Turner and Grahame's memories, is now devoted the two unlikely lovers were to each other.
So devoted in fact that Turner didn't hesitate for a second when Grahame called him out of the blue, months after the end of their relationship, to ask for palliative sanctuary at the end of her life.
Under Paul McGuigan's confidently nuanced direction, this devotion is treated as naturally as any other relationship, given equal footing with anyone's else love, a perfectly natural response but one that didn't square with society's expectations of love in any way, shape or form.
Yet as you watch the tenderness on Turner's face every time he is with Grahame, the sheer rapturous delight that dances across it when they kiss, when he sees L.A. or New York with Gloria by his side, or when they're simply spending a lazy morning in bed making love, you come to understand this was no mere fling.
In fact, the depth and potency of their love is on full display in the final acts when Turner, riven with deep anguish by Graham's looming passing, goes to inordinate trouble to fulfill his love's wish to perform the role of Juliet (Romeo and Juliet) on stage before she dies.
Though they're seated and largely reading from the play itself, there is a tender poignancy to the whole scene, as Turner helps Grahame realise a lifelong dream, one that Turner inadvertently ridicules when Grahame first suggests it at the start of their relationship, but which becomes a final powerful statement of their love.
It's a beautiful, intensely moving though never overplayed or manipulated for cheap sentiment; rather McGuigan allows it to play itself out with a breathtakingly touching quietude that says nothing more or nothing less than this is a love that matters, opinions be damned.
As a love letter to love itself, in all its myriad unconventional beauty, Film Stars Don't Die in Liverpool, is exceptionally good.
It never once resorts to cheap gimmick or melodramatically cloying sentiment, instead letting this wholly remarkable, beautifully tender story play out.
The love between Turner and Grahame was not fairytale perfect, but it was real, it did matter to both of them, despite intense scepticism from the actress's sister who couldn't understand how someone as young as one of Grahame's children, couldn't possibly be really in love or want a relationship with her sister.
There is no happy ever after since Grahame died a few hours after returning home to New York with her son – against her wishes Turner contacted her children and gave them the news – except in so far as these two unexpected lovers were given that rare thing in life, a chance to make amends and go out on a note of sweet reconciliation.
That, and the idea that romantic orthodoxy be damned (not that this was ever the intent of Grahame and Turner; they simply fell in love), lend this quietly moving, exquisitely well-wrought film a sustained, profoundly-affecting emotional resonance that lasts long after the final goodbyes of this most enchanting and unlikely of couples.