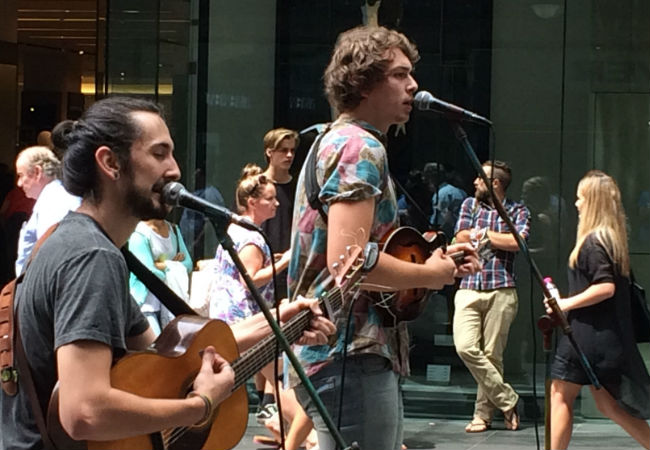 The first thing you notice when you hear Central Coast, NSW-based, alternative folk/pop duo Winterbourne play is the sheer, unstoppable energy that seems to roll off them like waves.
Its borne of what can only be described as an infectious enthusiasm for the music they make, a passion that pours out of every song they play, whether its captivating original numbers like "Cold" or "Steady My Bones" off their All But the Sun EP (released May this year) or covers of songs by artists like Vance Joy ("Riptide") or The Kinks ("Sunny Afternoon"), which bristle with the sound of the original while adding something distinctly different and new to the song.
The energy and passion of Winterbourne, who have been playing to ever-growing and more enthusiastic audiences for the last two years, is so powerfully pronounced that it has the power to stop you in your tracks, which is exactly what happened when a friend and I were cutting through Pitt Street Mall in the centre of Sydney a couple of weeks back, intent on doing some early Christmas shopping and nothing more.
To be honest, I usually pay little attention to the revolving door of artists who call the mall home for an hour or so before making way for the next musical hopefuls to strut their stuff; it's not that any of them are particularly bad, simply not all that noteworthy or worth stopping for.
But we'd barely crossed the street when I heard a sound so distinctive, so passionately full and glorious that with little thought and some sort of instantaneous psychic agreement between us, my friend and I stopped where we stood, behind a considerable crowd of onlookers, many of them tapping their feet, some even singing along (clearly this band were known in some form already, I reasoned), all of whom standing in rapt attention.
It was an amazing sight.
It takes a lot to stop the frenetic momentum of Sydneysiders, people who like the residents of most big cities always seem to be in a desperate hurry to get somewhere, anywhere, but Winterbourne, two men with guitars, an ear for an exquisitely-wrought melody and a clear love for what they do, had managed it in no time flat and with impressive numbers to their credit.
The remarkable thing was that no one, including my friend and I moved for multiple songs at a time, glue to the spot, our ears overruling our ceaseless need to keep moving, hungry for more of a band that recall the easy pastoral bliss of Boy and Bear or Bon Iver, combined with the roiling, dancing energy of Holy Holy or even at times, Bombay Bicycle Club.
Hardly derivative though, Winterbourne, currently touring Australia with Little May, have a compelling sound all their own, that roils and rolls, bounces and surges, washing over you in tides unceasing, lifting you up with music borne of the sheer love of creating something.
It's beguiling, beautiful, invigorating stuff, the sort of music that you only hear once in a blue moon, or when you're passing on your way to somewhere else, suddenly captivated by music so gloriously good and passionately made that doing anything else right there and then seems like a complete waste of time.