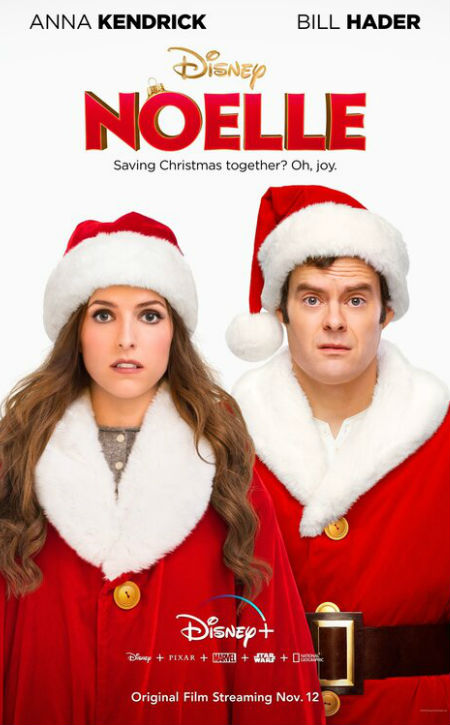 Unless you are someone staging a nativity play, in which case strict depiction of sacred religious truths is a virtue, there is a temptation whenever you tell a story about any aspect of Christmas's many well-worn tropes and cliches to place your own merry, eggnog-addled spin on it.
In fact, if you don't these days in a world so saturated with been-there-done-that ennui, there's a good case nobody will really pay attention.
Or they will, but quickly pass on to the next bright shiny festive cinematic bauble.
But re-inventing only works if you manage to pivot somewhere between warm-and-fuzzy bonhomie or go full Scrooged and mostly throw the traditional baby out with the bathwater (save for the redemptive bit which really has to stay if the story going to retain any resonance).
So you can well understand why the makers of Noelle, one Disney Plus, the Mouse House's bright and shiny new streaming platform, decide to have some fun with Santa, the North Pole and the whole idea of the people behind the present-giving-and-receiving fiesta that is Christmas.
But while Klaus, recently unveiled on Netflix, goes full metal re-invention, giving Santa's origins and present reality a bright, shiny all-new makeover, Noelle, written and directed by Marc Lawrence, seems happily content to leave the architecture intact but play around with merry gusto with the people who keeping it humming and bedecked with lights and Christmas cheer.
It's a strategy that mostly pays off with some fresh post modern angsty touches making their presence felt amidst a backdrop which is full-on Santa's Village Christmas, complete with cheesy shop names, hot chocolate, Naughty vs. Nice lists and a decorating aesthetic that boldly and festively celebrates the idea that more is colourfully more.
In this latest iteration of Life With Santa, which should be some kind of fun mockumentary, Santa is really a series of dynastic giftgivers – think North Korea but with less violent repression and more peace and goodwill to all men and women.
It's a high responsibility to be the eldest son born into Santa's long line because one day you too will wear the red hat and have to devote the rest of your long but interestingly mortal life (elvish magic only goes so far it seems) to making the children of Earth happy every December 24th.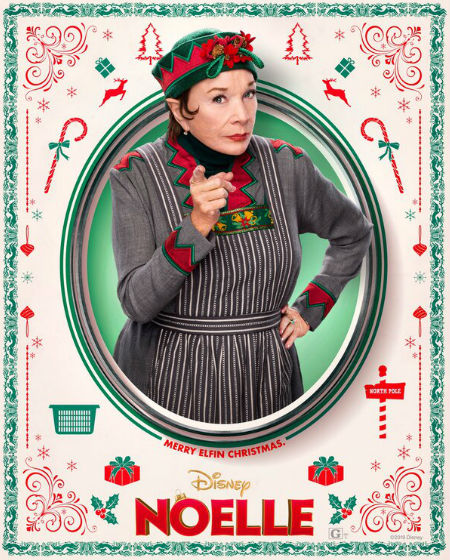 But what if, and here's the kicker and the key element that drives this giddy piece of St Nick re-imagining, you don't want to be Santa?
GASP! What?!
You heard me – what if, after all the sleigh training, with diligent elves shaking fake snow over you, the Santa Book reading (it contains everything you need to know), the hot chocolates with your sister and the reindeer bonding (On Dasher!), you admit, to yourself as much as anyone, that you want out of the family biz.
What happens then, especially with the weight of expectation falling heavily on your shoulders like a groaning sack of presents at the start of Christmas Eve's delivery run?
Well, if your Nick Kringle (Bill Hader) and the heir-apparent-turned-new-Santa – the old occupier of the position, Nick's dad, dies but thankfully we are not party to this most unpalatable of deaths – you give up on your duties, which let's face it, you were fairly average to awful at anyway and you head off to the sunny climes of Phoenix, Arizona to run yoga classes.
You what now?
It's a cute little twist that Noelle mostly executes well on if only because it gives the film a chance to have some fun out in the real world, a place that none of the Kringles save for Santa, including Nick's younger, Christmas card-making sister Noelle, have ever seen, much less spent time in.
In real trouble back home because she encouraged Nick to go on his very own Rumspringa to find himself and figure out what he really wants – to be fair she says to make himself scarce for one weekend; he takes much longer – just before Christmas (The Elf Council is not happy!), Noelle heads off with her nanny Polly, played with irrepressible, no-nonsense glee by Shirley MacLaine, to find Nick, restore the natural male-heir order of things and, yes, save Christmas.
You can see where this is all heading a mile off – Noelle is way better at being Santa than a deeply reluctant Nick ever was or is, she has Santa's twinkle/sparkle/ability to speak languages and intuitively guess naughty or nice and she is nowhere as selfish as she seems to be at the start (heart of tinsel-fringed gold and all that.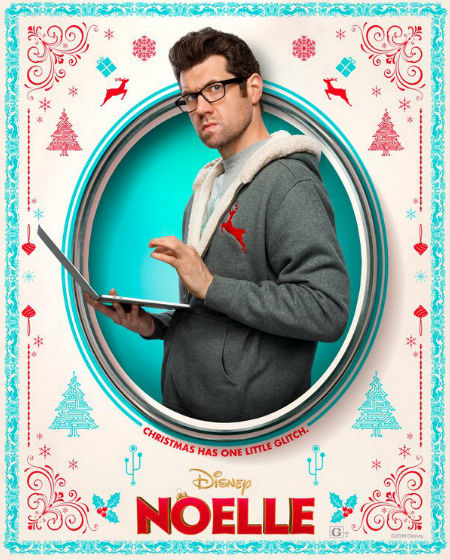 Her adventures in Phoenix are delightfully predictable, with Noelle encountering and eventually changing the lives of a private detective named Jake (Kingsley Ben-Adir), a handsome (of course) divorced dad trying to figure out how to spend his first Christmas with his son Alex (Maceo Smedley) outside the old family unit, the manager of the Desert Ridge Mall, Helen Rojas (Diana Maria Riva) who's simply looking for love with the hunky guy from Petco, and a homeless girl and her mother who simply want a job for Christmas so they can build a life.
But for all its predictability – the replacement Santa for Nick is his cousin Gabe (Billy Eichner) who goes a tad too algorithmic with Christmas resulting in all kinds of chaos and trouble (though this isn't as full-on hilarious as it could have been) – Noelle manages to feel fresh, vibrant and festively, redemptively, happily fun, thanks largely to Kendrick's comedically-inspired buoyant performance which injects the kind of effervescent joy of the season that any kind of Christmas movie needs but especially one trying to one foot in the traditional Santa camp and the other in a bold new postmodern world where things are rather more real and more epiphany-triggering confronting.
While Noelle never really gets up the festive head of steam you expect it to, missing the reimagined, all Santa boots in bonhomie and heartwarming serious silliness of movies like Klaus and The Christmas Chronicles, it is a diverting and reasonably fresh take on Santa that keeps the bits we love – who wouldn't want to live in a place where the gavels are made of peppermint and the local journalists are elves dressed in customary red and green? – and has fun with all the other stuff, including posing the long overdue #MeToo question of why can't Santa be a woman?
She is, after all, in all the capable, kind and lifechanging ways that matter the one with all the talent and smarts and it makes sense to give her the gig surely?
Watching whether Noelle does indeed go with merit or tradition, and how it gets to that oh-so-delightful point is all sorts of merriment and happiness, and while the film never really gets Dasher and Dancer et all whizzing through the sky with the kind of imaginative fervour you might be willing it to find and execute, it is nevertheless a lot of festive fun that should nicely, if not entirely memorably, fill out your Christmas viewing stocking.