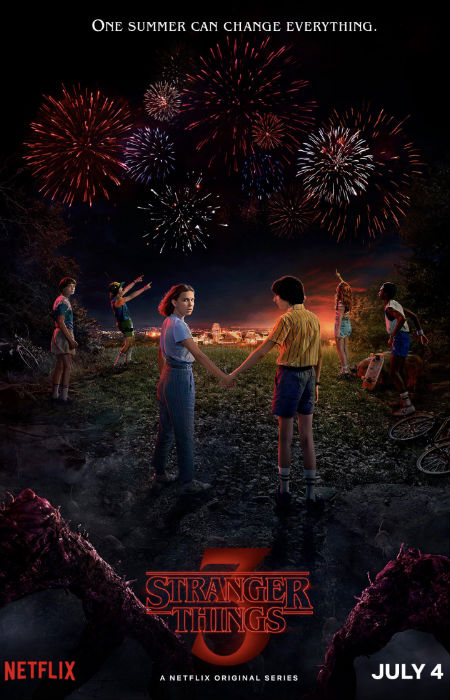 It's been a while coming but now we have a poster for Stranger Things season 3, an ominous tagline, a teaser date annoucement video (complete with a hidden message in all its cryptic glory) and a release date!
What we don't know is why Will Byers (Noah Schnapp) looks so damn worried although and why Eleven (Millie Bobby Brown) is staring behind her in abject concern but it's a fair bet it's not because Care Bears are romping down the hillside down towards the much put-upon kids of Hawkins, Indiana.
Unless the cute and cuddly Eighties harbingers of love and goodness have embraced their demogorgon dark side and are out for blood, escaped from the Upside Down.
With no detailed synopsis just yet, and only some oblique teaser videos to go on, we don't know exactly what's in store for Will, Eleven, Mike (Finn Wolfhard), Dustin (Gaten Matarazzo) and Lucas (Caleb McLaughlin) – and of course Will's mum Joyce (Winona Ryder) and Jim Hopper (David Harbour) – but you can bet it won't be fluffy kittens and happy days of bliss.
Which is fine because who wants that when you can edge of your seat bingeing anxiety?
Stranger Things season 3 premieres on Netflix on 4 July, 2019.