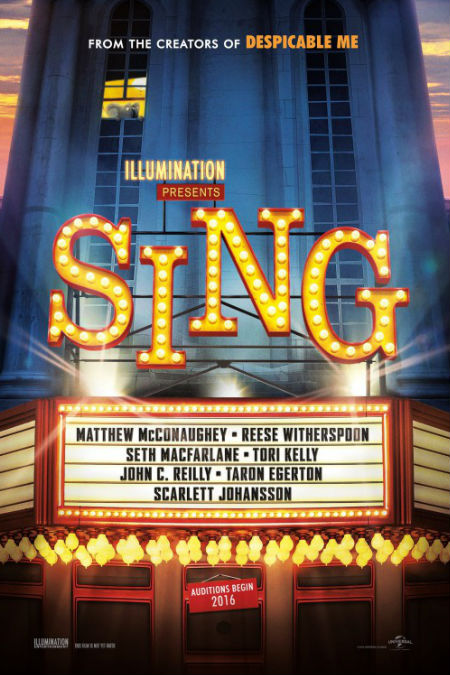 SNAPSHOT
Set in a world like ours but entirely inhabited by animals, Sing stars Buster Moon (Academy Award winner Matthew McConaughey), a dapper Koala who presides over a once-grand theater that has fallen on hard times. Buster is an eternal optimist—okay, maybe a bit of a scoundrel—who loves his theater above all and will do anything to preserve it. Now facing the crumbling of his life's ambition, he has one final chance to restore his fading jewel to its former glory by producing the world's greatest singing competition.

Five lead contestants emerge: A mouse (Seth MacFarlane) who croons as smoothly as he cons, a timid teenage elephant (Tori Kelly) with an enormous case of stage fright, an overtaxed mother (Academy Award winner Reese Witherspoon) run ragged tending a litter of 25 piglets, a young gangster gorilla (Taron Egerton) looking to break free of his family's felonies, and a punk-rock porcupine (Scarlett Johansson) struggling to shed her arrogant boyfriend and go solo. Each animal arrives under Buster's marquee believing that this is their shot to change the course of their life. (synopsis (c) Coming Soon)
If there's one thing, among many, that animation has going for it, it's the fact that it offers the possibility of such a broad range of narrative possibilities.
Thus it is that in the same year that we get animated films about prehistoric animals out for their umpteenth outing (Ice Age: Collision Course), a fish looking for its parents (Finding Dory) and the untold stories of domesticated animals (The Secret Life of Pets), we get Fame with animals.
And like all good animated films, this one comes with some emotional heft too; in this case, about a disparate group of animals all of whom have one very important things in common – they want to make something of their lives.
Specifically they want to realise their creative ambition to be a singer, to loose the bonds of turgid everyday life and make something of their hopes and dreams.
It's a compelling idea and one that seems to give Sing some real substance; sure there are jokes aplenty but there's also a lot of longing, need and hope on display and that's ultimately what could make this such an intriguing movie to watch.
As films like Inside Out and Zootopia showed, if you put a meaningful, beating emotional heart at the centre of your story, the sky's the limit in the impact your animated film can have, not just on children but on moviegoers across the demographic board.
Sing looks like it has the makings of a story that matters and that will make it worth watching and listening to when it debuts in USA on 21 December and in Australia on 26 December.