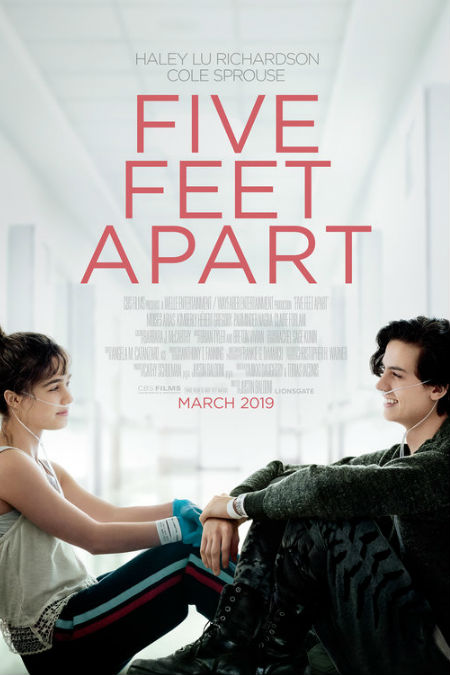 SNAPSHOT
Directed by star of The CW's Jane the Virgin Justin Baldoni, Five Feet Apart stars Haley Lu Richardson (Split) and Cole Sprouse (Riverdale), who step into the roles of the diligent rule-following Stella and the determinedly rule-defying Will, respectively. The movie follows the journey of the two teens as they live within the confines of a hospital to manage their cystic fibrosis diagnoses. The two eventually fall in love, because of course they do, despite having to maintain a six-foot distance at all times to prevent cross-infection. (synopsis (c) Paste)
We have, in a very real sense, seen it all before.
Rule-observing girl meets rule-breaking boy, which is sometimes reversed (think John Green's Paper Towns), they butt heads, find common ground, fall in love, all the time with some kind of life-ending Sword of Damocles hanging above their witty, articulate and pretty wisely-observant heads.
And yet there is something about the trailer for Five Feet Apart that takes all those well-worn tropes and makes them infinitely charming and life-affirming in a way that makes me really want to see this film.
Quite whether it will play out as I expect – mine is a reaction of the head more than the head; that's what the trailer wants, of course – is only something we'll find out when the film is released (assuming it reaches Australia).
Still, it's nice to think that there are still people out there taking tropes and having their successfully merry way with them and I can only trust that the producers of this lovely film are among that number.
Five Feet Apart releases 22 March 2019 in USA.