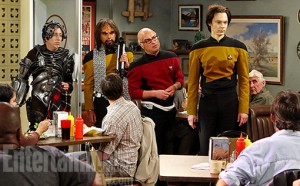 Well not quite.
In fact they go to Bakersfield in this week's episode (entitled appropriately enough "The Bakersfield Expedition") for a comic book convention, all dressed up in their finest Star Trek: The Next Generation regalia, and have to get some help from the townsfolk in a diner when Leonard's car is stolen.
As Sheldon would say, it looks like a hoot!
(For us I mean; for the guys not so much as their discomfort in the photo – above – makes plain.)
The boys' absence gives the girls a chance to get to know the inside of the comic book store back home a little better which should prove very interesting indeed.
You can read the full story at insidetv.ew.com and also at hollywoodreporter.com.
10 January
seat42f.com released some photos from the episode today and I loved them so much that I am updating the post with five of them.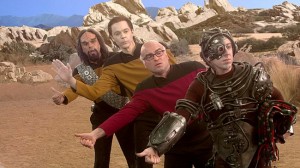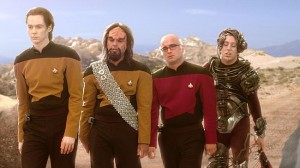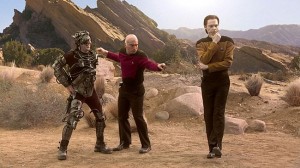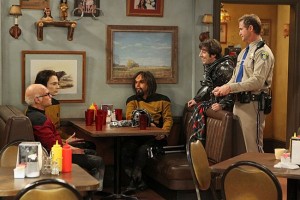 Now just in case you were wondering where the Into Darkness reference comes in – you were wondering that right? Right – here's some crisp, lovely high res shots from the upcoming film, via hypable.com, which should amp up your excitement about seeing the film just a little bit more.
Or in my case, a lot.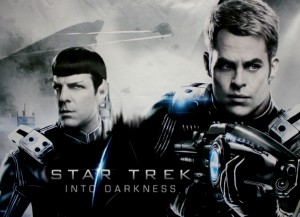 I can feel my Spidey senses tingling all over.
Oops … wrong franchise.
Anyway, the movie is an action-packed rush by all accounts, which is borne out by the latest synopsis:
"Our heroes are propelled into an epic chess game of life and death, love will be challenged, friendships will be torn apart, and sacrifices must be made for the only family Kirk has left: his crew."
And these amazing photos.
Engage. (Yeah, yeah, I know wrong Star Trek series. Gotcha!)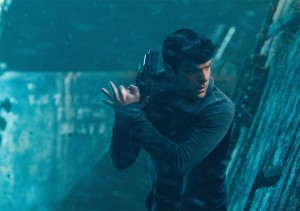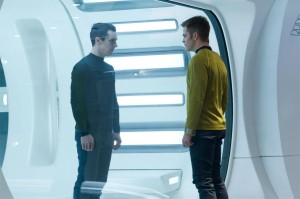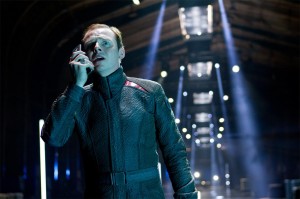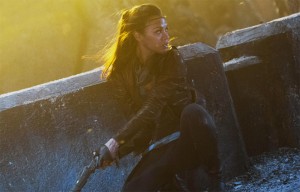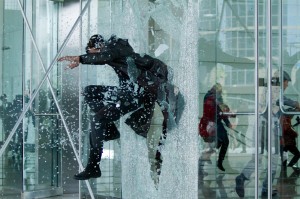 And once more to the gripping kickass trailer my friends …
Into Darkness opens on May 13, 2013.