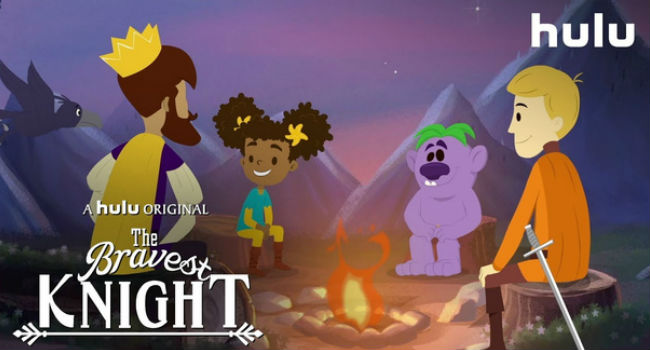 SNAPSHOT
Based on wildly popular children's book by Daniel Errico The Bravest Knight Who Ever Lived, the story chronicles a young pumpkin farmer's adventure as he attempts to become the bravest knight who ever lived.


The new series is breaking boundaries, featuring a household with two dads (Sir Cedric and Prince Andrew), making it one of the first children's television series with an openly gay main character. Following the inspiring and perseverant former pumpkin farmer, Sir Cedric, now grown and married to the prince of his dreams, The Bravest Knight recounts personal tales of his journey. Sir Cedric shares his story with his adopted 10-year-old daughter Nia, on how he transformed from day-time farmer to full-fledged knight. Nia, who is training to become a brave knight herself, learns important values such as honor, justice and compassion; proving that knighthood is much more than slaying dragons.


The show boasts a star-studded cast including T.R. Knight as "Sir Cedric," Bobby Moynihan as young Cedric's troll sidekick "Grunt," Storm Reid as Not-Yet-Knight "Nia," and will also feature the voice talents of RuPaul, Christine Baranski, Wanda Sykes, Wilson Cruz, Teri Polo, Steven Weber, AJ McLean, Dot-Marie Jones, Maz Jobrani, Chance Hurstfield and more. The Bravest Knight's opening theme song was written and performed by Grammy-nominated musician, songwriter and activist Justin Tranter. (synopsis via YouTube (c) Hulu)
Honestly, watching LGBTQI characters in TV shows, something that was manifestly absent when I was growing up in a Christian household and struggling mightily with my sexuality, never gets old.
Sure, they are commonplace on TV right now, reflecting a growth in the depiction of diverse and marginalised groups generally (though there's a still a long way to go), but even so, it makes happy to see characters who reflect me and the multidinous variations on that exist in the world of sexuality and gender identity.
The latest show to join this most welcome of trends is The Bravest Knight, an animated show which features main characters who are gay in a family which is emphatically loving, caring and inclusive.
In other words, what any family should be, and which many are, gay, straight or whatever.
As Bleeding Cool sagely observes:
"Those stories revolve around the concepts of justice, honor, compassion for others, not just being a big, brave knight. The series will also show that gay couples are natural, loving, and care for each other, which could help counteract some of ingrained societal prejudice aimed at LGBTQ families."
Here's very much to that happening, a long overdue change which reflects the fact that, prejudices aside, LGBTQI families are every bit as wonderful as any other.
It's exciting to see a show celebrate that truth.
The Bravest Knight launches its first five episodes on Hulu on 21 June.