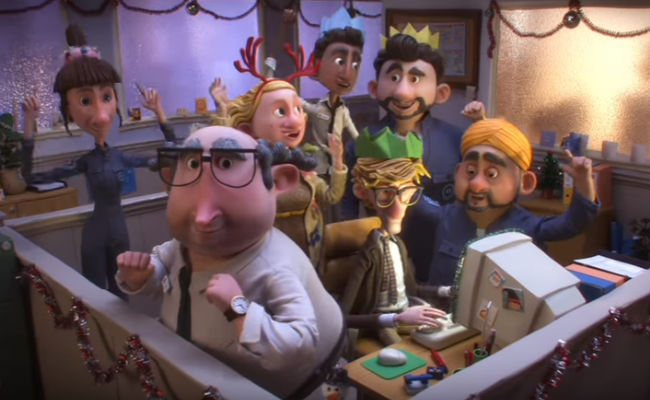 SNAPSHOT
Presenting the new Sainsbury's Christmas Advert – a joyous Christmas musical created in stop frame animation featuring vocals by James Corden. It tells the story of Dave, a hard-working and devoted Dad, who realises that the greatest gift he can give people this Christmas is his time. (synopsis via YouTube (c) Sainsbury's)
While it's likely that nothing can quite compare to last year's delightful Sainbury's Christmas ad Mog the Cat, this year's effort by Sainsbury's, a British supermarket chain, comes pretty close to pulling all the festive heartstrings.
Using wonderful stop-frame animation by award-winning director Sam Fell that draws on every last visual cue for Christmas-ness from light-lined streets to office parties (in a cubicle no less; bummer of a small budget Hal!), from a factory that looks like Santa could work there quite happily to people singing carols dressed as Christmas trees (what you've never done that? You've never lived!) to tinsel-adorned dinners (of course!), The Greatest Gift does a brilliant job of reminding all of us that what really matters in what can be a hectic, time-sapping time of the year is our presence.
No, not our presents – although being a retailer I'm sire Sainsbury's won't mind if you give lots of them too! – but rather our time and effort and a mindfulness to be fully in the moment with those nearest and dearest to us.
It's a joy to watch and to listen to, thanks to James Corden's dulcet vocals and a beautiful song by Flight of the Conchords' Bret McKenzie, and it will have you in a Christmas mood in no time flat.
Even when you're in a big long line waiting to buy presents, trust me on this.