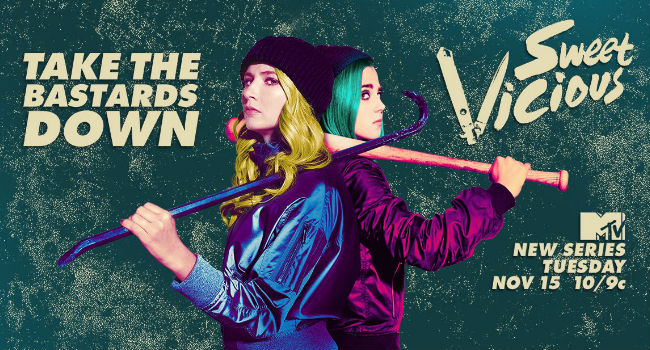 SNAPSHOT
Starring Taylor Dearden ("Ophelia") and Eliza Bennett ("Jules"), "Sweet/Vicious" is an offbeat superhero story for the millennial generation. Hell-bent on bringing justice to those who get away with abuse on their college campus, Jules and Ophelia take on double lives as wannabe vigilantes. Filled with clumsy attempts and missteps, the odd-couple pair of antiheroes must balance their new secret life with best, friends, parents, love interests, and the metaphorical monsters under their beds.

At the core of the f*cked up, hilarious, heartbreaking world of Jules and Ophelia is the heart of the show: two girls, who never felt like they belonged, finding a home in each other… and trying to kick a lot of ass. (official synopsis via MTV)
It's a rare thing to find a new TV show that not only has a look sense of visual and narrative style but also has a fully-formed voice with something supremely worthwhile to say.
But that's exactly what Sweet/Vicious, MTV's latest scripted offering, comes with in spades, driven by a well-defined, and beautifully-executed vision by its creator, Jennifer Kaytin Robinson.
"In creating the show, I really wanted to find a voice and create something that was for women that felt nuanced and felt new and [made you go], 'Oh my God, I could kick ass like that. That feels like me. She feels like me in every way.'

"[Jules is] doing something that's extraordinary," Robinson continues, "but in a way that does feel feasible and real and true to this very, very cool feminist movement that's happening right now where women are standing up and they're feeling empowered and they're not apologizing for it."
With a firm initial focus on addressing the issues of sexual assault on college campuses, one tailored to the Millenial demographic but with a wide appeal to everyone else, Sweet/Vicious aims, the words of Hypable, "to walk a fine line between a hard-hitting, realistic depiction of life and a type of comedy that's relatable to multiple generations."
It is, by all accounts, everything its creator and those working also working on the show want it to be, with an emphasis on the relationships that drive the show, primarily between Ophelia (Taylor Dearden) and Jules (Kaytin Robinson), and also between Ophelia and Harris (Brandon Mychal Smith) who are constantly bringing out the best in each other.
It's refreshing to see a TV show that draws drama not from petty infighting between its characters or storyline gimmickry but from strong connections and a powerful message – the show will tackle other major issues as it goes along too – and a unique sensibility.
Everyone is predicting that this will be one of the next BIG shows and from just one trailer alone, it's not hard to see why.
Sweet/Vicious premieres 15 November on MTV.