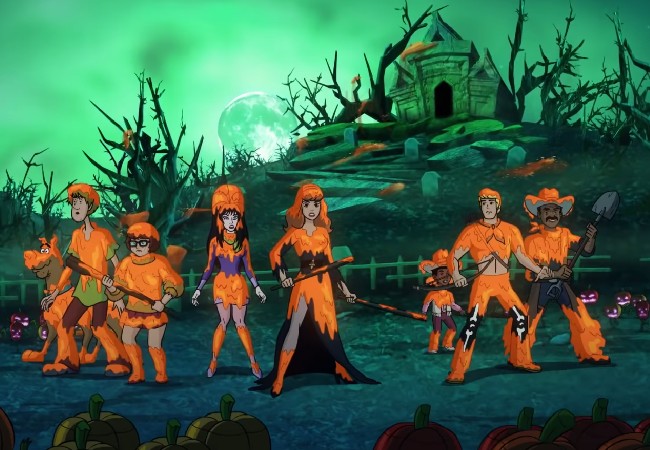 SNAPSHOT
Scooby-Doo and Shaggy's favorite holiday is upon us! With fake monsters and candy galore, Halloween is heaven for these hungry foodies going door-to-door. But this year, their sweet holiday turns sour when the neighborhood pumpkin patch is infected by toxic ooze, creating high-flying jack-o-lanters, and a king-sized pumpkin leader squashing everything in its path. It's up to Scooby-Doo and the gang as they team up with their pals, Bill Nye the Science Guy and Elvira, Mistress of the Dark, to solve this mystery of gigantic proportions and save Crystal Cove!

Happy Halloween Scooby-Doo! features the familiar voice talents of Frank Welker as Scooby-Doo/Fred Jones, Grey Griffin as Daphne Blake, Matthew Lillard as Shaggy Rogers and Kate Micucci as Velma Dinkley. The film also stars Cassandra Peterson as Elvira, Mistress of the Dark and Bill Nye as himself. Happy Halloween Scooby-Doo! was executive produced by Sam Register (Looney Tunes Cartoons). The film was written, produced and directed by Maxwell Atoms. (synopsis courtesy SyFy Wire YouTube channel)
Don't you just hate it when a toxic goo infests a field of otherwise trouble-free pumpkins and turns them into sentient creatures bent on your destruction?
No? Well, Scooby and Shaggy do and as you might expect, it doesn't go down too well with Fred, Daphne or Velma too who find themselves pursued by these vengeful vegetables in a Halloween adventure that is equal parts fun and nightmarish YIKES!
Going straight to digital distributionand DVD/Blu-Ray etc, Happy Halloween Scooby-Doo! looks like a grandly, epically piece of adventuring that brings the team home to what is their natural storytelling time of year.
And look at the guest cast list! Having Elvira and Bill Nye the Science Guy in the one chilling special makes it worth the price of admission all by itself!
Happy Halloween, Scooby-Doo! drops this northern autumn online and via Blu-Ray and DVD.