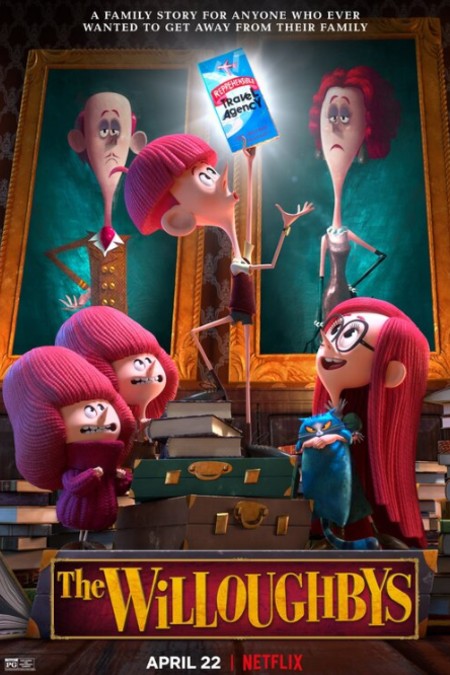 SNAPSHOT
Convinced they'd be better off raising themselves, the Willoughby children (Tim, Jane, Barnaby A & B) hatch a sneaky plan to send their selfish parents on vacation. The siblings then embark on their own high-flying adventure to find the true meaning of family. The Willoughbys is directed by animation filmmaker Kris Pearn, director of Cloudy with a Chance of Meatballs 2 previously, as well as lots of other animation work in the industry as an experienced story artist and character designer. Co-directed by Cory Evans and Rob Lodermeier. The screenplay is written by Kris Pearn and Mark Stanleigh; adapted from Lois Lowry's novel of the same name. (synopsis via First Showing)
I think it's something every kid dreams of (even those with loving, nurturing parents like I had) – what if, for some reason, they disappeared and you could do what you want?
Wouldn't that be the most awesome thing ever?
Maaaaybeeee but as The Willoughbys points out in its gleefully colourfully over the top way, being parent-less come with its own set of complications.
Based on the book of the same name by Lois Lowry, this film, which is soon to land on Netflix aka the only cinema option we have left (along with other streaming platforms, of course) now that COVID-19 has temporarily killed off the cinemas, has a riot showing how maybe parents aren't so bad after all.
Or maybe they are sometimes – certainly the Willoughby kids' parents are as neglectful as they come – but the alternative is worse and involves a lot, and I mean, A LOT of driving from mysterious black cars.
The Willoughbys premieres on Netflix on 22 April.