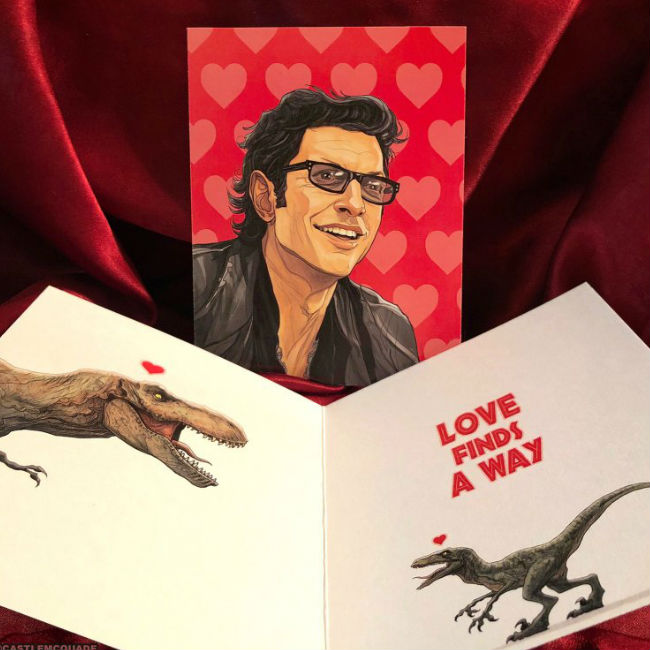 Cole Porter knew that everyone was into love, declaring in his iconic song, "Let's Do It (Let's Fall In Love)" …
Birds do it, bees do it
Even educated fleas do it
Let's do it, let's fall in love.
Someone else who knows about the universality of love and romance is PJ McQuade, a Brooklyn, New York-based artist who "runs a shop on Etsy called Castle McQuade, which sells geektastic pop culture inspired greeting card of all sorts, plus fridge magnets, stickers and giclée prints of his work."
As part of his year-long celebration of all things pop culture, he creates a series of Valentine's Day cards every year, which you can of course buy at his shop, which provide a charmingly unique take on love from the perspective of characters near and dear to us all.
This year that list includes Larry David, Ripley, Pennywise, Keanu Reeves, Kylo Ren, Jareth the Goblin King, Darth Vader, Ian Malcolm, Severus Snape, Quint, The Hound, Yoda, Lando, Agent Cooper, True Romance, Khan, The Lord of Darkness, Gollum, Hodor, Brick & George McFly, all of whom are recipients of cards that match their genre and TV or film, tailor-made for the pop culture-loving significant someone in your life.
Ain't love grand … and as it turns out, lots of fun!
(source: Laughing Squid)