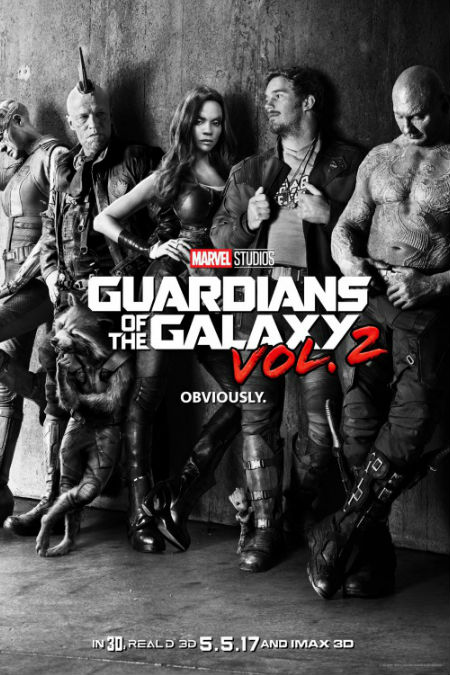 SNAPSHOT
Set to the backdrop of Awesome Mixtape #2, Marvel's Guardians of the Galaxy Vol. 2 continues the team's adventures as they traverse the outer reaches of the cosmos. The Guardians must fight to keep their newfound family together as they unravel the mysteries of Peter Quill's true parentage. Old foes become new allies and fan-favorite characters from the classic comics will come to our heroes' aid as the Marvel cinematic universe continues to expand. (official synopsis via Coming Soon)
Hands down 2014's Guardians of the Galaxy film was some of the most fun I've ever had at the movies.
Based on one of Marvel's lesser-known properties, the film was a breath of fresh air, jettisoning the conventional narrative structure of the standard superhero movie and much of its serious undertone for a carefree, emotionally heartfelt, brilliantly well-soundtracked romp across the galaxy with an eclectic bunch of characters who felt more like family than the Avengers ever could be.
Everyone from Star-Lord (Chris Pratt) to his lady love Gamora (Zoe Saldana) to  Drax the Destroyer (Dave Bautista), Rocket Raccoon (Bradley Cooper), and the now quite-diminutive Tiny Groot (Vin Diesel) were flawed and prone to be antagonistic than embracing but by the end of the film, which moved with speed, action and wit-laden charm, they were closer than close and yes, responsible for saving the galaxy.
And they're back – well somewhat, with a teaser trailer dropping for the film which showcases the humour we've come to expect from the Guardians – Drax counsels a romantically-mournful Star-Lord to get someone "as pathetic" as he is and forget about Gamora who, it seems can dance (Star-Lord, it seems, cannot) while space suits are labelled as being for emergencies and fun (the mind boggles) – as well as great music (Suede's "Hooked on a Feeling") and all kinds of space-defying action.
In other words everything we loved about the original but I suspect, freed from the expository needs of the first film, able to dial it all up to off-the-chart levels.
This is going to be fun, so much fun in fact that you can only hope the galaxy keeps requiring saving for many, many years to come which I suspect will always be the case.
Guardians of the Galaxy Vol. 2 opens 5 May 2017.
http://io9.gizmodo.com/holy-shit-its-the-first-teaser-for-guardians-of-the-ga-1787976383?utm_campaign=socialflow_io9_twitter&utm_source=io9_twitter&utm_medium=socialflow