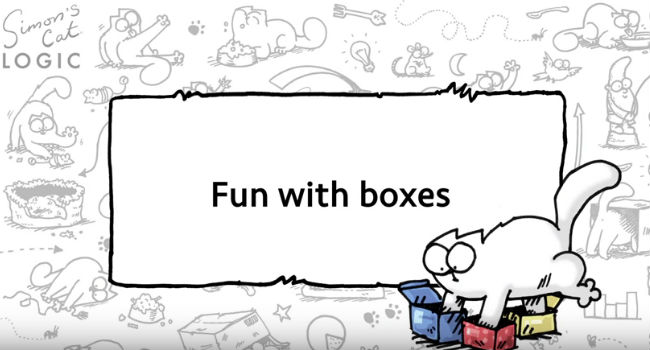 SNAPSHOT
Cats feel safe in enclosed spaces. This explains why cardboard boxes are immensely popular. They feel safe having something enclosed and particularly something with sides. All cats need to be able to hide, not just the scaredy cats or not just when there's fireworks outside. Even confident cats need the ability to hide even if it's just for a few moments. Sometimes owners buy an expensive cat tower for their cat and whilst they're busy constructing it turn round to find that their cat is more interested in the cardboard box it came in. Boxes make great cheap toys … (synopsis via Laughing Squid)
I adore cats and they're loveable eccentricities.
One of the ones I find so amusing is their near obsessive love of cardboard boxes – big or small, hard to get into or a breeze to enter, boxes are loved by all cats and in the latest instalment of Simon's Cat Logic, Simon Toland his cat expert/animal behaviourist Nicky Trevorrow explain why it is cats love boxes so much.
A lot of makes perfect sense and as always Toland makes all that learning a whole lot of fun is a lot of fun animated scenes that bring to life what it's like to live with cats who'd far prefer to leap inside the box that housed the expensive plaything you got them than kick around with the toy itself.
What's so enjoyable about these adorable videos is that if you're a cat lover, and I most certainly am, then you'll not only learn a whole lot more about what makes your kitteh tick but you'll get a good laugh at the same time.
And the big lesson learnt?
Save some money – just got to the supermarket, get a box or two and let your cat at it.
Your cat will love it, your wallet will too, and there will endless hours of amusement for you as the owner looking on.
As always with cats, and with Simon's Cat Logic, it's a win-win situation.