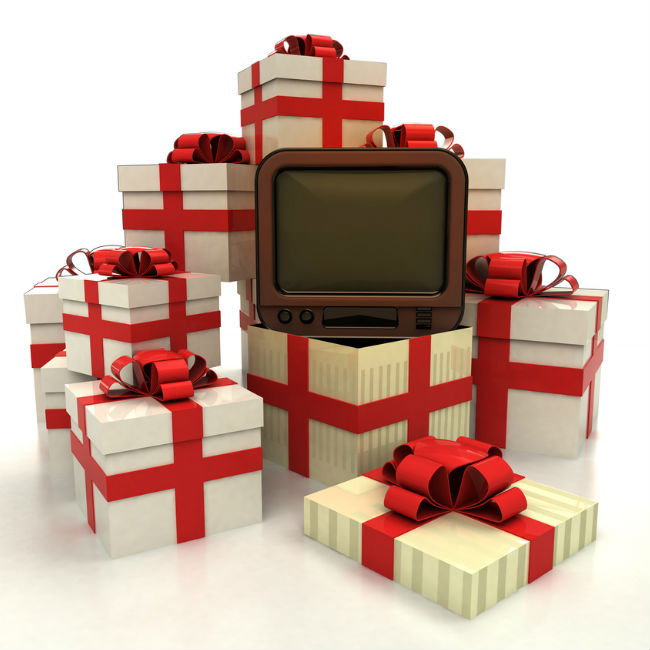 I was not always as enamoured with television as I am now.
Back in 1970, when dinosaurs ruled the Earth and there were no such things as Apple TV or Netflix – IKR GASP! – my family and I had just returned from years spent living in rural Bangladesh where TVs were not exactly thick on the ground.
Consequently I'd never seen one, and so when I did come across in a guesthouse on the way home to Sydney and saw a lady energetically singing opera inside it – to my 4 year old brain she was literally inside the TV – I freaked out and ran and hid.
Once my mother coaxed me out, I gathered up enough courage to go and check it out, even walking around the back to check out the door that the lady must obviously been climbing into the TV by.
Obviously it wasn't there, I accepted that the people were actually in the TV and I soon adapted to watching anything and everything on it, a love affair that has continued unabated to this day but is made all the more complicated these days by the fantastic amount of good television available and the amazing number of channels it's available on.
The list that follows is not even close to exhaustive and honestly I could have added way more shows but had to stop at 50 … OK 51 … but shhh let's pretend there're only 50 right so I look insanely disciplined.
Oh, and surprisingly the first person I even saw on the TV didn't make it onto the list …maybe next time.
1. Frasier
Such an intelligently-written show with such rich characters from whom all of the humour sprang forth for 11 glorious years.
2. Friends
Yes I watched every episode, knew the words to "Smelly Cat" off by heart and even though I don't drink coffee long to hang out in Central Perk.
I watched a lot of British comedy growing up including The Liver Birds, George and Mildred, Dad's Army and of course To the Manor Born starring the awesome Penelope Keith. A riches-to-riches story that delighted with every single episode.
Another brilliant UK sitcom defined by sweet observational humour and a sterling ensemble cast that fitted together so beautifully it was as if they'd cast actual neighbours.
Took some convincing to convince me to watch this – I have a very patient housemate – and get over my fear of zombies but I did watch it, and I love it and even blog about it now. That's some conversion!
6. Stargate SG1
Endless amazing adventures through countless corners of the galaxy in a TV series that, sorry fans of the film that birthed it, was way better than the movie.
My favourite Star Trek incarnation by a Gamma Quadrant mile, it was edgy, gritty drama of the highest order with a stellar cast to bring it to life.
8. Ed
One of the many quirky TV shows I have come to love, full of great characters, an adorable town and a Quixotic quest for love that paid off.
9. Grimm
Postmodern shows are brilliant, gathering mythos up with a narrative vacuum and fashioning it into something beguiling and new. Grimm is one of the best combining mythology with a police procedural.
10. Gilmore Girls
How much do I love this show! A LOT. Witty, clever, quirky, silly, charming, dramatic with a cast of characters who were all wonderful in their own way … and now back for 4 more episodes on Netflix. Happy days!
11. Fringe
Yes, it had a slow first season with a severe case of "Weird Things of the Week" but once it hit its stride it became an engrossing, complex tale of how people react when assumptions about the world and the way it works.
12. Warehouse 13
Quirky, clever, funny shows delight me greatly and Warehouse 13 was one of the quirkiest with a premise centred on the idea that objects can be "infected" by their owners and can become forces for good or evil. When that happens you need a centuries-old organisation to protect people and keep said objects safely locked away. Preferably people who can quip like crazy. This is their story.
13. Eureka
A "sister" show of sorts to Warehouse 13, at least in so far as their characters crossed over to each other's universes and they were on the same network, Eureka was all about a secret group of scientists sequestered away making all kinds of brilliant discoveries and creating amusing mayhem in the process.
14. Sesame Street
One quick glance over posts on this blog and my deep and enduring love of a show I first encountered at as 6 year old in the early 1970s becomes abundantly clear. It's funny, clever, engaging even for adults and the best way to learn your ABCs and 123s ever (sorry all the teachers I ever had but it's true.) … and it has Grover and Ernie and Bert! Case closed.
15. The Muppet Show
My love of the Muppets is, of course,  a product of Sesame Street but this show went a long way during its run (1976-81) to cementing that into a lifelong obsession. It featured Kermit, Miss Piggy, Fozzie Bear and a host of other delightful characters playing their parts in the weekly creation of a Vaudevillian variety show and it was wonderful in every way.
16. ALF
Wisecracking alien with an obsessive love of (eating) cats crashes on Earth, well meaning family on Earth takes him in, 4 seasons of sitcom mayhem ensues.
17. Get Smart
"Missed it by that much!" Actually I tried to never miss it all since it was created by Mel Brooks and Buck Henry, parodied the world of Bond and spying perfectly and featured a ridiculously large number of great lines and memorable characters.
What happens you bring together a bunch of scientific geeks, one pretty girl down the hallway and a whole world of cross-cultural misunderstanding? 9 seasons and counting of very, worlds-colliding, funny comedy.
19. CHiPs
Sure it looks a little dated now but I still love "Ponch" and John and their adventures out on the great lawless highways of California. Bad guys watch out! Oh and yeah they all looked great in their uniforms. Just sayin' …
20. Charlie's Angels
Again a little dated but I care not – the original Angels Sabrina, Jill and Kelly, and all who came after them never let the bad guys get away and look amazing doing it.
21. Community
Set in a wacky community college, hence the name, this off-the-wall but heartfelt sitcom by Dan Harmon showed what was possible with some imagination, a sense of the absurd and a willingness to play around with convention.
22. Dharma & Greg
Opposites attract, marriage shortly thereafter and fun, light comedy ensues that at its silliest, largely die to Dharma (Jenna Elfman), was the perfect sitcom.
23. Firefly
Such a crime that this was cancelled after just 13 episodes – smart, literate, funny, insightful sci-fi full of stellar social and political commentary. Joss Whedon at his absolute best with a cast of equal standing.
24. The Goodies
Yum yum! Silly, clever British comedy at its best with a great big help of the surreal and the absurd. Very funny.
25. Hart to Hart
Jonathan and Jennifer Hart have it all – wealth, power, Max the butler and Freeway the dog … and a willingness to spend their spare time righting the world's wrongs. And they really LOVED each other. My happy place.
26. The IT Crowd
Both a show about people in Information technology and a play on t the idea that though their skills are essential, they are most certainly not the "it" crowd in most peoples' eyes, The IT Crowd is brilliantly, funny, surreal satire of the highest order.
27. Mad About You
Love is gloriously wonderful but in the context of a longterm relationship, even a brilliantly good one, it's a lot of work. No sitcom captured the highs and lows of love in the real world like Paul and Jamie Buchman as they jumped into the final frontier.
28. Portlandia
Well done parodies are such a perfectly-balanced creation – mercilessly satirical and yet affectionately articulate – and Portlandia, brought to life by the enormously talented Fred Armisen and Carrie Brownstein, is among the most perfectly-balanced and funny of all.
Started slow in season 1 but rapidly established itself as a gently satirical show with an eye for the very silly and a cast endlessly skilled at bringing it to life beautifully.
He is the king of "deepest, darkest Africa" and learning what it means to have to look after a whole host of animals, many of whom are his friends. Rather than a few children's cartoon though, this was dark and real anime, unafraid to make things all too real if it meant a story well told.
31. Miranda
A modern UK sitcom very much in the vein but not derivative of classic UK sitcoms, Miranda was heartfelt and whimsical, full of off-the-wall spoofs and word plays and a cast of wonderfully-talented people.
32. Moonlighting
Mysteries solved and much U.R.S.T. indulged by Maddie (Cybill Shepherd) and David (Bruce Willis) all ashed through with a playful '80s aesthetic.
33. Girls
Frankly the characters in this show can be maddeningly immature and make the worst decisions but then that's the whole point of the show – that in your 20s when you're working out exactly who you are as an adult, you don't always choose wisely. It's brilliantly, insightfully written, often funny, always illuminating and always revealingly authentic.
34. Falling Skies
Centering on the apocalyptic aftermath of an alien invasion of Earth, and specifically on the Mason family, this show was either brilliantly well-written or maddeningly under written, particularly its final, wasted, ill-focused season, but overall it was highly personal take on the way in which one small part of humanity copes with a truly horrific, potentially-world ending event.
35. Huff
Wow some people have messed up lives and that's why they're so compelling in a TV show like Huff which celebrates the fact that fallibility thy name is humanity.
36. Murphy Brown
She's a tough-as-nails journalist who doesn't fools gladly but she has a well-disguised heart of gold and heart-on-the-sleeve love of Aretha Franklin and you couldn't help but love her and the people who work with her.
37. Nurse Jackie
Nurse Jackie, played by the superlatively-talented Edie Falco is as fallible as they come, a woman with an inordinate amount of talent for her profession but very little in the way of self-control. It lands her in all kinds of trouble but you can help but relate to her because she is so authentically real.
38. All Creatures Great and Small
James Herriott, a newly-qualified vet in 1937, who finds himself in as whole new world when he arrives in Yorkshire and must adapt to an eccentric group of people and animals. Uplifting, family-friendly viewing with a hint of drama.
Lalalalalalala! Fun, colourful show full of wacky characters, lots of colour, slapstick and movement and some great cartoons and dramas. Bundles of fun and one of my favourite Hanna-Barbera things ever!
40. Catweazle
I love the fantasy genre and Catweazle is a fabulously inventive member of the ranks. An 11th century wizard catapulted into the modern day, his eccentric adventures adapting to a world not his own were endlessly entertaining.
Amanda Tapping is my favourite sci-fi/fantasy actress and her role as as a 157 year old scientist Helen Magnus granting safety to Abnormals, people and creatures who don't fit into what the world at large defines as normal. It was an expansive show with an intriguing mythos and great character-driven drama.
Written by Diablo Cody, one of the most intelligent, fearless screenwriters out there, this show takes a hard, sometimes humourous, look at mental illness. It's brave, tackles issues head on and doesn't portray Tara's condition as anything other than a normal, though often unwelcome, part of her life.
The name gives it away – this French/British show is just magical. Using stop motion animation, the show brought characters like Dougal (a dog), Zebedee (a jack-in-the-box), Brian (a snail) and Ermintrude (a cow) to delightful, whimsical and always watchable life.
44. Sleepy Hollow
The end is coming! Well according to the evil powers-that-be, desperate to usher the end of the world, that's the intention but not if 250 year old Ichabod Crane (it's a long story) and his fellow Witness police lieutenant Abbie Mills have anything to do with it. Mixing it a thousand and one supernatural elements and a great deal of myth and humanity, this show is highly imaginative and utterly addictive.
45. Eight is Enough
You can imagine that a man with eight children who loses his wife and then remarries would have a lot going on and you'd be right. Eight is Enough ran for 5 seasons of love, drama and the everyday joys and sorrows of being a big sprawling family.
46. I Love Lucy / Here's Lucy
Lucille Ball was a very funny, enormously talented lady, no matter what sitcom she was in. I was exposed to Here's Lucy first, thanks to daily reruns on commercial TV in Sydney (which I only saw when we visited my grandparents) but over time discovered the gem that is I Love Lucy and discovered what an entertaining trailblazer Ball was.
47. Party of Five
I must have had a thing once for large sprawling family dramas – I also loved a show called Family once – but this is one of the best. Granted a little soapy at times but always heartfelt and always meaningful.
Lots of silly sitcom fun that kept me laughing at the exploits of nouveau riche hillbillies who never quite got the whole sophisticated living in the most upper class of L.A. neighbourhoods.
49. Defiance
Sci-fi at its most complete world-building best. The first season may have been a little hit-and-miss but there was promise there and it was realised in spades in the next two brilliantly-realised seasons.
50. Butterflies
A British sitcom with a bittersweet edge, it starred Wendy James (who I also loved in Nanny) as a woman who loved her husband and kids but finds herself longing for more. A great mix of light and dark, rare in sitcoms which usually prefer the light of straightforward humour over all else.
and honourable mention goes to:
51. Lost in Space
I know every planet looks exactly the same as time moved on and the special effects are a tad naff, but Lost in Space has some great characters – hello Dr Smith and The Robot – and a loopy, fun sense of camp storytelling. And now, it's coming back on Netflix. Happy am I.