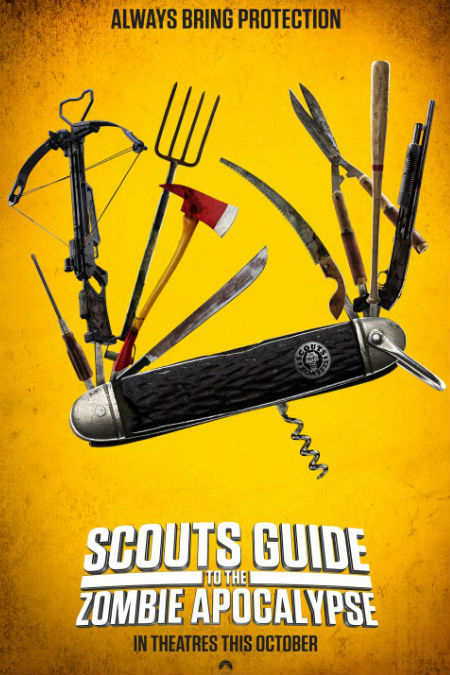 SNAPSHOT
Three scouts and lifelong friends join forces with one badass cocktail waitress to become the world's most unlikely team of heroes. When their peaceful town is ravaged by a zombie invasion, they'll fight for the badge of a lifetime and put their scouting skills to the test to save mankind from the undead. (synopsis via Coming Soon)
Scouts are always prepared right?
Well sure, if you mean being able to tie the right knot, or help an old lady across the street, or being able to survive a weekend in the great outdoors with nothing but a strip of canvas, a Pez stick and a match.
But handling the zombie apocalypse?
That, yes that, is another thing entirely and quite probably not a scenario that Sir Baden-Powell envisaged when he found the august movement.
But zombies is what one group of scouts has to contend with when their small town goes to the undead dogs (or cats as the case may be) and they are all that's standing between humanity and the end of the world.
Granted their approach to dispatching the foul dead is a tad unorthodox and yes juvenile but hey they're kids who usually aren't called upon to save much of anything usually (save for their appetite).
The thing is, if they succeed in ridding their town of zombies, there'd be a badge waiting for them!
Scouts Guide to the Zombie Apocalypse in USA on 30 October 2015.