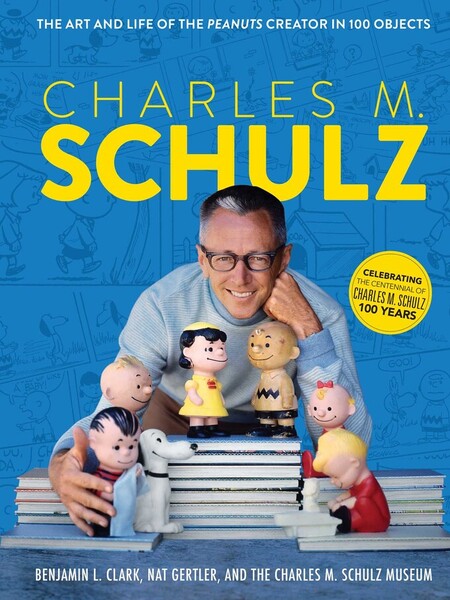 (courtesy Simon & Schuster)
When you have loved Peanuts as long as this review has, it's all too easy to assume you know everything about the comic strip and its creator, the legendarily talented Charles M. Schulz.
But even though I started buying secondhand copies for twenty and thirty cents apiece from the local used book store when I was a kid, and I have read up all I can on how the strip came to be, what inspired it and what has kept it so popular more than two decades after Schulz's death, the reality is there's still an awful lot I have to learn.
Case in point is the wondrously good and highly illuminating book, Charles M. Schulz – The Art and Life of the Peanuts Creator in 100 Objects by Benjamin L. Clark, Nat Gertler and the Charles M. Schulz Museum, the introduction for which acknowledges that there's always more to uncover about any person in the spotlight.
There are many ways to look at a person's life, and Charles M. Schulz was not just any person. Dozens of biographies have been written about the man, some slight and insignificant, others thick and scholarly. All of them will teach you something (occasionally something erroneous); none of them will tell you everything.
That is the joy of a book like this then because it brings together, as the title suggests, 100 objects that together grants some brilliantly incisive insights into who Peanuts' creator was – for a start he didn't like the title foisted on him by the syndicate who distributed his work, far preferring the original title L'il Folks – and why his superlatively engaging comic strip is such an authentic reflection of who he was.
It helps that the book's objects were initially selected by the curator of the Charles Schulz Museum and Research Center in Santa Rose, California, Benjamin L. Clark – how he whittled down the thousands upon thousands of items under his care to just 100 is beyond me but somehow he did – and that commentary on them was provided by Schulz's family, friends, "his comrades in cartooning" as the book describes them and even those who came into contact with him by other means.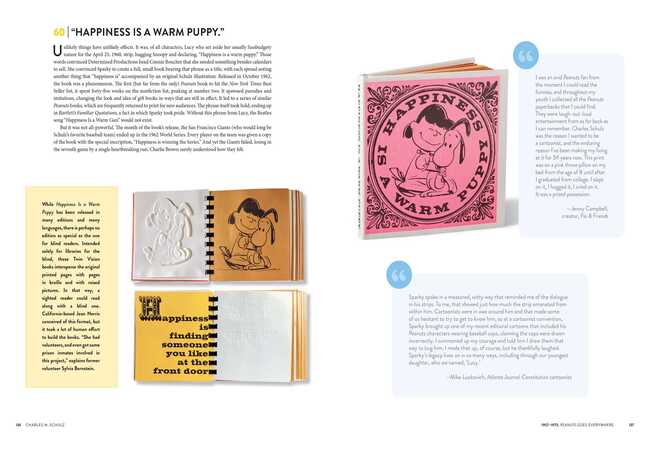 (courtesy Simon & Schuster)
It is a delightful treasure trove of items which includes some amazingly personal items such as:
Item #1 A photo of his father and mother, Carl and Dena Schulz on their wedding day which shows off how much Schulz looked like his dad, and which comments on how we inherited "much of Dana's love".
Item #4 A barber pole which stood outside the store his father owned and ran in Saint Paul, Minnesota. Not only does it point to a key aspect of the creator's childhood but it underscores, as do so many items, how much his growing up years influenced Peanuts from the fact that Charlie Brown's dad is a barber to the names of many of the characters.
Item #10 How to Draw Cartoons book – a major influence on his craft, this book was less about the technique of drawing itself but rather on the observational skills any storyteller, visual or otherwise, needs to develop to tell good comic stories and how to distill the humour that really pops in a strip.
Item #30 The initial drawing table – he spent much of his first paycheck on the table which, while it was superseded by a later model stayed with him right to the end, a symbol of how Schulz loved to surround himself with the sentimentally practical items of his youth.
Item #67 A giant stuffed Snoopy toy – from the beginning Schulz merchandised his creation with taste and thoughtfulness and how items like this Snoopy plush and the landmark Peanuts publication, Happiness is a Warm Puppy would take the comic strip across America and around the world.
Each and every single item is lovably represented and beautifully explained and you emerge at the end of the 100 items, all laid intimately and with great care in a coffee table book you'll want to keep handy and out on display, feeling like you know something more about the man and the strip than you did at the beginning.
You can't possibly know everything of course but then that's already been acknowledged, and rightly so; but you do end up knowing more, and appreciating Peanuts even more than you already do because you know what led up to its creation, what sustained it during its heyday and what continues to make the strip and its creators so enticingly attractive a modern audience.