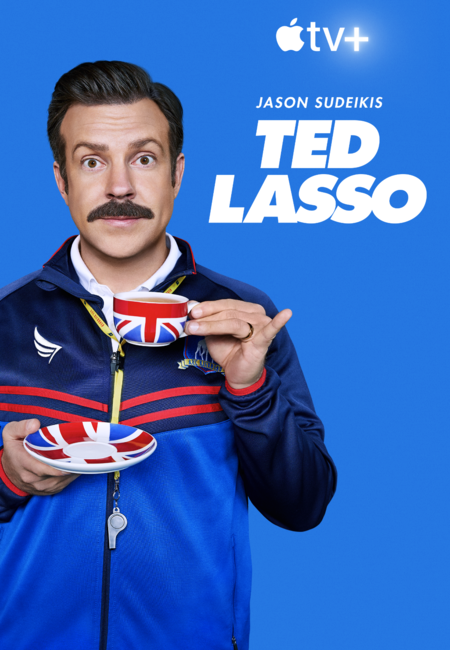 (courtesy AppleTV+)
Falling in love with a TV show is rarer than you might think.
Oh, sure, media, both traditional and digital, gushingly make out like we're traipsing in and out of streaming true love every second day, and while that's feasibly possible given the plethora of programming options out there on more platforms that there are stars in the sky (or does it just seem that way?), the truth is while we might like a lot of shows and want to watch them very much, the sense of urgent need that accompanies real true, everlasting love, and that drives us to watch a show religiously, and to desperately mourn what feels like its untimely departure, is not all that common.
Which is why the communal mourning accompanying the ending of the three-season phenomenon of Ted Lasso, about a titular American college football coach (played with garrulous vulnerability and charming comedic vibrancy by Jason Sudeikis), who finds himself shepherding a British football team, AFC Richmond to what its new owner, a divorce shell-shocked Rebecca Walton (Hannah Waddingham) hopes will be certain oblivion in order to spite her adulterous ex-husband and team owner, Rupert (Anthony Head), is such a rare and precious thing.
This type of devotion to a group of characters, to an ethos centred on family, found and otherwise, on connection, love and true, self-sacrificial inclusivity and to stories that boldly mix sappy US-driven dramatic narrative with authentically cultural British quirkiness and warmth, does not happen every day because shows this good, this affecting and this heartbreakingly but inspiringly lovely, don't simply pop out of the programming schedule with any sort of noticeable frequency.
Yes, there are lots of shows out there, and yes, by sheer number and the scramble to find time to watch them, feel like they are important and unmissable – and many are very good and they are worth your time but your love? Ah well, that's debatable with the two not always equatable – but how many shows have you laughing generously and weeping copiously, often in the space, sometimes, of one highly memorable scene.
Not bloody many, that's what. (Throw in an emphatic British accent on this, and you're home.)
Watching these two last episodes of Ted Lasso ("Mom City" and "So Long, Farewell") about lives transformed and worlds reshaped for the better – it may sound like insubstantial emotional fairy floss but trust us, there's the weight of a thousand suns and a metric ton of heart beating beneath the whimsically uplifting surface – is to truly understand what it is to truly have something find its way deeply and forever into your heart.
Much like the word "Believe", which came to be the mantra of the team, and of Ted, and assistant coaches Beard (Brendan Hunt), who is all gloriously-good red G-string wearing, try-anything eccentricity, and cursing, heard-shelled by warm-hearted Roy Kent (Brett Goldstein who had a significant hand in writing the show), Ted Lasso asked us to buy into the fact that a U.S. college football coach well out of his depth and a highly sceptical group of players and admin staff might actually to adore, love, and yes, believe in each other.
So much so that when the show ends with these two brilliantly-realised, hour-plus episodes which tear your heart out, out it back again, make you laugh, cry and sit somewhere inelegantly but welcomingly somewhere in the middle, you can't conceive of ever loving a show quite as much again.
You could well do, but right here, right now, watching ———- SPOILERS ALERT !!!!! ———- decide to head back to the U.S. for good to be nearer to his devoted boy (a "truth bomb" we know is coming but still …) or Jamie Tartt, played with "little boy lost" wonder by Phil Dunster, seeking solace with his mum before reaching out for some sort of adult relationship with his once-abusive father or owner Rebecca realise she no longer cares about her ex but is more than happy to find love with a handsome Netherlands pilot and to devote herself to her club, it feels like you will never feel anything quite like this again.
And honestly, you might not.
Over the course of two-plus deeply impactful hours, Ted Lasso reminds us time and again what can happen when we choose the better angels of our nature over and over – think the team unreservedly embracing newly-out player Colin Hughes (Billy Harris) or prodigal son Nate (Nick Mohammed) being given a second chance by people he treated, by any measure, quite terribly – and we actually choose to "Believe" in others.
Ostensibly all about football and its power to make and shape community, seen at the grassroots level with pub owner Mae (Annette Badland) and Baz, Jeremy and Paul (Adam Colborne, Bronson Webb and Kevin Garry), three forever-true AFC Richmond fans, what really made Ted Lasso such a compulsively heartfelt joy to watch was that it remembered that beyond all the scores and tactics and rivalry, what we all want from any devotion we embrace is to feel connected to others.
To be like Rebecca and her delightful bestie, and AFC Richmond's PR sweetheart with fearsome talent, Keeley Jones (Juno Temple), Director of Football Operations, Leslie Higgins (Jeremy Swift) who might've seemed timid but who had the biggest, boldest heart of anyone, or journalist-turned author Trent Crimm (James Lance), and to hungrily and enthusiastically draw in close to those who know have our backs, our hearts and yes, our very souls.
Ted Lasso, and these two episodes with their joyously wonderful nod to The Sound of Music, which will have you ugly crying and laughing with absolute delight in one messily happy/sad package, their happy-ever-afters and their well-deserved comeuppance, their "Diamond Dogs" whom Roy finally woofily wanted to be a pert of, and their story of home found and a thousand percent embraced with fervour and feeling, is everything because it deep dived into what makes us human, what makes us love, laugh and cry, and celebrated with a ton of affecting emotion but also with an arch eye on the many, idiosyncrasies of being alive.
Saying goodbye to a show with so much thoughtfulness, insight, raw humanity and playful silliness and love of pop culture-heavy wordplay, was never going to be easy, and it wasn't, and isn't, but what makes it a little easier is that Ted Lasso went out with an emphatic emotional bang and not a whimper, remembering right to its get-you-in-the-heart end that we want to know and be known, we want to feel purpose, hope and excitement and we want to be home with those we love when we do, and if that can all happen at once, well then you are very blessed and lucky people just as we were to have three seasons of Ted Lasso, which absolutely stuck its landing and repaid all the love we gave it in ways and in a volume we never expected but which we will happily hold close for as long as Roy will let us (which, trust us, is far longer than it once was; yeah, the show was, and is, that good).