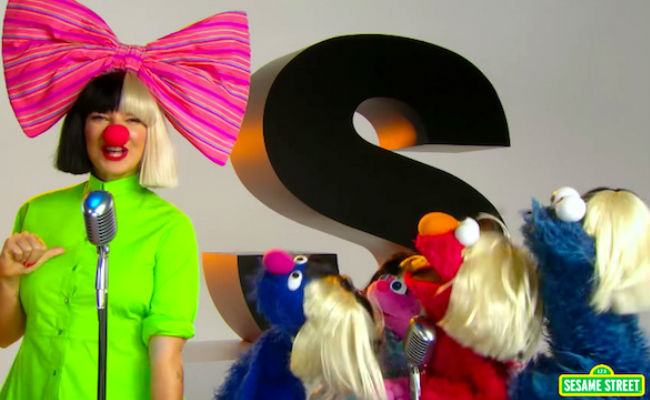 Sesame Street does so many things right. From its brilliantly-imaginative teaching of the ABCs and 123s to its hilarious parodies of pop culture touchstones through to its life lessons, it is the gold standard in education for kids (and more than a few adults too). To that illustrious list. you can add the songs that have feature through its five decades of episodes, where big and famous music stars have come onto the show, sung a song about something important like feelings or letters or at thousand other things so kids can try and make some sense of them and just hung out with the muppets like their old friends, which of course they are. Makes me a little envious because I'd love to hang with Grover, Bert and everyone else on Sesame Street but mostly it makes me very happy to see such talented people taking the time to help the next generation learn something special while making us smile and singalong too.

S IS SONGS WITH SIA

I love Sia and honestly she could sing about anything and I would happily listen. In this case, she pretty much does, reeling off a list, with Cookie Monster, Elmo, Grover and Abbey hanging on her every red-nosed, big wig word, of all the kinds of songs that she loves to sing. There are high and low songs, fast and slow songs, songs you can dance to like a monkey, happy and proud songs and songs that make you want to shout out loud. In fact, this is a song about singing songs that extols with exuberant pop vivacity how wonderful music can be. I dare you not to sing a long! Which of course means you love singing songs about how lovely it is to sing songs – how very Sesame Street meta of you …
SLIMEY TO THE MOON WITH TONY BENNETT
My lord but I love Tony Bennett, who is a sprightly 92-years-old, still releasing music (most recently Love is Here to Stay with Diana Krall) and sounds as gloriously smooth as ever. In this delightful video, he sings a duet, with Big Bird looking on, about Oscar's faithful garbage can companion Slimey who, with some help from the likes of Snufflealupagus, heads off to the moon, forging all kinds of triumphs for wormkind before returning to his friends on Sesame Street. This adaptation of the classic "Fly Me to the Moon" is a joyful ode to having the right stuff, the only way of course to get to Jupiter and Mars where he can crawl through mud and muck, far from the rubbish of Earth.
B. B. KING – THE LETTER B
At the start of this gorgeously-cute video, Elmo, dressed as a court jester because of course he is, announces the now late great jazz legend B. B. King as the king and as we learn, a man who, quite naturally, has rather a thing for the letter B. That makes perfect sense! In a rather It's a Wonderful Life-like way, he proceeds to sing about all the things that wouldn't exist with the second letter of the alphabet including the Blues, beard, Big Bird and yep, the man himself, and as he sings about them, they vanish in front of our eyes. It's yet another clever way that Sesame Street, the king of early childhood learning, stamps itself as the very best which, you guessed, also wouldn't exist. Phew – glad that it does!
FURRY HAPPY MONSTERS WITH REM
Forget all those shiny, happy people! What we want are furry, happy monsters, especially on Sesame Street where, like everyone else, they are most especially welcome. Michael Stipe is in fine form as are the rest of the band and all the monsters dancing with glee around them can't help but make you smile, and yeah, dance. I mean, just try and stand still while one of their most classic tunes does its feelgood thing. It acknowledges that you might be sad but you can be happy too and when you have REM singing with you, how on earth could you not be? This clip is an absolute, unmitigated joy and takes me to a very happy place indeed, something true of just about anything from Sesame Street if I'm going to be truly honest.
DAVE MATTHEWS AND GROVER SING ABOUT FEELINGS
Grover is my all-time favourite Sesame Street muppet and the fact that he, the most feelings-est of all the muppets and that's saying something, is singing about feelings with Dave Matthews makes me love him all the more. Neither of them are sure about what they're feeling exactly – is it angry? Sad? Who knows? – and so they go through the song trying to find that elusive word that explains what it is to feel all kinds of things. Its lovely that they acknowledge, Inside Out-like, that you won't always be happy and that being angry and sad is OK because it's good to be honest about your feelings and that all the negative stuff will eventually be replaced by happiness again. I now consider Grover, and Dave Matthews, of course, as my own personal therapists.
(source: Paste Magazine)