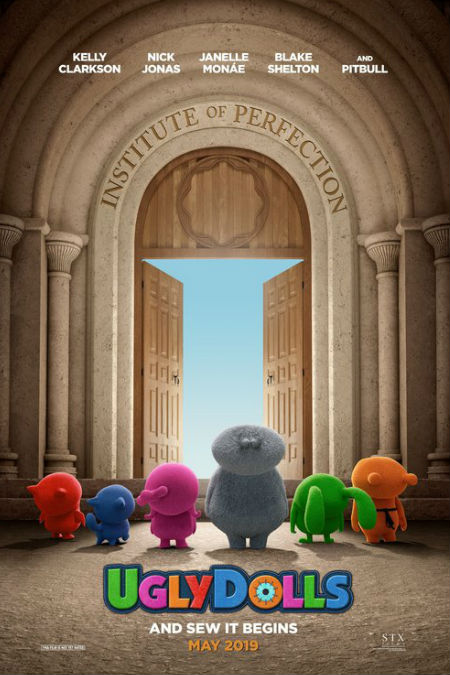 SNAPSHOT
In the adorably different town of Uglyville, weird is celebrated, strange is special and beauty is embraced as more than simply meets the eye. Here, the free-spirited Moxy and her UglyDolls friends live every day in a whirlwind of bliss, letting their freak flags fly in a celebration of life and its endless possibilities, occasionally looking to the sky, where a new UglyDoll will appear and be embraced by the community.

Moxy (Kelly Clarkson) loves her square-peg life in this round-hole town, but her curiosity about all things leads her to wonder if there's something – anything – on the other side of the mountain which nestles Uglyville. Moxy gathers a group of her closest friends and sets off to find what's on the other side. They discover another world – Perfection – a town where more conventional dolls are trained in protocols before they graduate and are sent to the "real" world to find the love of a child.

In Perfection, Moxy and her crew are subject to the manipulations of Lou (Nick Jonas), the perfect doll in charge of training recruits. Here, the UglyDolls will confront what it means to be different, struggle with their desire to be loved, and ultimately discover that you don't have to be perfect to be amazing because who you truly are is what matters most. (synopsis via Bleeding Cool)
When I first saw the Ugly Dolls trailer, an animated film based on a line of plush toys launched in February 2001, I was enchanted.
Here was a bright, fresh, fun and quirky animated tale – pretty much all my favourite things in one – with a very necessary message about valuing people for who they are.
As someone who was teased mercilessly all through school for being different – I was gay and none of the kids was prepared to let me forget it; keep in mind that this was in an era (the '70s into the '80s) when discussion of sexuality was nowhere near as open and free as it is now – I love the fact that the entire film is unashamedly celebrating difference and diversity.
I did a bit of a double take when I found it was based on a commercial line of toys, and yes the theme song is a little bit too chirpy and squeaky-perfect, leading me to wonder if the film might be a tad cloying and hamfisted in its approach, but honestly, if reminding kids once again that being a few steps, or a great many more, out of the mainstream is not just OK but wonderfully so, then I'm all for it.
This is a message that's still vitally needed in a world where there are still far too many people who seek security and solace in hatred and bigotry rather than love and acceptance and if Ugly Dolls can play some role in changing that, I'm all for it.
Plus c'mon! It's so freaking cute how can you not want to wallow in this technicolour wonderfulness?
Ugly Dolls opens 10 May 2019 in USA, 27 June 2019 in Australia and 16 August 2019 in UK.
… and here are posters, many, many cute posters to delight you … well, they delighted me … they may delight you … who knows?