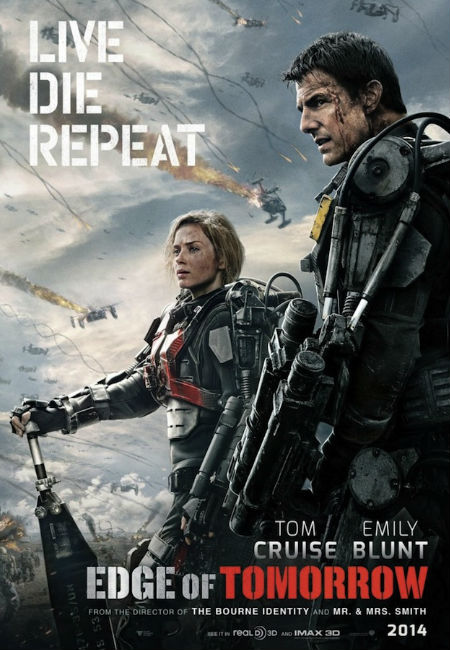 SNAPSHOT
"The epic action of Edge of Tomorrow unfolds in a near future in which an alien race has hit the Earth in an unrelenting assault, unbeatable by any military unit in the world. Lt. Col. Bill Cage (Tom Cruise) is an officer who has never seen a day of combat when he is unceremoniously dropped into what amounts to little more than a suicide mission. Killed within minutes, Cage now finds himself inexplicably thrown into a time loop—forcing him to live out the same brutal combat over and over, fighting and dying again…and again. But with each battle, Cage becomes able to engage the adversaries with increasing skill, alongside Special Forces warrior Rita Vrataski (Emily Blunt). And, as Cage and Rita take the fight to the aliens, each repeated encounter gets them one step closer to defeating the enemy" (from official synopsis via starburstmagazine.com)
I know 2013's big year of sci-fi movies didn't quite pan out as expected.
While Gravity was nothing less than brilliant, evocative cinema, Thor: Dark World, though not perfect, was nonstop action-packed fun, and Pacific Rim surprised with unexpected warmth and depth to go with the kickass action, After Earth was a total stinker, Riddick was visually impressive but narratively hollow and The World's End was all brash unlikeable characters and recycled jokes.
Many people too were disappointed with films like Oblivion, Elysium and Star Trek: Into Darkness, though I actually quite enjoyed all of them.
Even so, it wasn't the blockbuster year everyone expected sci-fi wise.
But hope springs eternal, and 2014 is shaping up to have quite the slate of out of this world cinematic wonders including films like X-Men: Days of Future Past, the Wachowskis' Jupiter Ascending, Chris Nolan's Interstellar, a re-booted Robocop, and Guardians of the Galaxy.
One of the standouts of the pack is undoubtedly Edge of Tomorrow (aka Live. Die. Repeat and All You Need is Kill), helmed by The Bourne Identity's Doug Liman, who has demonstrated a preternatural ability to combine blisteringly intense action with raw emotion and deeply etched humanity, a skill often foregone by many Hollywood productions of late.
So while hopes can be dashed, and they often are when it comes to big blockbuster movies, they are nevertheless still high for a movie that promises a rich, immersive storyline as one man fights quite literally for some form of redemption and justice against a ruthless, relentless enemy.
Edge of Tomorrow opens in Australia on 5 June 2014 and in USA on 6 June 2014.