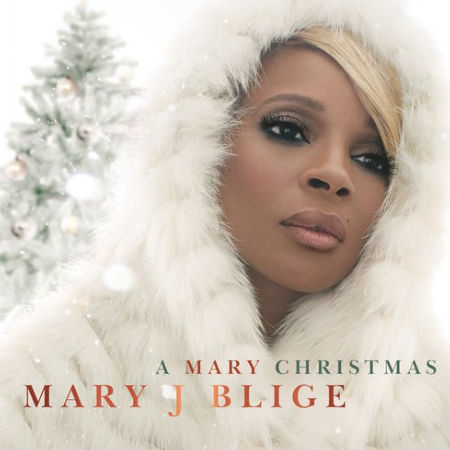 It would be fair to argue that one of the defining attributes of Mary J. Blige as an artist is her passion.
Whether it's been channelled into songs of anguish, heartache and pain, and the understandable willingness to fight back, such as "Enough Cryin'", or articulated in songs of peace, contentment and hard won self-acceptance like 2007's "Just Fine", her music has always carried with it a fire, a sense of someone pouring her heart and soul into her work.
No phoning it in for this lady – every song has sounded like the product of real, gritty life experiences, whether they worked for good and ill, and the passion, the sense of someone really living life and expressing that in her music, has been palpable and barely contained.
So it might be tempting to think that with the release of her Christmas album, an almost obligatory right of musical passage for many North American music artists, appropriately titled in her case A Mary Christmas, that this fiercely authentic artist would have dialled down the passion a little, settling for the inoffensively smooth sounds of chestnuts roasting over open fires and sugar plum fairies gently a-wheelin' in her thoughts.
Well, you would be wrong.
"The way I get to making you believe that it's Christmas is going back to Christmas as a child, becoming that child again, and remembering what was going on when we were decorating that Christmas tree, what song was playing, how it made me feel … and just sharing that with everyone."
(source: Mary J Blige, A Mary Christmas, The GRAMMYs YouTube channel)
For while the album does tick all the Christmas album boxes  – a carol or two such as "The First Noel" and "Little Drummer Boy", a smattering of classics such as "Mary Did You Know" and "Have Yourself a Merry Little Christmas" and that undeniable "Christmassy" orchestral sound that makes Christmas feel like, quite acceptably I might add, it is caught somewhere between 1940s big band cabaret and a Norman Rockwell painting, it has suffused throughout that same old vivacity for living life, expressed in this instance as a quiet, but no less powerful for it, joy.
Her sense of quirky individuality is intact too, with some unorthodox track choices like "Favourite Things" (from The Sound of Music) and "When You Wish Upon a Star" (feat. the legendary Barbra Streisand  and Chris Botti) rounding out a track list that pays homage to the classic Christmas albums without feeling the need to slavishly ape them.
But whether she's singing "Rudolph the Red-Nosed Reindeer" or "The Christmas Song (Chestnuts Roasting on an Open Fire)", what you notice most about A Mary Christmas is Blige's joy and passion, soulfully expressed in every tune, helping it to neatly sidestep any sense that this is a stereotypical Christmas album.
Granted she will likely attract accusations she has sold out in some fashion, that the album is not cutting-edge enough, that it is somehow a repudiation of the Mary J Blige of old because it sounds too much like some of the more conventional Christmas albums out there.
But that would be doing this talented and consistently authentic artist a disservice because A Mary Christmas has everything all her previous work has possessed – deep, undeniable passion, a sense of being true to who she is, and a desire to speak to a part of her life good or bad (in this case very good indeed) – all bundled up in songs that feel and sound like Christmas (thanks to producer David Foster's deft touch), as fitting a tribute to the season as you could ask of one of the more heartfelt and true to themselves artists working today.