SNAPSHOT
Aaron Paul (Breaking Bad) portrays a failed musician who was forced to become a pizza boy to make ends meet, Toni Collette (Enough Said) plays the tired mother of a disabled son, Pierce Brosnan (The World's End) portrays a recently divorced, publicly shamed talk show host whose extramarital affair went public, and Imogen Poots (Filth) portrays a depressed young woman with family problems. On New Year's Eve, the four strangers all attempt to jump off the roof of the Toppers' House in London, but, upon meeting each other, make a pact to keep on living. (synopsis via complex.com)
This could pretty much be my dream movie if it turns out to be as good in reality as it looks on paper.
With a story by Nick Hornby, an author who deftly mixes the serious, the sublime and the downright funny to great effect, an indie look and feel and enough inherent Britishness that you want to take tea and crumpets while watching it, and four high wattage, talented actors in Pierce Brosnan, Toni Collette, Imogen Poots and Aaron Paul, it's hard to see how A Long Way Down could possibly wrong.
Of course, it very well could.
There have been movies without number that look like a cinematic dream run at first glance, all the pieces perfectly in place, promising the sort of movie viewing experience that makes all those popcorn calories totally and utterly worth it.
And yet, and so very sadly, disappointingly yet, they have failed to satisfy, one or many wrongly placed elements turning them into the stuff that nightmares are made of.
Some how I don't think that will be the case with A Long Way Down, although as Vince Mancini at Uproxx points out the adaptations of Nick Horny's novels don't exactly have the best track record:
"Nick Hornby is up there with Nicholas Sparks and Michael Crichton in terms of authors who've had almost all their books turned into movies. Hell, they did Fever Pitch twice. Some of the adaptations were okay, but even the better ones were screwed up in some basic way – like setting High Fidelity in the US (that scene where Stiff Little Fingers supposedly sounds like Green Day still pisses me off) and updating the setting of About a Boy from mid-90s period piece to the present (even though the damn title was a Nirvana reference)."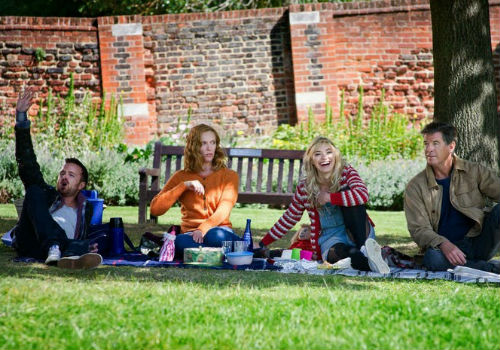 Still I remain hopeful because the source material is so damn good.
Like pretty much every Nick Hornby story, there's a pleasing mix of social commentary and exploration of interpersonal relationships, a gradual uncovering of why these people have arrived at this rather sombre, life-ending point in their lives, and a re-discovery that connecting with other people may just be what's needed to bring them back from the precipice.
Hornby lends himself well to movie adaptations with his ability to express the joys and travails of the human condition in witty, incisive and thoroughly accessible ways and I am reasonably confident that French director Pascal Chaumeil is up to the task.
Anyone in Europe will have a chance to find out when A Long Way Down premieres at the famed Berlin Film Festival, 6-14 February.
For the rest of us, A Long Way Down opens in UK on 21 March 2014; no release date available for Australia or USA is available at this time.