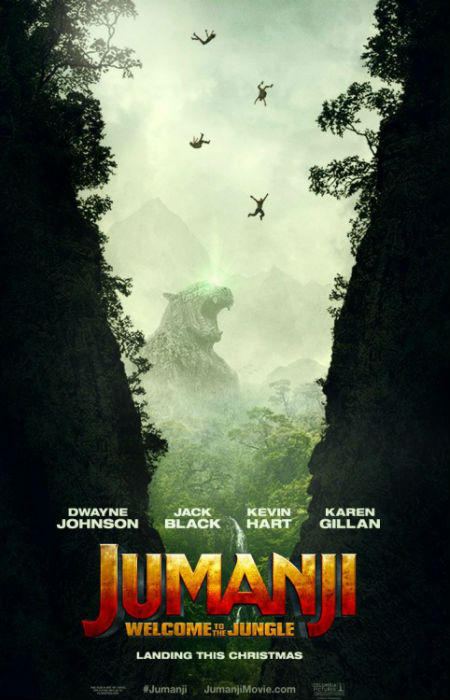 SNAPSHOT
In a brand new Jumanji adventure, the tables are turned as four teenagers are sucked into Jumanji's world – pitted against rhinos, black mambas and an endless variety of jungle traps and puzzles. To survive, they'll play as characters from the game: meek Spencer becomes a brave explorer (Dwayne Johnson); hulky jock Fridge becomes a tiny genius (Kevin Hart); It-girl Bethany becomes a bookworm professor (Jack Black); and unathletic Martha becomes an amazonian warrior (Karen Gillan). To beat the game and return to the real world with their lives, they'll have to start seeing things in an entirely different way. (synopsis via Coming Soon)
As a general rule, I try to be open to all the new things coming my way, especially in the pop culture arena.
But one thing – make that two things: I hate it when anyone turns a beloved retro TV show into a movie because they mostly suck to high heaven … Bewitched, CHiPs or Baywatch anyone? – that is going to make my blood run cold, ice cold even, is when someone decides that an old classic movie, especially one starring the imcomparable Robin Williams, should be remade.
It's not that I'm trying to stifle someone's creative vision, derivative and copycat though it may be, but wouldn't all the energy be better spent coming up with something truly, soul-refeshingly original?
Yes, yes it would be.
And yet, having now watched the first trailer for the Jumanji remake, I am slightly somewhat amusingly convinced that perhaps this might be entertaining. Funny, even.
Good god, let's not get carried away – it won't be Robin Williams awesome but it might be fun and certainly, given the updating of the premise and the fact that Dwayne Johnson is channelling his self-deprecatory inner self and jack Black being adorably, characteristically goofy, this reboot – that's what they're calling it which let's be fair is a remake by any other name – might just have the legs to be a fun, romping addition to the franchise.
Might … but I am kinda, weirdly hopeful which around a remake/reboot/reimagining is oddly unsettling.
Jumanji: Welcome to the Jungle opens 20 December in USA and 26 December in Australia.