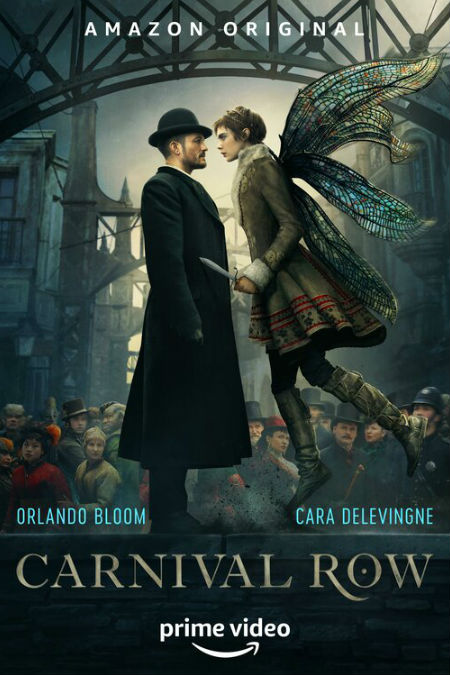 SNAPSHOT
Carnival Row is a fantasy-noir set in a neo-Victorian city called Burgue. Mythical creatures fleeing their war-torn homeland have gathered in the city, and tensions are simmering between citizens and the growing immigrant population. The growing population of supernatural beings struggles to coexist with humans — forbidden to live, love, or fly with freedom.


Delevingne (Valerian and the City of a Thousand Planets) plays a faerie refugee named Vignette Stonemoss, a refugee who flees to Burgue, where she must deal with human prejudice and long-harbored secrets. Bloom (Pirates of the Caribbean and Lord of the Rings franchises) plays Rycroft Philostrate, a human detective who rekindles a dangerous affair with Vignette while investigating a string of murders that threatens to upend an uneasy peace.


Carnival Row also stars David Gyasi as Argeus, a mysteriously wealthy faun who defies the social order by moving into a human neighborhood; Karla Crome as Tourmaline, a faerie poet who was driven from her war-torn homeland; Indira Varma as Piety Breakspear, matriarch of a powerful family that rules the city of The Burgue; and Tamzin Merchant as Imogen Spurnose, who sees in Argeus a chance to turn around her aristocratic family's fading fortunes. (synopsis via Coming Soon)
If there is one aspect of pop culture I love, and let's be fair there are many, it's when a TV show combines imaginative, fantastical storytelling with the examination of some real world issues.
Carnival Row, created by René Echevarria and Travis Beacham – it is based, according to Gizmodo, "on a 2005 Hollywood Black List script from Beacham" – promises both aspects in multitudinous variety, exploring what happens when mythical creatures becomes refugees in a neo-Victorian steampunk city called Burgue where their presence is the source of considerable tension and violent prejudice.
Ring any current issues bells?
It is timely show, despite its initial creation over a decade ago, which promises to tick all kinds of fantasy boxes while reminding us that the real world has some pressing issues that need solving now, fae or no.
The initial eight episodes of Carnival Row premiere on Amazon Prime on 31 August, with a second season already on order.