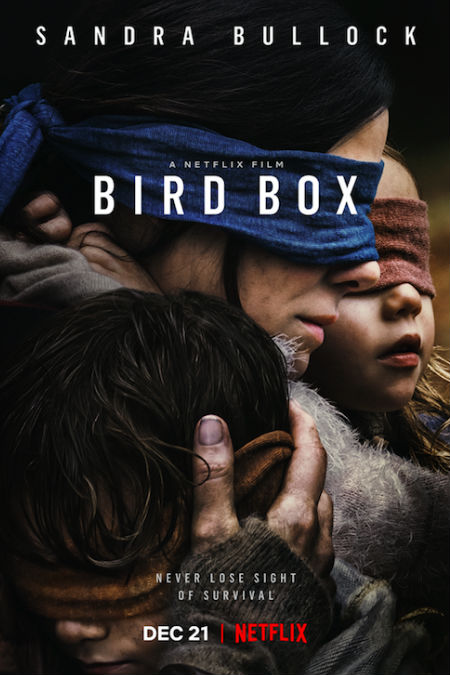 SNAPSHOT
When a mysterious force decimates the world's population, only one thing is certain: if you see it, you take your life. Facing the unknown, Malorie finds love, hope and a new beginning only for it to unravel. Now she must flee with her two children down a treacherous river to the one place left that may offer sanctuary. But to survive, they'll have to undertake the perilous two-day journey blindfolded.

Academy Award winner Sandra Bullock (Gravity, Crash) leads an all-star cast that includes Trevante Rhodes (Moonlight, The Predator), with Golden Globe winner Sarah Paulson (American Crime Story, Ocean's Eight), and Oscar nominee John Malkovich (In the Line of Fire, Burn After Reading) in the compelling new thriller from Academy Award winner Susanne Bier (In a Better World, The Night Manager). Bier directed the movie from a screenplay by Eric Heisserer (Arrival). (synopsis via

Coming Soon

)
So first you couldn't speak (A Quiet Place) and now you can't see … or you die.
If you had any doubt that we are living in a manifestly scary age, one punctuated by determined lurches to fascism, cruelty, hatred and intolerance, all wickedly-destructive impulses which have done the human race in more than once, then look no further than our films which see threats everywhere — or in the case of Bird Box, DON'T.
In this wholly-terrifying take on the apocalypse, based on the 2014 book of the same name by the The High Strung frontman Josh Malerman, humanity is losing everything to an entity that presents as your deepest, darkest fear, before then impeling you to kill yourself to escape it.
Yup, pretty dark.
Sandra Bullock plays a mother determined to save her kids come what may, a reassuring reminder that love, yeah the strong, muscular, take-no-prisoners kind, has a way of subverting the doomsday cries of fear.
Whether it succeeds, and the trailer makes it clear she won't have an easy time of it, it looks like we're in for a tension-filled, sightless ride to safety.
Bird Box releases 21 December on Netflix.