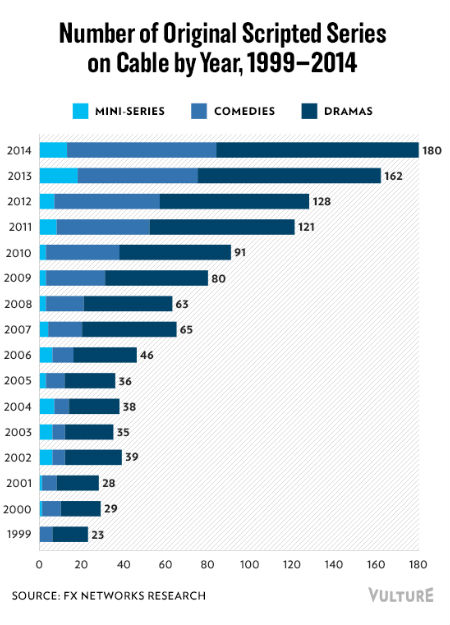 See I told you I wasn't imagining it!
There is a LOT more TV on our screens that there was even five years with the number of original scripted series more than doubling from 80 in 2009 to 180 in 2014.
And the growth is even more impressive, points out Vulture, when you factor who is behind this rapid increase in scripted programming and just how many shows they are placing out there for us to watch:
"Using Nielsen data, [FX Networks chief John Landgraf's] research department at FX Networks determined that in 2014, at least 328 scripted first-run prime-time programs aired on ad-supported or subscription-based broadcast, cable, and streaming networks in the U.S. (PBS wasn't included.) Broadcasters still churn out plenty of programming (124 scripted shows), while streaming players such as Amazon, Netflix, and Hulu are now very much a factor (24 shows). But it's clear cable is behind the scripted surge: As a whole, cable telecast 180 different scripted comedies, dramas, and limited series last year — more than its broadcast and nonlinear rivals combined."
Wonderful though this all is, it is leading to a weird kind of stress on the part of many TV viewers like myself and my housemate.
Together we consume a prodigious amount of scripted TV – neither of us have much time for reality television when there is so much well-written, acted and produced original programming out there – keeping up with something like 25-30 shows a year, most notably Grimm, Girls, The Walking Dead, American Horror Story, The Flash, Looking, Nurse Jackie, Parks and Recreation, The Librarians, Falling Skies, Orphan Black, Community and Game of Thrones (can you see our problem? This isn't even the full list!)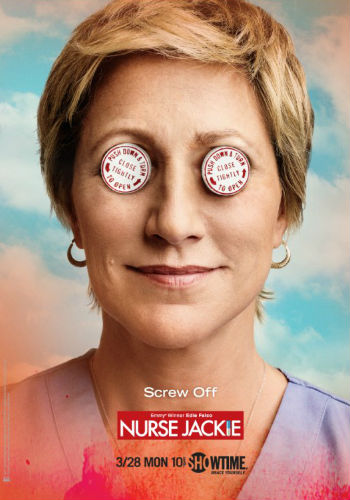 And together we wonder how on earth we manage to watch so many shows, particularly when I am also a dedicated cinephile, seeing anywhere up to 100 movies a year, book reader (book #4 for the year is currently on the go) and music listener, all while trying to hold down gainful employment.
This graph explains in stunning detail why, though we are grateful for all these fine series coming our way, we also feel overwhelmed by the choices now offered to us.
It isn't unusual for either of us to talk excitedly about a new show we've discovered, or news of one about to premiere in the next few months, or one just beginning its arduous trek to full production, and the follow all that enthusiasm with an almost fearful "How on earth are we going to find the time to watch it?
The reality is we won't and we can't and rather than be stressed out by something so wonderful – not for nothing did Vulture begin its piece on the graph by saying "Feeling guilty that you never checked out Mad Men, didn't have time for this week's premiere of Justified, or have yet to catch up with all those episodes of Girls on your DVR? Don't." – it's probably best to accept that we won't be able to take in all this TV bounty and we should just concentrate on the shows currently on our schedule.
And thank the lord that seasons are now just 10-13 episodes long rather than the traditional 22-24, allowing us to occasionally leave the couch and interact with real people, read a book, and yes, smell the goddamn flowers.
Oh, and it looks like we're not alone in our sense of being overwhelmed by TV goodness with musician Brett Domino voicing in song what we're all feeling …