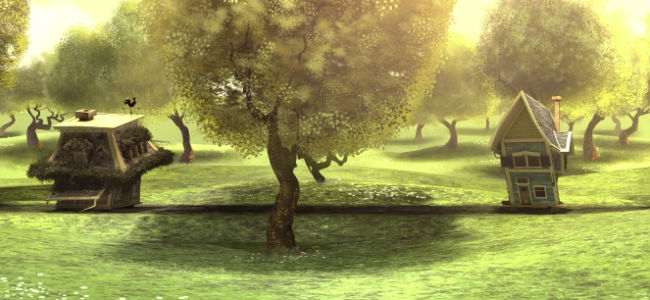 No one likes moving right?
All the packing, the organising, the lugging and hauling, the sweating, the exhaustion, the dislocation; none of those words scream fun,the experience most analogous to a trip to the dentist or being held captive while the tax code is read to us.
But in this delightfully sweet and whimsical, and profoundly moving (in a way that only Pixar seems to manage normally) short film, one house in a derelict neighbourhood, fearing the inevitable slide into the ruin and desolation of his neighbours decides to up sticks and head out on a cross country Forest Gump-like safari, accompanied by his attendant canine-like dog kennel.
Alone in his quiet progression across the countryside, and through the seasons, he is joined by an ageing gas station building, overgrown by plants and one collapsed piece of wood away from being derelict, who nonetheless sets off for one last grand adventure.
There is love, there is loss, there is contemplation and the joy of being alive and taking in the wonder of the world around you but most of all there is an exquisite contentment and peace to this utterly remarkable short film, which was a recent Vimeo staff pick, and which picked up a slew of awards and film festival screenings.
It is touching and deeply affecting and reminds you that we should all take some time to appreciate the quiet joy of simply being alive.
Maybe moving, well some moving anyway, isn't so bad after all.