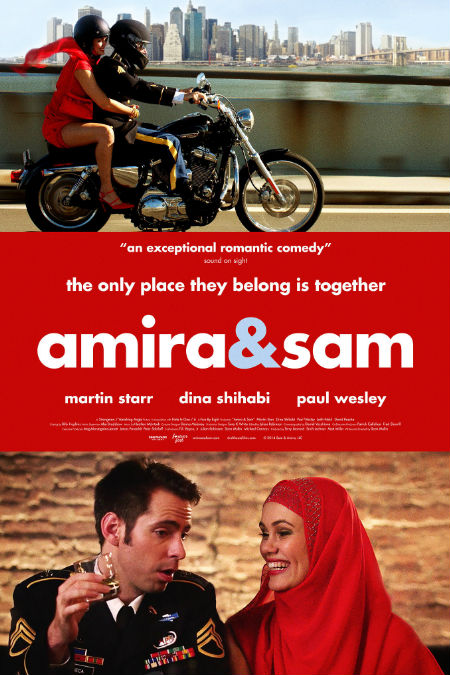 SNAPSHOT
To help adjust to coming home from war, former Green Beret, Sam Seneca (Martin Starr), takes a stab at a life-long dream: stand-up comedy. He also lands a high-paying job working for a Wall Street firm, run by his cousin Charlie (Paul Wesley).

Amira (Dina Shihabi) fled Iraq after her brother was killed by U.S. soldiers. She's an illegal immigrant, living with her uncle Bassam (Laith Nakli), who was Sam's interpreter.

Amira has a run-in with the police and so Sam takes her under his wing. Despite their differences, Sam and Amira share a common bond as outsiders. The more time they spend together, the harder it is for them to combat their feelings for one another. Meanwhile, Sam becomes entangled in Charlie's investment scheme and Amira's trouble with the law escalates to the brink of deportation.

As the film builds to a climax, Sam has an epiphany: even though he's the one who went off to war, it's his country that's lost its mind. In order to save Amira from being deported, he's forced to risk everything he fought so hard to defend. (via official Amira & Sam site)
As I have noted on more than one occasion before, it is a rare thing indeed to find a romantic comedy that has slipped loose from the usual tropes and cliches of the genre and established a very clear sense of its own identity.
It's not that it's hard to write something distinctive and different while still honouring the basic idea that a man meets a woman (or man meets man or … you get the idea), falls in love, come across seemingly intractable issues, and then after a brief, usually very brief of estrangement decide "Ah the hell with it!" and follow their heart, complications be damned!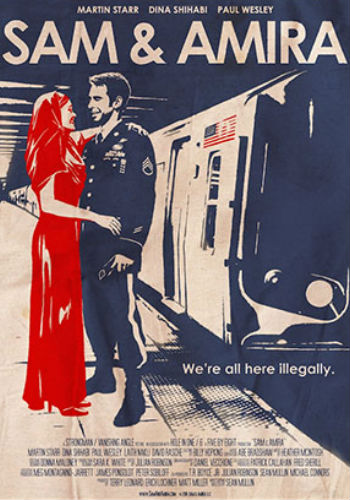 Amira & Sam, a festival darling that has attracted some impressively positive reviews, doesn't completely re-invent the romantic comedy wheel but that doesn't really matter given the other winning elements it has in play, according to Tony at The SunBreak:
"When I saw Sam & Amira, Shawn Mullin's indie comedy, I wanted to grab Michael Radford (director of the aforementioned Elsa and Fred) by the scruff of the neck and yell, "THIS is how you make a romantic comedy!" The central plot (US veteran and Iraqi expat fall in love) is pure formula, but it's winningly acted by leads Martin Starr and Dina Shihabi and it navigates familiar waters with a welcome touch of organic ease, smarts, and unforced wit. Color me surprised…and utterly charmed."
John DeFore from Hollywood Reporter also felt that Amira and Sam has that extra something that places it above the rom-com pack:
"Having downplayed its love story at the start, the picture swells romantically in an unexpectedly pleasing way. It may not be enough to convince audiences that Starr should be Hollywood's next romantic lead, but for these two characters, the chemistry is just right."
That, and the charming trailer that speaks of a balance between falling in love, and the wider, fraught issues of war, dislocation and America's fighting of battles far from home (all of which are reportedly intelligently and beautifully addressed) fills me with hope that here is a rom-com that not only chooses to be a little different but says something worthwhile into the bargain.
I can only hope it makes it way to Australia.
Having screened at a succession of film festival this year including Seattle International Film Festival in May and Woodstock Film Festival In October, Amira & Sam will next play at St. Louis International Film Festival on 22 November; no cinema release dates appear to be available at this time.