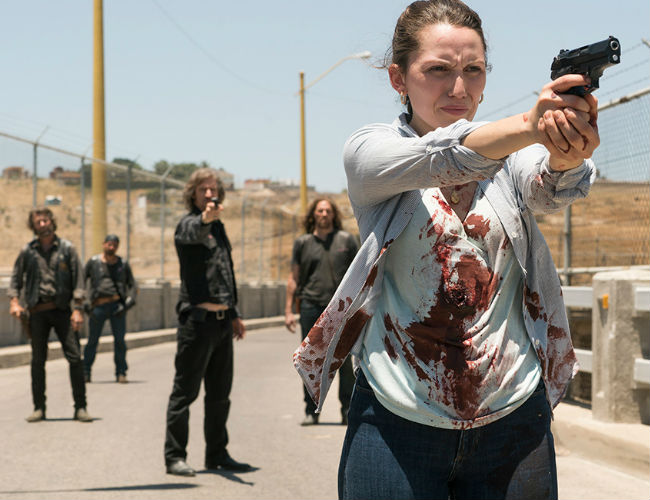 SPOILERS AHEAD … AND A GREAT BIG HELPING OF PARADISE LOST …
Being a doublebanger finale, "Things Bad Begun" / "Sleigh Ride" was always going to be an epic, grand, monstrously big, finish to the exceptionally robust and compelling storytelling of Fear the Walking Dead.
And so it proved, but oh the narrative riches contained within.
For a start, the writers didn't resort solely to staging a great big bombastic battle for the dam.
Sure that happened with the Proctors, led by the calmly menacing Proctor John (Ray McKinnon) who adopted Alicia (Alycia Debnam-Carey) as his private nurse and good luck charm – she talked him through an anesthesia-free operation to remove a spinal tumour during which John seemed also homespun nice – storming the dam, using the tunnels of water by, yep you guessed it, Victor.
He somehow managed to turn an entirely selfish act into a noble one, from his perspective anyway, arguing that betraying everyone including Madison (Kim Clark), Nick (Frank Dillane), Daniel (Rubén Blades) and dear sweet Lola (Lisandra Tena) to get himself a position of power was exactly the sort of thing that self-sacrificing people do all the time.
Only it wasn't – Victor knew it, everyone else knew it and when it emerged that Victor hadn't quite delivered on his promises because Nick and Troy (Daniel Sharman) had warned everyone the bad guys were coming – guess what? Troy regretted nothing; the hordes, the deaths, the motivating racism, none of it and Madison, um, killed him for his unrepentant troubles – John knew it and it was only because of some dramatic last minute sacrificing by Nick (who actually knows what the word means) that Victor managed to somehow, once again, get away with it.
Frankly he didn't deserve to but then you had a hard time finding anyone who really deserved to get out of the whole mess alive, besides Lola and Alicia who at least has decided what matters to her and followed through on it.
The double-ep finale was a settling of accounts but oddly enough not everyone paid the price you might have expected.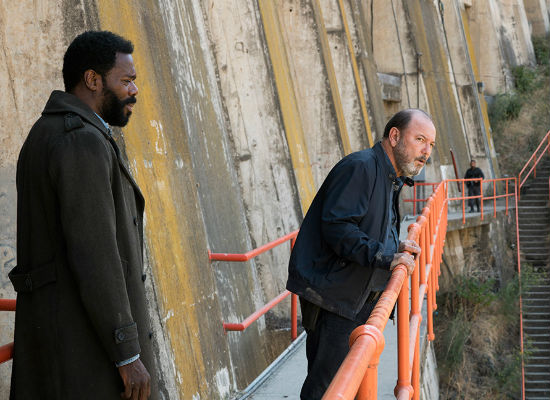 Take Daniel, for example.
After interrogating Nick and getting him to admit, indirectly at least, that Troy is, or rather was, a horde-shepherding, racist douchebag, and staring down Victor only to have a bullet almost rip his face off when Mr Self-Sacrificial tried to be embellish his Proctors-aspirational badassery, Daniel found himself at the bottom of a concrete tunnel, bleeding profusely and seeming ready to finally pay for his sins (a phrase he has repeatedly used through the show).
But just when you thought he was down and out, he rose to the occasion once again, dispatching a few well-armed Proctors like it was nothing, shooting a few more of them atop the dam and rescuing Nick after he'd set off the C4 and demolished the dam.
Or did he rescue Nick? Like all good season-ending cliffhangers, the fate of Daniel, Nick, Victor and Alicia hangs in the balance – the first two possibly crusged by rubble; the latter two lost in the rubble-filled wild water swirl of the dam explosion, with only Madison washing up in the town below – but at least Daniel tried to do the right thing, which is a damn sight more than Victor, who claims no sinning at all of any kind, has managed.
The thing is, it speaks to the sophistication of the writing for Fear the Walking Dead that they don't necessarily need to kill people off to make a narrative statement. Sprinkled through these two episodes were some intense one-on-ones between people like Madison and Victor, and Daniel and Nick with all of them revealing something about the torment or longing all of the characters are harbouring in the midst of the apocalypse.
That's always been the great strength of the show, its ability to make a point without cheap death stunts or endless recourse to zombie moments; it's used them yes but not as a be-all and end-all, something its parent show The Walking Dead could learn a great deal from.
Of course, half the main cast could be dead, crushed under rubble or drowned but I suspect they're not, since they don't need to die for us to understand that the apolcaypse has changed things, ruined things, elevated some things, downgraded manty others. It's there in every anguished conversation, every glance; in fact, it's suffused throughout the show in such a nuanced, evocative way and so immediately obvious, that you don't need the show to resort to cheap, nasty stunts that make an impression sure but add little to the overall narrative or emotional impact of the storytelling.
These two episodes were brilliantly well-written, beautifully calibrated, giving us the requisite cliffhanger and action but with the kind of inspired imagination that has elevated Fear the Walking Dead well beyond any kind of simplistic comic book adaptation.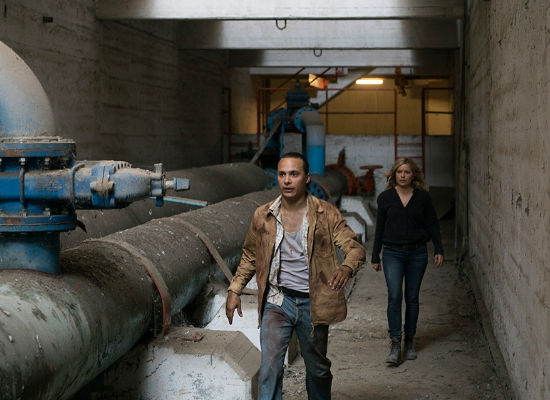 Where Fear the Walking Dead really excelled this time around, adding a beguiling and poetically sense of the fantastical to the show, was Madison's dream sequence, which was threaded throughout "Sleigh Ride" – and yes the song was part of the soundtrack, as was Peggy Lee's "The Christmas Spell" – and featured her preparing a perfect turkey Christmas dinnwer with all trimmings and decorations, to which she'd invited Troy, Victor (armed with presents), Daniel, Taqa (Michael Greyeyes), Jeremiah (Dayton Callie) and another Rancher or two.
In other words, a gallery of the dead, many of them reduced to that state at her hand, directly or indirectly, a picture postcard-Christmas by Currier and Ives death scene that was given full import by its dissolution, once she swept out onto the windswept prairie grasslands, into an unending field of gravestones.
The message was hope and loss, life and death, existing side-by-side, cheek by jowl, pointing to the imperfect, messy way that life deals with things, even in the apocalypse, and how even in dire times, there's a part of you that hangs onto the hope that maybe, just maybe, things can get better.
You know deep down that's probably not going to happen, with death more likely that boughs of fairy lit holly these days, but Madison's vision/dream/alternate twist on the present, all experienced most likely while she floated down in the damn explosion's trubulent afterwash, point to the power of hope but also of recrimination and guilt, and as the appearance of Travis (Curtis Manawa), who almost lifts Madison out of the water (in her mind, at least), of overwhelming loss.
It was powerful, deeply creative, clever television that said a great deal in a way that its parent show has never really managed as effectively; as much poetry as bleak reality, Madison's twisted perfect Christmas dream was a beautiful though confronting thing, the centrepiece of two riveting episodes of television that neatly summed up a season when imperfect people struggled not so much with the undead, although there were plenty of them, but with the existential demands of a world gone mad where none of the old rules apply but all the people who once subscribed to them still, rather traumatically, remain.
And that, my friends, is that for season 3, with Fear the Walking Dead renewed for a fourth season, and The Walking Dead season 8 ("All Negan, All the Time") due to premiere 22 October USA and 23 October Australia …