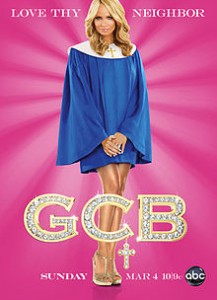 THE SHOW
Based on the novel of (almost) the same name by Kim Gatlin – the title was shortened in deference to the fact that the comic drama was shown one of the main broadcast networks in the US, ABC, which operate under far stricter criteria than their cable cousins – GCB or Good Christian Bitches, and more recently, Good Christian Belles is a riotously funny satirical look at what happens when you try to return home after many years away.
In this case, the one doing the returning is Amanda Vaughan (Leslie Bibb, Popular, ER) who goes back to the affluent Dallas neighbourhood in which she grew up after her husband, implicated in a failed Ponzi scheme and running away with her best friend, is killed in a road accident.
But if she was expecting to be greeted with wide open arms by those she left behind 20 years ago, she was wrong. Moving back in with her mother, Elizabeth "Gigi" Stopper (Annie Potts, Designing Women) with whom she has a loving but fractious relationship – the reason she left and moved "far away" in the first place was to escape her mother's "helicopter parenting" – she discovers to her cost that while she has changed and is no longer the head cheerleader bitch of old, those around her are much the same and remember every last detail of her "intolerable cruelty".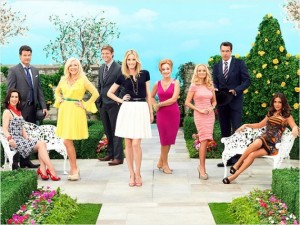 That cruelty, which she is never allowed to forget, is thrown in her face again and again by a posse of women led by the duplicitous Carlene (Kristine Chenoweth who plays the role of pillar of the community and "Queen Bitch" to perfection), and which also includes Cricket Caruth-Reilly (Miriam Shor, Damages, Mildred Pierce) and Sharon Peacham (Jennifer Aspen, Party of Five, Glee).
While Amanda tries to apologise to these women, horrified that the system she instituted at high school, where girls were either designated "Foxes" (initiated into the club by being sprinkled with glitter) or "Javelinas" (Texan pigs; inducted by being covered in, um, not glitter shall we say) is still in existence, only Heather Cruz (Marisol Cruz, 24, The Gates) accepts her apologies and becomes her friend.
The others meanwhile take delight in charting her every social disgrace – she is, for instance, only able to find work at "Boobylicious"a Hooters-like bar, ironically owned by Carlene (in secret until Amanda reveals all at church one day to Carlene's horror; Carlene of course responds by singing a song dedicated to Amanda called "Jesus Take The Wheel" by Carrie Underwood which is a nasty dig at the way Amanda's husband left his earth) – and make her life as unpleasant as possible, all under the guise of being good upstanding Christian ladies, which of course they aren't.
MY THOUGHTS 
And this is where the series is a real joy for me, as someone who grew up in the same church and is well aware how often the artifice of the practise of Christianity, with its arcane rituals and crippling expectations too often supplants the genuine observance of Christianity.
Everything about the lives of Carlene and her posse of bitches and the centrality of their religion in their lives is manufactured.
Bible verses may be uttered at every available opportunity – although its clear Cricket has absolutely no idea what's in the book that underpins the religion she is supposedly devoted to – but they are used more as weapons and tossed around like verbal grenades  than as words of comfort, healing or devotion.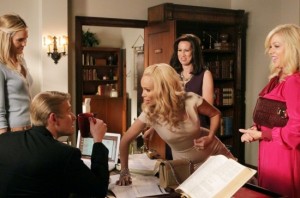 And while the women may attend church every week without fail, their attendance is designed purely to shore up their social standing and reinforce the power they wield, and not as any real show of worship to God.
Even their marriages are, for the most part, at least, shams of the highest order.
Cricket's marriage to Blake (Mark Deklin, Desperate Housewives, Lone Star), who she is aware is gay, continues on only because he is the only man who has ever loved her for who she is and not for her wealth. They genuinely care for each other but it's not a real marriage in any sense. She is a serial adulterer, who covers up her affairs with her fitness instructors under the guise of a never ending round of exercise activities.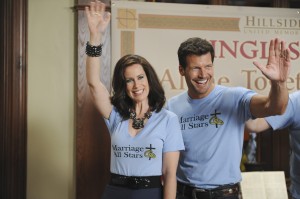 Sharon's marriage is the real deal but it is tired and old, and she is no longer the dazzling beauty she was in high school, having stacked on the weight and settled into the stultifying role of dutiful housewife. There is affection between her and her husband, Zack (Brad Beyer, Third Watch, Sex in the City) but it is stale and there is a gulf between them and she is convinced that Amanda is after Zack which encourages her to do everything she can to save her marriage (in truth it is Zack who makes a move on Amanda, which is rejected immediately).
And finally the "Queen Bitch", Carlene actually does a great marriage, interestingly enough. While her actions are questionable at times, she is always supported by her husband, Ripp (David James Elliott, JAG, Close To Home) who naturally enough has his own agenda regarding Amanda (this being a sudsy comedic drama and all). True it is by no means perfect but at least it is functioning somewhat, which interestingly marks Carlene as the least hypocritical of her friends in this regard at least.
So it is a show suffused with hypocrisy, fakery and subterfuge, with pretty much everyone, bar Amanda, unable to see that they are teetering on the edge of the abyss into self-parody, if they haven't already reached it. Sounds deliciously dark right, and it is in a way.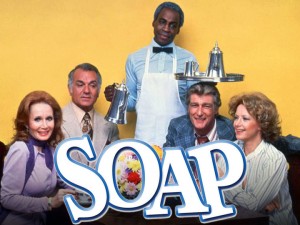 But it also retains a certain charm, thanks largely to the scripts penned by Robert Harling, who penned the classic soapie-send up, titled appropriately enough, Soap. I will grant you it is probably not his best work, with the satire of blighted suburbia much better handled in the now-departed Desperate Housewives, and the consistently excellent Suburgatory where the satire takes on almost Monty Pythonesque tones at times.
And it's true at times that Amanda becomes so virtuous that she threatens to slip into blandness, and her own peculiar brand of annoying self-righteousness, which is not a good look for the protagonist in any show, but it's hardly a fatal flaw and GCB is still entertaining, funny, and wilfully mocking in the tradition of all the best satires.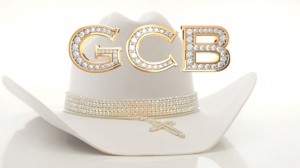 It has been dismissed as "Good Con Broadcasters or perhaps Generic Channel Backfill" by  Giles Hardie in the Sydney Morning Herald, who wasn't surprised it was cancelled after only 10 episodes but I think that is a bit harsh.
Perfect it is not, but it is a delightfully wicked kick in the pants to the delusions of suburban bliss and a timely reminder that we leave our lives unexamined, and unlaughed at, at our peril.